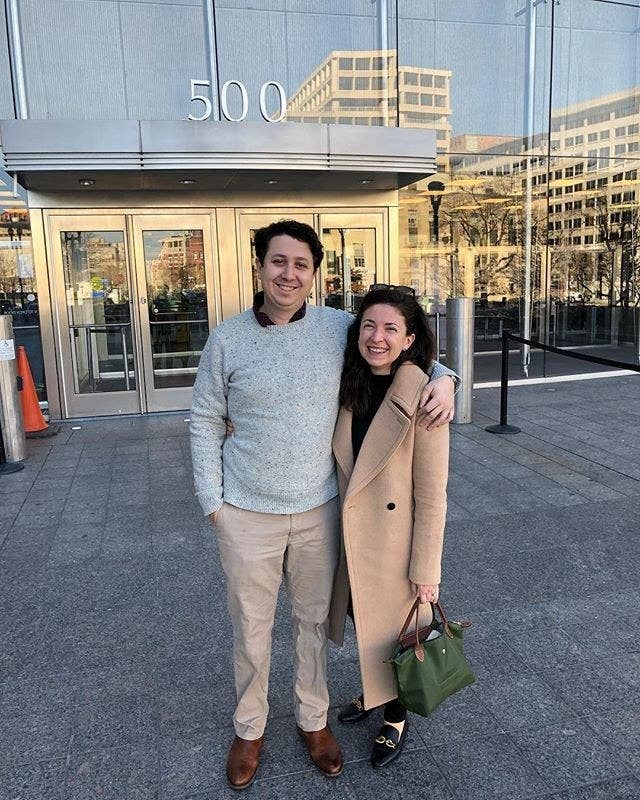 WASHINGTON — Danielle Geanacopoulos and Dan Pollock are no strangers to a government shutdown, having gone through a few when they used to work in Congress.

But when the two former congressional staffers walked into the District of Columbia Superior Court on Dec. 27 to get a marriage license — two days before their wedding was supposed to take place — they were surprised when they were turned away. The Marriage Bureau was closed because of the latest shutdown, they were told.
"One of the greeters at the front asked us where we were headed, and we said, 'The Marriage Bureau,' and they said, 'Oh, not today you won't,'" Geanacopoulos told BuzzFeed News.
Pollock tweeted a photo of the two smiling in front of the courthouse, along with a new hashtag they crafted for their nuptials, which they realized would no longer be legally recognized without a license: #MyBigFakeGreekWedding.
The local court system in DC is funded by Congress, one of a number of city government operations that still interact in some way with the federal government. When congressional leaders failed to reach a funding agreement by midnight on Dec. 21, DC court officials, like those at federal agencies, had to put a shutdown plan into effect. Workers not deemed "essential" were furloughed, and that included Marriage Bureau employees.
The fact that Congress funds DC's local court system was news to Geanacopoulos and Pollock, who live in New York City but previously worked for Democratic Sen. Richard Blumenthal. (Geanacopoulos also worked for Democratic Sen. Jeanne Shaheen.)

"We've been furloughed I think twice in our time in the Senate years ago, so we're pretty familiar with what gets funded and what doesn't," Pollock said. "It never occurred to either of us."
The District of Columbia got the ability to govern itself in 1973, and many city services are funded via locally raised taxes and revenue, but the legacy of congressional control persists. Residents do not have a voting representative in Congress. The city's local judges must be nominated by the president and confirmed by the Senate. The federal US attorney's office, not the DC attorney general's office, prosecutes major crimes. Congress and the president have the power to block legislation passed by the DC Council, although they rarely exercise it.
The DC government can spend its own revenues during a federal shutdown to keep city services operational — Congress, at the urging of DC's nonvoting Rep. Eleanor Holmes Norton, has made that possible since the 2013 shutdown, when the mayor ended up declaring all city employees "essential" — but functions that rely on federal money, like the courts, are still affected. The courts are still open during the shutdown and will continue to handle cases, but several offices, including the Marriage Bureau, library, and child care center, are closed.
District residents can still get married during the shutdown if they're willing to travel to another state. Pollock said they debated going to Virginia to get a license and have a quick official ceremony while they were in town for the Dec. 29 wedding they had planned in DC, but their officiant was only authorized to perform marriages in DC. They ended up having the ceremony as planned. They are still deciding if they want to go back to DC to get legally married after the shutdown ends or if they'll arrange to do it in New York.

"We couldn't stop laughing as two former Democratic staffers whose wedding was put on hold by Trump," Geanacopoulos said.
Following news reports on Wednesday about the closure of the Marriage Bureau, John Falcicchio, chief of staff for DC Mayor Muriel Bowser, released a statement saying the mayor planned to propose "emergency legislation" that would make it possible for couples to get marriage licenses. The mayor's office did not immediately provide details about what the legislation would do or when it would be introduced; a spokesperson said there would be more information in the "coming days."
"Mayor Bowser will put forth emergency legislation to establish the authority to issue marriage licenses during a shutdown. Just like the Grinch can't steal Christmas, the shutdown can't stop love," Falcicchio said.
Once the shutdown is over, couples like Geanacopoulos and Pollock won't have to wait long to get married in the nation's capital — there is no waiting period in DC after getting a license, and under city law, couples can even be licensed to self-officiate their wedding.

Still, with no immediate end to the shutdown in sight, wedding planner Bree Ryback is thinking long-term — she told BuzzFeed News that she's already alerted a client with a wedding planned for early February in DC to start thinking of a backup plan.
UPDATE
Updated with comment from Mayor Muriel Bowser's office.
UPDATE
In response to a reader inquiry: You can still file for divorce in DC during the government shutdown. The intake center in Family Court where divorce proceedings are filed is open, with limited staff.