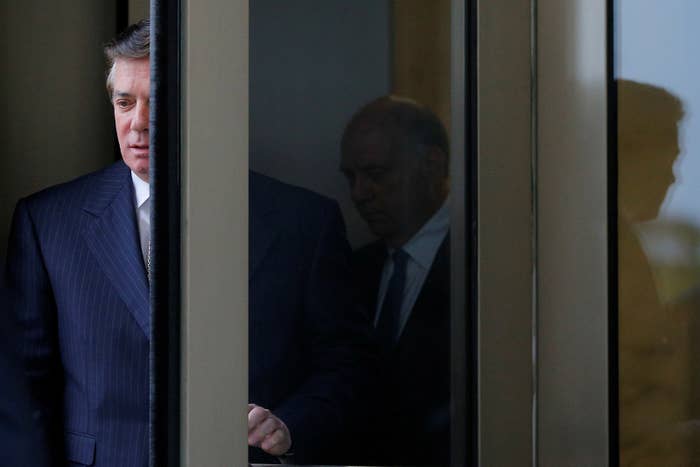 A document publicly filed Wednesday in the criminal case against former Trump campaign chair Paul Manafort sheds new light on the alleged illegal lobbying scheme prosecutors say Manafort organized on behalf of the Ukrainian government.
The document — an unredacted copy of a memo dated June 10, 2012, that was quickly replaced with a redacted version, but not before it was downloaded by BuzzFeed News — provided the names of European officials that a Manafort business associate intended to recruit to help lobby on Ukraine's behalf. The memo identified former Austrian chancellor Alfred Gusenbauer as being involved in the alleged lobbying scheme, and names other officials whom the memo stated had not yet been contacted to join the group.
Under Manafort's scheme, special counsel Robert Mueller's office alleges, the officials, who were known as the "Hapsburg group," would offer favorable opinions about Ukraine's actions as if they were independent observers, when in fact they were being paid to do so.
According to the indictment, Manafort used at least four offshore accounts to wire more than 2 million euros (roughly $2.5 million in US dollars at the time) to pay the politicians.
Manafort is facing charges in the US District Court for the District of Columbia related to his previous work for former Ukrainian president Viktor Yanukovych, including failing to register as an agent for a foreign entity and making false statements. He is also facing a slew of financial charges in the US District Court for the Eastern District of Virginia. He has pleaded not guilty in both cases.
The 2012 memo was written for Manafort by Alan Friedman, a former business associate of Manafort's who was previously only referred to in court papers as "D1"; the New York Times first identified Friedman last week. The memo described the Hapsburg group as "a small chorus of high-level European third-party endorsers and politically credible friends who can act informally and without a formal government relationship between now and the end of the year."
In the unredacted memo, Friedman wrote that he had spoken with Gusenbauer, and the former Austrian official was "willing to be discreet" and "understood completely and embraced the idea of what he called 'underground commenting.'" Gusenbauer previously denied being involved in Manafort's work in a statement to the BBC.
"I was not aware of the fact Mr Manafort was financing this activity and of course I was also not connected to his activities within the Ukraine," Gusenbauer told the BBC in February.
Gusenbauer did not immediately return a request for comment Wednesday.
The memo included a list of officials who Friedman wrote represented the "initial talent pool" that he and Gusenbauer had not spoken to yet but wanted to canvass, if Manafort approved.
"Led by former Chancellor Alfred Gusenbauer of Austria, the other former leaders from Germany, Spain, Italy and France would have a private sector or NGO relationship, even disbursed via the Chancellor himself for us so as to be quite indirect," the unredacted memo proposed.
Although it is not confirmed who the group recruited for its efforts, three people in the memo's "talent pool" have been identified in federal filings as having participated in Manafort-led efforts: Gusenbauer, former Polish president Aleksander Kwaśniewski, and former Italian prime minister Romano Prodi.
Gusenbauer had plans to meet with Kwaśniewski, Friedman wrote in the 2012 memo, but he noted that Kwaśniewski had been appointed by the European Parliament to monitor the trial of former Ukrainian prime minister Yulia Tymoshenko — a political rival of Yanukovych — which would prevent him from participating in any "formal activity." Gusenbauer planned to ask Kwaśniewski if he would be comfortable in the meantime "with some conference appearances and/or joint op-ed with Chancellor Gusenbauer in the next few months," Friedman wrote.
Asked previously by the New York Times about his connection to Manafort, Kwaśniewski said in February that he had met Manafort "two or three times" when Manafort was an adviser to Yanukovych.
"The last time I saw Manafort was probably around the fall of 2013. He never paid us. I never had any financial relationship with him, and I never heard of the Hapsburg Group," Kwaśniewski told the Times.
In a statement to BuzzFeed News following the publication of the unredacted memo, Kwaśniewski said that he first met Manafort in December 2012 in Kiev, and spoke with Manafort "several times" in 2013, including at conferences in Rome and Brussels about Ukraine. Their talks focused on Ukraine and removing "the fundamental obstacle" to a Ukraine-European Union association agreement, which was the release of political prisoners, including Tymoshenko.
Kwaśniewski said they had "hoped that Mr. Manafort would use his close relationship to Mr. President Yanukovych to help us resolve this problem." He said he last spoke with Manafort in mid-October 2013 and had no contact with him since then.
Prodi, for his part, told the New York Times earlier this year that he had worked with and been paid by Gusenbauer, but wasn't aware of that money coming from Manafort.

In a 2017 filing under the Foreign Agents Registration Act, or FARA, Mercury Public Affairs — one of the American lobbying groups hired by the Manafort-led European Centre for a Modern Ukraine — stated that among its work for the center in 2012 was to engage US elected officials at educational events that included Gusenbauer, Kwaśniewski, and Prodi as speakers.
Other officials listed in Friedman's memo as part of the "talent pool" they would wish to seek out if Manafort approved included Belgian judge Jean-Paul Moerman, former German official Bodo Hombach, and Javier Solana, a Spanish official who served in senior positions with NATO and the European Union. Additionally, Friedman wrote in the memo that Gusenbauer was waiting to see the outcome of French parliamentary elections so they could verify "who is in and who is out of politics" before deciding who to seek out there.
Hombach provided a statement to BuzzFeed News in German, which was translated through Google Translate as: "I have never worked for this group, there is no relationship between me and this group, and the naming of my name in this context is inexplicable to me."
Solana declined an interview request, through a spokesperson. Prodi and Moerman did not immediately return requests for comment.
US District Judge Amy Berman Jackson earlier Wednesday had granted a request by Mueller's office to partially unseal documents filed May 25, which included the 2012 memo as an exhibit. Prosecutors had asked that they be allowed to redact certain information in the exhibits "to protect the identities of witnesses providing information to the government, to protect personal identifying information, to protect the confidentiality of an ongoing investigation, and to protect uncharged individuals from public opprobrium."
The filing Wednesday also included an unredacted exhibit that named Friedman and another former Manafort business associate who had been referred to in court papers as "D2," Eckart Sager; that exhibit has also been replaced with a redacted version.
Prosecutors have accused Manafort and his longtime associate Konstantin Kilimnik of attempting to contact Friedman and Eckart in February "in an effort to secure materially false testimony." Prosecutors quoted one text message from Manafort to Friedman, which read, "We should talk. I have made clear that they worked in Europe." According to Mueller's office, Friedman told a federal investigator that he thought Manafort was trying to "suborn perjury" because Friedman knew the Hapsburg group worked in the United States.
Manafort and Kilimnik were charged in a superseding indictment returned by the federal grand jury in Washington on June 8.
A court representative told BuzzFeed News that the unredacted exhibits were filed on the public docket "due to a clerical error" and that it was "not the responsibility of either of the parties." A spokesperson for special counsel Mueller's office did not immediately return requests for comment.
UPDATE
Updated with comment from Bodo Hombach.
UPDATE
Updated with comment from Aleksander Kwaśniewski.