A Pennsylvania man arrested at the Trump International Hotel on firearms charges allegedly told an acquaintance that he came to Washington, DC to meet with President Trump, according to charging documents.
Bryan Moles, 43, was arrested early Wednesday morning after police discovered he had an assault rifle and a pistol in his car when he checked into the hotel. According to charging documents released on Thursday, he left voicemails for an acquaintance saying that he planned to go to the White House and stay there until he met with Trump, and that his goal was to bring down the pharmaceutical industry.
Moles made his first court appearance late Thursday afternoon. His lawyer, Eugene Ohm, told the judge that Moles posed no flight risk or danger to the community, that his guns were legally registered in Pennsylvania, and that Moles came to DC unaware of local gun laws. Moles was one of a number of people who came to DC from places where Second Amendment rights are "asserted more vigorously," Ohm said.
Ohm told the judge that Moles is a father of two children and a Navy veteran and reservist who had no previous run-ins with the law. The prosecutor, Assistant US Attorney Michael Friedman, argued that Moles had come to DC under "suspicious" and "concerning" circumstances.
Moles appeared before a judge in DC Superior Court, where criminal cases under DC law are heard. However, prosecutors have filed a federal charge against Moles, so he's expected to make another appearance before a judge on Friday in the US District Court for the District of Columbia for a detention hearing.
Superior Court Magistrate Judge Joseph Beshouri released Moles until his hearing on Friday, with orders that Moles not leave his hotel overnight. Moles will also have to temporarily surrender and not attempt to access the approximately 20 firearms he has at his home in Pennsylvania, and he must stay away from the White House and the Trump hotel. Beshouri indicated that he had been leaning towards holding Moles overnight — he said it was "precarious" releasing him — but ended up agreeing with the release conditions that the prosecutor and Moles' lawyer negotiated.
Outside of court, Moles and his lawyer declined to comment on the charges. Asked if Moles had a message for his children, he said, "I love them" and that he would be calling them soon.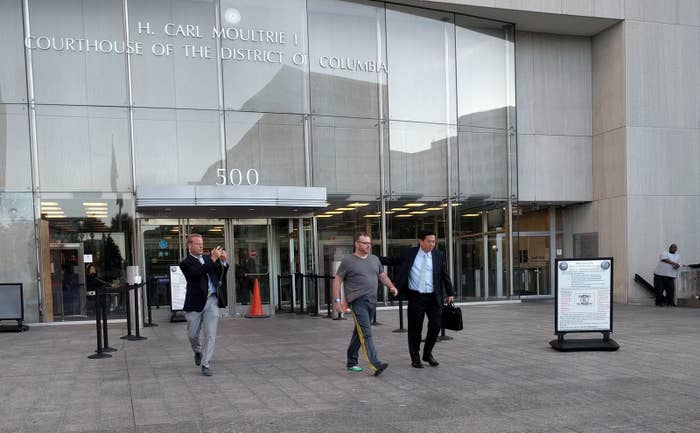 Moles faces a federal charge of unlawful possession of a firearm and a charge under DC law of unlawful transportation of a firearm. The federal charge carries a maximum penalty of 10 years in prison. It was not immediately clear what penalties the DC charge carried.
According to charging documents, the Metropolitan Police Department in DC received information from Pennsylvania law enforcement that Moles was traveling to DC "to get close to President Trump." Moles allegedly had left a voicemail about his plans to meet with Trump with an acquaintance on May 30.
Moles said in the voicemail that he was a "refugee" who wanted to bring down the pharmaceutical industry, and that his car was full of ammunition and survival gear, police said. In another voicemail, he allegedly said that his car looked as though Timothy McVeigh or Eric Rudolph — two convicted domestic terrorists — were going on a camping trip.
Staff at the Trump International Hotel told police officers that when Moles arrived at the hotel, he told a valet to secure his car because he had two firearms, according to the charging documents. Police said they could see a rifle case through the window of the car, and used a key from the valet to open it, finding a Bushmaster AR-15-style semiautomatic rifle, high capacity magazines, and a semi-automatic pistol. Police also said they found a hospital identification card with Moles' name and picture and learned later that Moles works as a physician at a hospital. The affidavit didn't provide the name of the hospital.
Moles was once a doctor at St. Vincent Hospital in Erie, PA. "Dr. Bryan Moles has not worked for our health system since 2013. We do not have any comment on matters related to him during or after his employment with our organization," a spokesperson previously told BuzzFeed News.
Police went up to the room where Moles was staying and he let them in, according to the charging papers. He allegedly spoke to police about the fact that he was traveling with guns, saying he brought the rifle so that a friend could customize it for his son. Moles also allegedly told police that he suffered from post-traumatic stress disorder, and self-medicated with marijuana, which he had brought with him to DC.
UPDATE
Moles made an appearance in federal court on Friday afternoon. A judge released him until his next court date on June 22, on the condition that he surrender his firearms; stay away from Washington, DC, unless he's meeting with his lawyers or going to court; and to receive mental health evaluation and treatment.