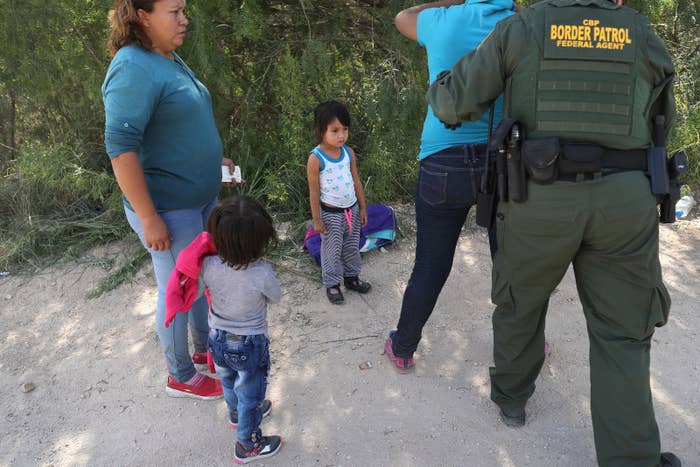 Pressed by a federal judge for information about how the Trump administration is carrying out the president's executive order on family separations, a Justice Department lawyer had few concrete answers Friday afternoon.
US District Judge Dana Sabraw is presiding over a proposed class-action lawsuit filed by the American Civil Liberties Union in San Diego challenging the separation of parents and children at the border. The case predates the Justice Department's "zero tolerance" policy on illegal entry cases — a policy that has led to the spike in border separations — but the ACLU says it would apply to families separated since that policy took effect in April.
Sabraw held a hearing Friday to discuss what the executive order that President Donald Trump signed Wednesday meant for the ACLU's case. Trump's order, hurriedly crafted in response to growing public and political pressure to act as more than 2,300 children have been separated from their parents, states that the government's preference is to keep families together in immigration detention, but includes few details on how the administration plans to do that.
Does the government have a plan for detaining parents together with children under the executive order, or for releasing parents, or was everything still in a "state of flux," Sabraw asked Justice Department lawyer Sarah Fabian.
"I don't have anything to submit on that today," Fabian replied. She noted that the Justice Department had, as Trump directed in his order, asked a Los Angeles judge managing a 1997 settlement agreement that restricted the detention of children in immigration cases to change the agreement so that families could be held together for longer periods of time. Fabian urged the judge to give the parties time to submit additional briefs about recent events for him to consider, which he agreed to do.
Trump and Justice Department officials have said that, notwithstanding the latest executive order, the zero tolerance policy announced by Attorney General Jeff Sessions in April is still in effect. Under that policy, Sessions directed US Attorneys Offices to prosecute all illegal entry cases referred to the Department of Homeland Security.
Sabraw asked Fabian on Friday if the zero tolerance policy was still in effect, and if so, how the government could keep children together while parents were facing criminal prosecution — children cannot be held in criminal custody with their parents, he noted.
Fabian replied that she wasn't sure she could answer the judge's questions at the moment, and couldn't speak to the effect of the executive order on detentions under the zero tolerance policy. Some of the implementation questions are "still underway," she said. Trump's order directed the Department of Homeland Security to maintain custody of families during both criminal and administrative immigration proceedings — in the past, DHS has turned over individuals facing federal illegal entry charges to the US Marshals Service, and then they're returned to DHS custody once the criminal case is over.
It was not clear Friday to what extent DHS is referring illegal entry cases to the Justice Department. The Washington Post previously reported that an unnamed senior US Customs and Border Protection official had said the agency would no longer refer immigrant parents for prosecution, but none of the agencies have made an official announcement.
A CBP spokesperson said in a statement to BuzzFeed News that "Family unity will be maintained for families apprehended crossing the border illegally, and they will be transferred together to US Immigration and Customs Enforcement. The Border Patrol will continue to refer for prosecution adults who cross the border illegally." The spokesperson said that for children in border patrol custody, they are being reunited with parents after their criminal cases are concluded.
A DOJ spokesperson did not immediately respond to a request for comment after Friday's hearing. On Thursday, BuzzFeed News reported that a prosecutor told a federal judge in McAllen, Texas, that the government had decided not to proceed with illegal entry charges against 17 individuals in light of Trump's executive order.
Sabraw asked about the extent of communications between the Department of Homeland Security and the federal Bureau of Prisons — the agencies that have custody of adults in immigration and criminal proceedings, respectively — and the Department of Health and Human Services, which manages the detention of children through the Office of Refugee Resettlement.

Fabian said there was communication between the agencies, but she was not in a position at the moment to make representations the judge could rely on. Sabraw pressed her for details. Fabian said the Department of Homeland Security had a "portal" that it used to send requests to the Office of Refugee Resettlement to accommodate an immigrant child. Generally, DHS would note in that system if the child had been separated from a parent, Fabian said. The Office of Refugee Resettlement would then make efforts to allow a child to communicate with their parent, she said.
Sabraw said it was his understanding that ORR only considered releasing a child when a parent initiated a reunification effort. Fabian said that is "frequently" the way the system worked, but she said ORR would make an effort to reunify a family if a caseworker knew a child was separated from a parent or if a child came in with the phone number of a relative. However, she said she did not believe ORR had a way of finding out when a parent was released from custody.
Sabraw asked if the Office of Refugee Resettlement is notified by the Department of Homeland Security or the Federal Bureau of Prisons when a parent is released from criminal custody. Fabian said not to her knowledge.
Sabraw asked if there was any line of communication between the Bureau of Prisons and ORR so that parents could find out where their children were being held. Fabian said she believed efforts were being made "in that direction," but there wasn't a "formalized process."
The ACLU is seeking a preliminary injunction that would force the administration to reunify parents and children. ACLU attorney Lee Gelernt urged the judge to rule within hours of the hearing, arguing that children were becoming more traumatized every day they were kept away from their parents, and that the judge already had enough information on the record to make a decision.
"I cannot express enough how bad the situation has become," Gelernt said.

But Sabraw said he wanted to give both sides the opportunity to address — on the record, and not just relying on media reports — the events of the past few weeks and what they meant for the case.
The ACLU's additional briefing is due June 25, and the government's papers are due June 27. Sabraw said he would try to issue a ruling soon after.