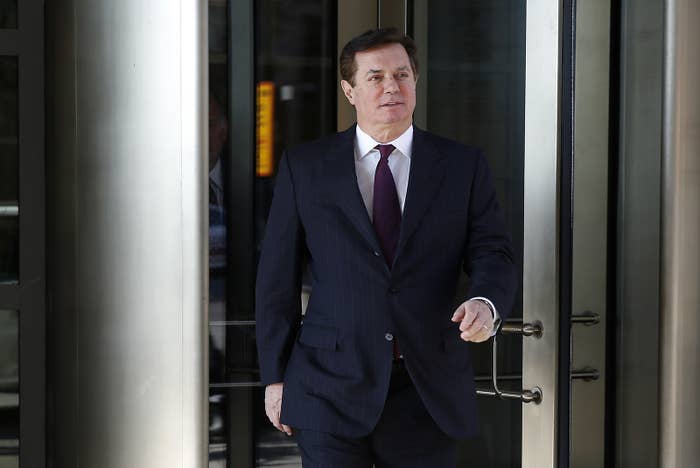 Former Trump campaign chairman Paul Manafort will be released from house arrest while his criminal case is pending, a judge ruled on Friday, but he'll have to remain under GPS monitoring, be home daily by 11 p.m., and get the judge's permission to travel outside of southern Florida, where he'll be living.
Manafort has been under home confinement in Alexandria, Virginia, since he was arraigned on a 12-count indictment on Oct. 30. His lawyers had asked that if the house arrest was lifted, that Manafort be allowed to travel between Virginia, New York, and Florida, where he has homes and works, without first getting permission from the court.
At a Dec. 11 hearing, US District Judge Amy Berman Jackson expressed discomfort with allowing Manafort to travel so freely up and down the east coast, and had asked Manafort's lawyer, Kevin Downing, to specify which residence Manafort would prefer, if he had to choose. Downing told the judge that Manafort would pick his home in Palm Beach Gardens, Florida. In Friday's order, the judge said he would need to get her permission to go beyond Palm Beach County and Broward County in Florida unless it was for a court appearance in Washington.
Manafort will not be allowed to leave the United States and is barred from applying for a new passport; he surrendered his passports when he was charged. He'll also have to stay away from airports, train stations, and other "transportation facilities" except for approved travel, per Jackson's order.

As was expected, the judge ordered Manafort to agree to forfeit four properties in New York, Florida, and Virginia if he fails to show up at court. If Manafort flees and the value of the four properties ends up being less than $10 million, Manafort's wife and daughter have agreed to serve as sureties to make up the difference.
Special counsel Robert Mueller's office initially agreed to back Manafort's proposed bail conditions, which included no GPS monitoring, but prosecutors withdrew their support after alerting the judge that Manafort had been involved in the drafting of an op-ed about his work in Ukraine.
Jackson had asked Manafort's lawyers to explain why Manafort wasn't in violation of her earlier order that the parties not make public statements that could jeopardize the case. Manafort's lawyer denied wrongdoing, and also argued that Manafort should be allowed to defend himself in some capacity against negative reports about himself. Jackson ultimately did not find Manafort in contempt, but she admonished him and his lawyers to tread carefully going forward when it came to any public comments related to the case.
Manafort isn't free yet, though. He'll be allowed to leave for Florida once the necessary paperwork is filed, according to the order. The judge said she would file a separate release order once that happened.
A spokesman for Manafort declined to comment.
Manafort's co-defendant, Rick Gates, has yet to present a proposed bail package to the judge, so he remains under house arrest.
Manafort and Gates are due back in court for a status hearing before Jackson in the US District Court for the District of Columbia on Jan. 16.