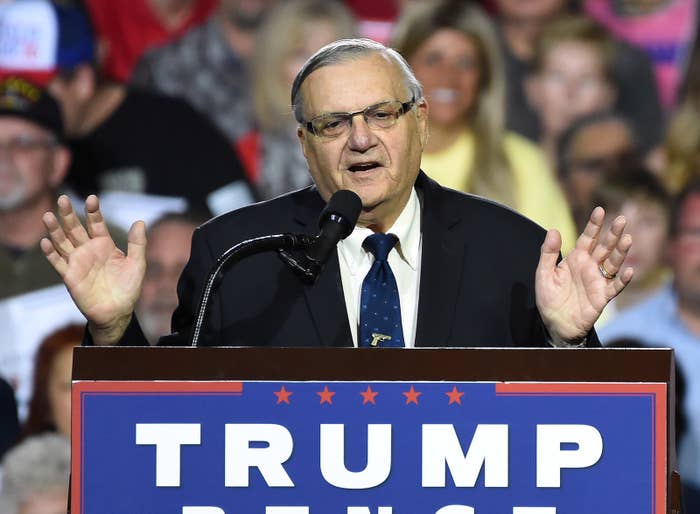 The US Department of Justice's pardon office did not review former Arizona sheriff Joe Arpaio's pardon, a DOJ official confirmed to BuzzFeed News late Friday.
It didn't have to.
The US Constitution gives the president broad power to issue pardons and commute sentences, and there is no law requiring the president to consult with the Justice Department. President Trump is not the first president to issue a pardon that didn't go through DOJ, but he now joins the ranks of presidents who made controversial clemency decisions outside of the standard pardon process. And he did so with his very first pardon.
People can apply to the Justice Department's Office of the Pardon Attorney for clemency — in the form of shortened sentences or full pardons — and the attorneys there can make recommendations to the White House after reviewing the cases. The regulations that govern that process don't bind presidents to go through the Justice Department when they want to exercise their pardon power, however.
The Justice Department official said that the Office of the Pardon Attorney did not receive a pardon application from Arpaio, who was found guilty of criminal contempt in July for failing to comply with a court order that his office stop detaining people based solely on the suspicion that they were illegally in the United States.
Shortly after the White House announced the pardon on Friday evening, a DOJ spokesperson said in a statement, "The President exercised his lawful authority and we respect his decision."
Arpaio would not even have been eligible to apply to the Justice Department for consideration of a pardon. The regulations say that petitioners have to wait at least five years from the date they're released from prison, or the date of their conviction if they aren't sentenced to any jail time. Arpaio had not been sentenced yet.

The majority of pardons and other grants of presidential clemency don't typically make headlines. But a few have proved controversial, spurring allegations of cronyism.
There was President Bill Clinton, who pardoned Marc Rich on Clinton's last day in office on Jan. 20, 2001. Rich, a billionaire financier, had fled the United States after he was indicted on a slew of charges, including tax fraud. Rich's ex-wife was a Democratic donor and had given money to Hillary Clinton's Senate campaign and Bill Clinton's presidential library, spurring probes by Congress and the FBI. The FBI investigation, which was led for a time by former FBI director James Comey (then a senior Justice Department official) closed in 2005 with no charges.

News reports at the time indicated that Rich did not apply to the Justice Department for a pardon. Former federal prosecutor Preet Bharara drew a comparison between the Arpaio and Rich pardons, commenting on Twitter that he thought both were ill-advised.
In July 2007, President George W. Bush commuted the sentence of I. Lewis "Scooter" Libby, a former chief of staff to Vice President Dick Cheney who had been convicted of perjury and other charges related to the investigation of the unmasking of a CIA operative. According to news reports, Bush did not consult the Justice Department on the commutation.
Cheney reportedly lobbied for a full pardon for Libby — Libby did not submit a pardon request to the Office of the Pardon Attorney — but Bush refused.
Trump was open about his desire to pardon Arpaio, who, like Trump, has been a proponent of hard-line immigration enforcement policies. At a rally earlier this week in Phoenix, Trump signaled that a pardon might be coming, saying that Arpaio is "going to be just fine." After the pardon was announced, Trump tweeted that Arpaio is a "patriot."
The White House statement announcing the pardon for Arpaio did not specify who Trump consulted with leading up to his decision.
That Trump had the power to issue the pardon did not stop the flood of criticism from Democrats and civil rights groups. ACLU Deputy Legal Director Cecilia Wang said the decision amounted to a "presidential endorsement of racism."
Arizona Sen. John McCain, a Republican, said that although Trump had the power to issue the pardon, it undermined Trump's "claim for the respect of rule of law as Mr. Arpaio has shown no remorse for his actions."
Chris Geidner contributed to this report.