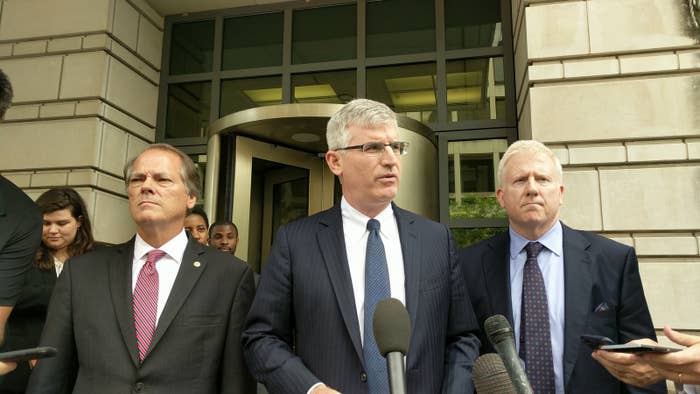 Former veteran Senate Intelligence Committee staffer James Wolfe pleaded not guilty Wednesday to charges that he lied to the FBI about his communications with reporters.
Speaking with reporters after Wednesday's hearing, Wolfe's attorney Benjamin Klubes said in a prepared statement that they would "vigorously defend Mr. Wolfe against this unfair and unjustified prosecution." Klubes said that in the nearly 30 years that Wolfe was entrusted with "the government's most precious secrets ... he never breached that trust."

Wolfe faces three counts of making false statements. He has been free since his first court appearance before a federal judge in Maryland on Friday — he is charged in the US District Court for the District of Columbia, but was arrested in Maryland — and a federal magistrate judge on Wednesday agreed to release him pending trial. His release conditions include a prohibition against accessing or sharing classified information with unauthorized individuals and a requirement that he notify the pretrial release office if he wants to travel beyond DC, Maryland, or Northern Virginia.
According to an indictment unsealed last week, Wolfe was regularly in touch with reporters in his final years with the committee, but falsely denied communicating with reporters when he was interviewed by the FBI last year as part of an investigation into unauthorized disclosures of classified information.
Wolfe reportedly had a romantic relationship with one of the reporters identified in the indictment only as "Reporter #2," but who is believed to be Ali Watkins of the New York Times. Watkins previously worked for BuzzFeed News and Politico. The New York Times reported that prosecutors secretly seized years worth of Watkins' phone and email records, prompting concerns from press freedom groups and media outlets about the Justice Department's handling of the investigation.
Wolfe's other attorney, Preston Burton, said in court that they were likely to seek a court order placing restrictions on what government officials, including President Donald Trump, could say publicly about the case. Burton told the judge that officials had already made statements about the case that suggested Wolfe compromised classified information, but he was not charged with that offense. Outside the courthouse, Wolfe's lawyers told reporters that their motion would ask the judge to prohibit officials from making "improper and prejudicial" comments about the case.
The Justice Department put out a press release about Wolfe's case last week that featured statements from several senior officials, including Assistant Attorney General John Demers, head of the Justice Department Criminal Division, who was quoted as saying: "The allegations in this indictment are doubly troubling as the false statements concern the unauthorized disclosure of sensitive and confidential information."
Burton also referred to "glib" comments made by Trump after the case was unsealed last week. The president told reporters at the time: "I'm a very big believer in freedom of the press, but I'm also a believer that you cannot leak classified information."
Wolfe, 57, served on the Senate Intelligence Committee for 30 years, including as director of security, a job that put him in charge of managing classified and other sensitive information that came to the committee.

A court on June 7 unsealed the indictment returned by a federal grand jury against Wolfe. He faces three counts of making false statements, a federal crime that carries a maximum penalty of up to five years in prison. He is accused of sharing nonpublic information with reporters, but he is not charged with leaking classified information. Wolfe on Wednesday launched a crowdfunding campaign to raise money for his legal defense, setting a goal of $500,000.

Watkins' personal lawyer, Mark McDougal, did not return a request for comment, but he told the Times last week: "It's always disconcerting when a journalist's telephone records are obtained by the Justice Department — through a grand jury subpoena or other legal process. Whether it was really necessary here will depend on the nature of the investigation and the scope of any charges."

BuzzFeed News editor-in-chief Ben Smith said in a statement, "We're deeply troubled by what looks like a case of law enforcement interfering with a reporter's constitutional right to gather information about her own government."
Politico spokesperson Brad Dayspring released a statement saying that the Senate Intelligence Committee was not Watkins' primary beat and that she "did not disclose the personal nature of her relationship early on in her tenure, and she was managed accordingly thereafter."

"Any time that a journalist's ability to do their job is threatened in a manner such as this, it's a major concern," Dayspring added. A spokesperson for the New York Times, in a statement to the paper, said, "communications between journalists and their sources demand protection."
The Reporter's Committee for Freedom of the Press put out a statement last week from its executive director, Bruce Brown, calling for an explanation from the Justice Department.
"Seizing a journalist's records sends a terrible message to the public and should never be considered except as the last resort in a truly essential investigation," Brown said. "We call on the Justice Department to explain how its actions adhered to its own guidelines for protecting newsgathering from exactly these kinds of damaging intrusions. These rules protect the public's interest in allowing journalists to report on what's happening inside the government without fear of being investigated."