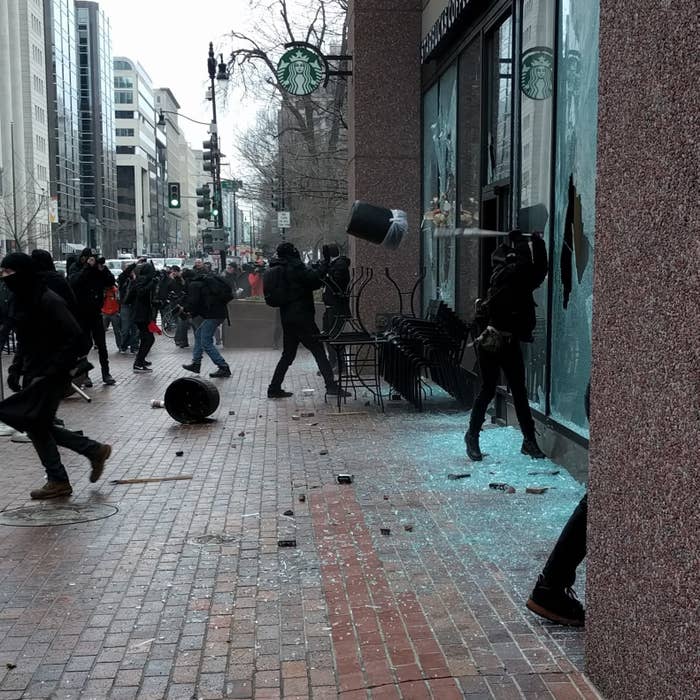 WASHINGTON — The indictment against 214 people charged with felony rioting in downtown Washington, DC, on the day of Donald Trump's inauguration offers a minute-by-minute account of a political demonstration turned violent, as marchers allegedly smashed storefronts and car windows.

But the charging papers are largely silent on what each of those 214 defendants was doing at any given time. It accuses them as a group of participating in and encouraging destruction and vandalism that caused thousands of dollars in property damage. For lawyers defending arrestees, the absence of details that specifically tie their clients to criminal activity is a problem.
In the month and a half since the arrests, lawyers have been making moves to get cases tossed out. They've filed papers in least a dozen cases to date arguing that the judge should dismiss the rioting charge because prosecutors have failed to put defendants on notice of what they're individually accused of, making it difficult to prepare a defense.
"This thing that they put out there to charge people with felonies is nothing more than a template," Jason Flores-Williams, a lawyer representing three defendants, told BuzzFeed News.
Filings in 12 out of more than 200 cases might not seem like a big deal, but they're not alone. The National Lawyers Guild, which trained and deployed legal observers to document interactions between police and protesters on Inauguration Day, has called for the rioting cases to be dismissed, saying that police indiscriminately rounded up and arrested people that day.
The US attorney's office in Washington, DC, which is handling the prosecution, has yet to respond to the motions to dismiss, and a spokesperson declined to comment. It's still early in the litigation. The most recent indictment was returned by a grand jury on Feb. 21, and since then defendants have been coming to court in small groups for arraignments. This week, 100 defendants have court dates, including several who have asked to have the rioting charge thrown out.
The possibility of a felony conviction raises the stakes. The maximum sentence under DC law is 10 years in jail, or a fine of up to $25,000. Protesters arrested en masse in the past typically faced a lower misdemeanor charge, such as failing to obey a police officer, or had the option of paying a nominal amount of money to resolve the case shortly after being arrested, a process known as "post and forfeit."
"The Government's approach to this case—indict everyone first, figure out what happened later—is a palpable threat to the exercise of core First Amendment rights."
Prosecutors haven't publicly explained their charging decisions, but the indictment focuses on the costly damage to stores and vehicles that morning. Four defendants were separately charged with destruction of property, tying them to specific damage, and one of the four was also charged with throwing objects at police.
Defense lawyers say that if prosecutors want to pursue the felony rioting charge, they need to provide more details and evidence. In some cases, lawyers also are arguing that the US attorney's office and the Justice Department as a whole should be disqualified, since the protests were against Donald Trump, who now leads the executive branch. DOJ's involvement raises questions about the motivation behind decisions to charge the protesters, lawyers contend.
Flores-Williams says the DC cases have would-be protesters across the country worried about how the Justice Department will respond to political demonstrations going forward. Since Trump's election, protests have taken place across the country. Most have been peaceful — there were zero arrests on Jan. 21 during the Women's March in Washington, which involved hundreds of thousands of people — but some have involved confrontations with police.
"I talk with protesters all the time ... the first thing that people say now is, 'Am I going to get a felony?' This has been effective for [the Justice Department]. The word 'felony' is on everybody's mind now," he said.
'Organized and intentional'
DC law defines a riot as a "public disturbance" involving five or more people that creates "grave danger" to people or property. The section of the law that the Jan. 20 defendants are charged under applies to people who "willfully incited and urged others to engage" in a riot that caused serious injury or property damage worth at least $5,000.
Proving intent to a jury in a mass arrest case is a high bar for prosecutors to meet, said Andrew Ferguson, a law professor at the University of the District of Columbia David A. Clarke School of Law.
"You're going to have citizens weighing whether they think all of these people willfully engaged in rioting, which sounds a lot more grand and horrific than the destruction of a window in a bank and a burning trash can," Ferguson said. At the same time, he said, in an era when everyone has a cell phone with a camera and there are surveillance cameras all over, there's likely a lot more evidence for prosecutors to work with.
The Jan. 20 demonstration, which began shortly after 10 a.m., was billed as an "anti-capitalist" and "anti-fascist" protest. Many marchers wore all black, and some covered their faces — a tactic prosecutors said is known as a "Black Bloc." As the group moved into downtown DC, some participants tipped over newspaper boxes and trash cans into the street, and smashed windows of storefronts, including a Starbucks and a Bank of America, and a limousine, which would later be set on fire.
At a Jan. 20 press conference, then-acting DC police chief Peter Newsham said it appeared participants came armed with crowbars and hammers, and that the destruction seemed "organized and intentional." He drew a distinction with protests earlier in the morning that involved demonstrators using their bodies to block inauguration attendees from getting to security checkpoints, saying that was a type of civil disobedience the department tried to work around.
By the end of the day, police arrested 230 people for rioting. Prosecutors have dropped cases against 16 defendants, a group that included journalists and legal observers. The US attorney's office has declined to comment on the reason it dismissed those cases.
The Metropolitan Police Department and US Park Police are facing a civil lawsuit claiming the mass arrests that day were unconstitutional and that police used excessive force. The government hasn't filed a response yet to those allegations.
"Indictments can be very bare and they can be more than constitutional."
The indictment returned on Feb. 21 in the criminal cases describes a roughly half hour period, from 10:19 a.m. to 10:52 a.m., when the alleged destruction took place.
It notes that as some people engaged in acts of violence and vandalism, others "cheered and celebrated."
More than 40 defendants have been arraigned since Feb. 21, all entering pleas of not guilty. Arraignments for other defendants are scheduled throughout March and April. At least one defendant has filed a request to sever his case from the rest, arguing that there isn't any specific evidence that he rioted, so it is unfair to lump him in with defendants where the government might have a stronger case.
First Amendment 'threat'
In at least a dozen cases, lawyers have sought to get the indictment dismissed on the grounds that prosecutors failed to include information linking individual defendants to the alleged rioting.
Flores-Williams wrote in the dismissal requests he filed in February that "a single generalized narrative" wasn't enough for the government to prove that it had probable cause to press the rioting charge against his clients.
Absent specifics, lawyers in another case argued in their dismissal request that a judge wouldn't be able to tell if the government was wrongly prosecuting people who were engaged in political speech that was protected by the First Amendment, as opposed to criminal rioting.
"The Government's approach to this case—indict everyone first, figure out what happened later—is a palpable threat to the exercise of core First Amendment rights," the lawyers wrote in that court filing.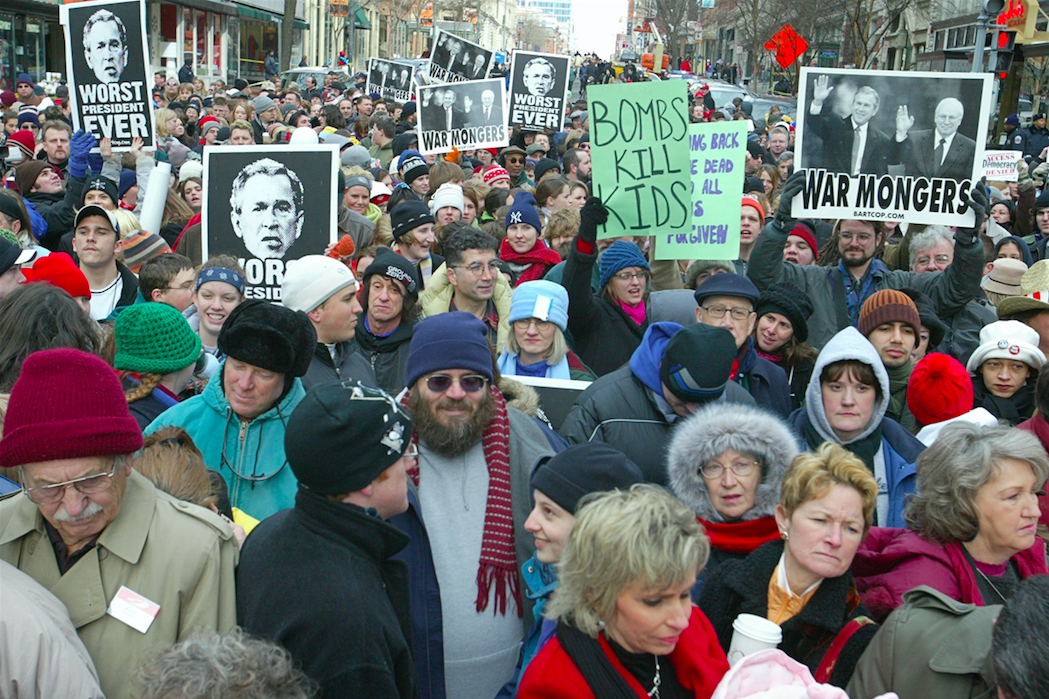 There is some legal precedent on the government's side. In a 2009 opinion, the US Court of Appeals for the DC Circuit explored what defines rioting under DC law and how wide a net police can cast in arresting a large group of people for the actions of a few. That case involved the arrests of 72 people during demonstrations on Jan. 20, 2005, the evening of President George W. Bush's second inauguration.
The protesters were arrested on the misdemeanor charge of parading without a permit. In a civil lawsuit filed later claiming the arrests were unconstitutional, several arrestees argued that parading without a permit wasn't a criminal offense that could give police probable cause to make arrests. Lawyers for the District of Columbia countered that police reasonably believed the demonstrators were involved in other criminal activity at the time, including rioting.
The DC Circuit noted that police officers could establish probable cause to arrest a group acting as a "unit," even if they couldn't pin specific crimes to certain individuals. And cheering on other people committing acts of violence would fall under the rioting law, the court said.
DC Circuit opinions aren't binding on the local DC Superior Court, where the rioting cases are being litigated, although judges can look to them for guidance. A search of opinions from the DC Court of Appeals, the city's highest local court, didn't turn up decisions that squarely addressed rioting. In one 2011 decision, judges expressed concern about the failure of prosecutors to present witnesses at trial who could identify defendants charged with failing to obey police as the people who actually were participating in a protest and disobeying officers.
Roscoe Howard Jr., who served as the District's US attorney from 2001 to 2004, said that indictments can be light on details, as long as they put a person on notice of the charges they face. If prosecutors fail to put forward evidence to support charges against defendants, that can be challenged at other stages of the case or at trial, he said.
"Indictments can be very bare and they can be more than constitutional," he said.
Conflict of interest?
The other set of motions to dismiss filed so far press a more unusual argument challenging the Justice Department's participation in the Inauguration Day cases. Lawyers argue that with Trump now serving as the head of the executive branch, including the Justice Department, it raises questions about the motivation for the prosecution and whether prosecutors can exercise independent judgment.
"When you have a prosecutor, you want a prosecutor who is essentially going to be fair, not be prejudiced, not be biased. But what we have is an individual who is essentially prosecuting these individuals and they have a direct tie" to the administration, said Christopher Mutimer, a lawyer representing one of the defendants who is arguing that the Justice Department should be disqualified.
In lieu of the US attorney's office, Mutimer said that the DC Office of the Attorney General could have been brought in to handle these cases, but city prosecutors don't have jurisdiction over felony cases. Under the unique law enforcement set-up in the nation's capital, federal prosecutors handle felonies and other serious local crimes, while the local attorney general's office handles misdemeanors.
Howard said that absent a more direct conflict of interest — for instance, if one of Trump's family members worked in the US attorney's office — he didn't think the disqualification argument would go far.
"Although Donald Trump is the head of the executive branch, that certainly doesn't give you carte blanche to commit crimes against the executive branch or with the executive branch in mind and not be prosecuted," Howard said.