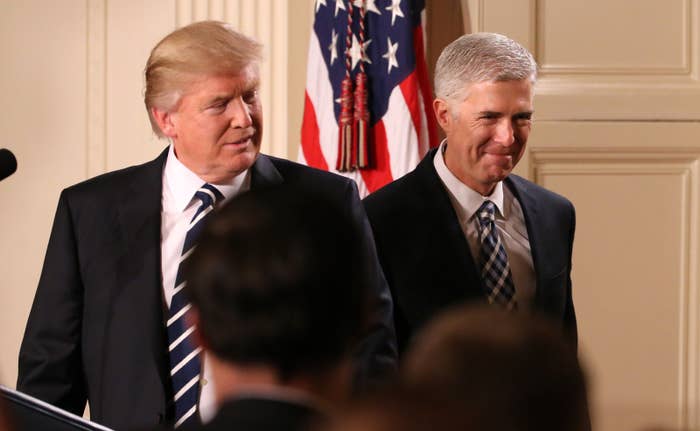 WASHINGTON — In August 2006, a police officer fired a taser at Ryan Wilson, who had run away from detectives questioning him about whether he was illegally growing marijuana plants. One of the taser's probes hit Wilson in the head, and he died.
Judge Neil Gorsuch — nominated Tuesday night by President Trump for the US Supreme Court — wrote in a February 2013 opinion that the officer who fired the taser was immune against an excessive force claim filed by Wilson's parents. It's a decision that Gorsuch's critics on the left now point to as evidence that he's unfit to serve on the Supreme Court, at least when it comes to criminal justice issues.
BuzzFeed News reviewed Gorsuch's written decisions in excessive force cases during his time on the US Court of Appeals for the 10th Circuit. The Wilson case is one of several where he's had an opportunity to consider shows of physical force by police and other law enforcement officials, and when they rise to the level of a constitutional violation.
An adult man sitting on the chest of a detained 11-year-old to punish him for a minor infraction? That was likely excessive force, Gorsuch wrote. Physically removing a woman from her home and locking her in a police car to question her as police arrested her husband? Not excessive force, he concluded, breaking with some of his colleagues who found otherwise.
Gorsuch's overall record on the issue presents a mix of opinions coming down on either side — though in at least two, there was a disagreement among the judges, and both times Gorsuch was on the side of law enforcement.
In the 2006 case involving Ryan Wilson's death, Gorsuch wrote that "no one questions" that using a taser "amounts to a significant physical intrusion" that requires an equally significant justification. But the facts presented to the court provided that justification, he said — Wilson refused orders to stop running and at least twice reached towards his right pocket, a sign that he might be armed. After Wilson was tasered, police found that he had a box cutter.
"The situation at the time the officer fired his taser was, thus, replete with uncertainty and a reasonable officer in his shoes could have worried he faced imminent danger from a lethal weapon," Gorsuch wrote. He was joined in the opinion by Judge Scott Matheson Jr.
Gorsuch's colleague Judge Mary Beck Briscoe dissented. She focused on the fact that the taser had a targeting function, and officers were warned not to aim it at a person's head or throat unless it was necessary.
"I believe the majority failed to give proper weight to, as alleged, the egregious circumstances of this case," Briscoe wrote.
In statement about Gorsuch's Supreme Court nomination, the liberal advocacy group People for the American Way said that Gorsuch's opinion in the Wilson case was part of "an extreme record that makes him unfit for the Supreme Court."
"At a time when the abuses of our criminal justice system are becoming a national crisis, we cannot confirm a justice who does not understand the role of the Supreme Court to protect the most vulnerable among us," the group said.
Gorsuch split with his colleagues in another excessive force case decided in February 2007, dissenting from an opinion that concluded that a woman could pursue a lawsuit against officers who took her from her house and held her in a police car while her husband was arrested.
In that case, police went into Tina Cortez's home looking for her husband, who was accused of sexually abusing a toddler. (He was never charged with a crime.) The husband was handcuffed and placed in a police car. Cortez wasn't accused of wrongdoing, but she was physically escorted out of the house and put in a police car, where she was questioned. She was allowed to use an officer's cell phone, but she was locked in the car.
A majority of a full sitting of the court found that the officers failed to justify the use of force against Cortez, since there was no reason to think she was a flight or security risk.
"This is not a situation where officers needed to neutralize certain persons while conducting an investigation," Judge Paul Kelly Jr. wrote for the majority.
Gorsuch in his dissent — which was joined by four other judges — agreed that an excessive force claim didn't need to involve a physical injury, but he wrote that those types of cases "typically involve the use of grave force and at least the threat of imminent and severe physical harm."
"I also cannot help but ask whether, if the majority allows Ms. Cortez to establish a claim of excessive force based upon her bare allegation that she was intimidated, might this imply the possibility that the use of virtually any force in the course of an unlawful detention, no matter how mild and no matter whether any actual injury occurs, is unconstitutionally excessive?" Gorsuch wrote.
In other cases, he sided against law enforcement. In at least one case, he went even further than his colleagues in urging against a higher bar for plaintiffs to prove certain types of excessive force claims. In that case, a man who had shot himself twice accused police of handcuffing him in a way that made the injury worse. The three-judge panel, which Gorsuch was part of, in October 2009 unanimously reversed a trial judge who found that the officers were entitled to qualified immunity.
Gorsuch wrote separately to explain that he disagreed with the majority's decision to find that in excessive force cases involving handcuffing, the court should consider whether the plaintiff was actually injured. An injury requirement was unnecessary, Gorsuch said, and risked kicking cases out of court that involved police abuses during handcuffing that didn't cause an injury.
"How can we explain that free citizens must prove injuries to prevail on excessive force claims under the Fourth Amendment in light of the Supreme Court's and our own refusal to require convicted felons to prove injuries to prevail on similar claims under the Eighth Amendment?" Gorsuch wrote. "Does the Constitution really prefer imprisoned criminals over everybody else?"
In a November 2013 opinion, Gorsuch wrote that a trial judge was correct to deny immunity to juvenile detention center officials facing excessive force claims for allegedly punishing an 11-year-old boy by holding him in a restraint chair and having an adult man sit on his chest. Gorsuch said that although there was evidence officials sometimes used the restraint chair to prevent the boy from hurting himself, there were also allegations that they used it when there wasn't an urgent safety need.
In earlier cases, the Supreme Court held that certain types of punishments were prohibited for convicted prisoners, and no punishment was allowed for pretrial detainees like the 11-year-old, Gorsuch wrote. "And there is ample evidence in this case that the defendants at least sometimes used the Pro-Straint chair to punish their young charge," he wrote.
In a January 2010 opinion, meanwhile, Gorsuch wrote that three sheriff's deputies accused of tackling a man who had complied with an order to get down on the ground weren't entitled to immunity from an excessive force claim at that stage of the case. Although the deputies acknowledged that it was "perhaps unlikely" that the man was a flight risk by the time they tackled him, Gorsuch found that there was enough of a dispute about what happened that a jury should decide the issue.
Generally, though, Gorsuch wrote in that opinion that the law was clear "that the gratuitous use of force against a person who is not resisting arrest violates the Fourth Amendment."