Federal Prosecutors Want Broad Authority To Go After Supreme Court Protesters
Five men and women arrested this past year for disrupting US Supreme Court arguments scored a rare victory in late 2015 when a federal judge narrowed a law that criminalizes high court protests. Federal prosecutors appealed.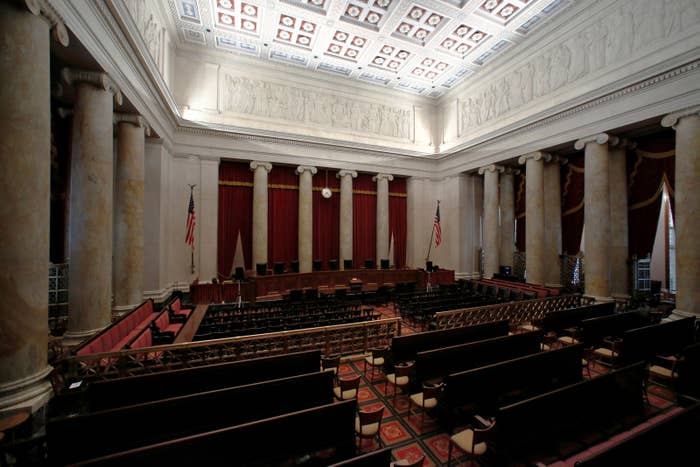 WASHINGTON — On April 1, 2015, five men and women were arrested for demonstrating inside the US Supreme Court. One by one, they stood up at the start of arguments before the justices and spoke or sang in protest of the court's 2010 Citizens United decision.
Federal prosecutors fought in federal appeals court on Monday to keep in place every avenue of authority to bring charges against such protesters.
The government took a hit this past year when a federal judge ruled that part of the law that criminalizes disruptions at the high court was unconstitutional, prompting prosecutors to appeal. A three-judge panel of the US Court of Appeals for the DC Circuit heard arguments over the government's appeal on Monday — not about whether people can interrupt Supreme Court arguments, but focused on whether the federal law used to charge people in these cases clearly spells out what types of behavior are illegal in the courtroom.
Although it's a case about speech, it's not a First Amendment case. US District Judge Christopher Cooper found that prosecutors couldn't charge the protesters with making a "harangue" or "oration" at the Supreme Court because those terms were unconstitutionally vague. The vagueness issue stems from the constitutional right to due process—the requirement that a law clearly puts people on notice that what they're doing is illegal.
Federal prosecutors want the DC Circuit to reinstate the "harangue" and "oration" language in the law, arguing that those terms have clear meanings that the public would understand.
The US attorney's office in Washington has taken a hard-line approach to prosecuting individuals who demonstrate inside the high court. Defendants arrested in recent years for speaking out during Supreme Court arguments faced stiffer penalties than those arrested for similar conduct inside Congress. In one earlier case, a prosecutor told a judge that Supreme Court protesters weren't eligible for leniency offered to Senate protesters because of where the protest took place.
A loss for the government wouldn't end the criminal case against the group arrested in April 2015. They still face charges of making a "loud" utterance at the court and of trying to obstruct the administration of justice.
During the hearing on Monday, the judges and lawyers explored historical dictionary definitions in attempting to answer the question of whether the language in the law is vague.
Daniel Lenerz of the US attorney's office pushed a definition of harangue as "forceful" and "angry" speech, but then stumbled when asked by Judge Sri Srinivasan to define "forceful" speech, saying he didn't have that on hand. He later called that an "embarrassing" misstep and said that the word's meanings included vehement speech.
Lenerz urged the court to avoid going down the "rabbit hole" of endlessly trying to define words that defined other words.
The back and forth about the meaning of "forceful" in defining "harangue" was exactly the problem, Federal Public Defender A.J. Kramer responded during his arguments. There was no "core meaning" of these words that could put people on notice that particular conduct at the Supreme Court was an illegal "harangue" or "oration." He compared the situation to cases in which words such as "annoying" were deemed unconstitutionally vague.
Judge Stephen Williams asked Lenerz about the fact that Cooper left intact a portion of the law that made it criminal to make a "loud" utterance in the court. Wouldn't that cover the behavior at issue, he asked. Srinivasan then pointed out that there could be non-loud speech that disturbed the court. Williams whispered into his microphone to acknowledge that there could be quiet orations, drawing laughs from the gallery.
Srinivasan wrote a decision in August 2015 that upheld a ban on protest activity on the large marble plaza in front of the Supreme Court. The US attorney's office quoted from that opinion in its brief, citing the section in which the judge wrote that a ban on any "flag, banner, or device designed or adapted to bring into public notice a party, organization, or movement" was not vague.
DC Circuit Judge Janice Rogers Brown also heard arguments on Monday.