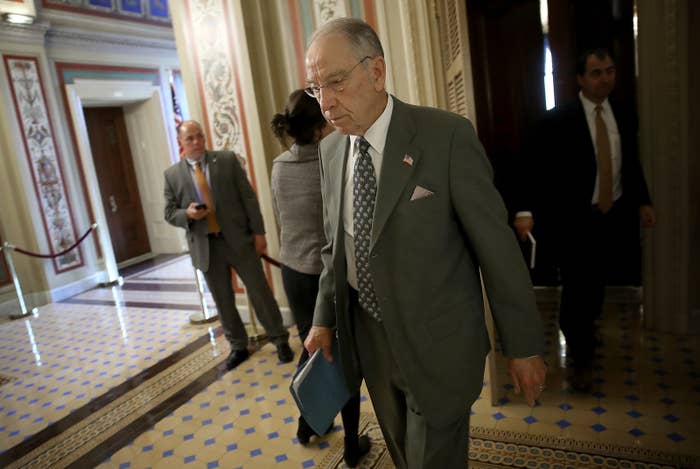 Senate Judiciary Committee Chairman Chuck Grassley announced Thursday that Democrats will not be able to block President Donald Trump's judicial nominees through an unofficial senatorial courtesy system known as the "blue slip process," saying he will hold hearings on some nominees even if both home state senators haven't given their approval.
Grassley's move will get rid of one of the few obstacles the Trump administration has faced in getting judges confirmed. Trump nominees who have made it out of committee have all been confirmed so far by the Republican-controlled Senate, and with 145 vacancies pending and more opening up soon, Trump is poised to leave his mark on the judiciary early on in his first term.
Under the blue slip process, some, but not all, chairmen of the Senate Judiciary Committee would not schedule hearings unless both home state senators returned forms — historically on blue sheets of paper — signaling their approval. At the start of the year, Grassley indicated he was still following this practice, delaying hearings for some nominees until Democrats returned their blue slips.

But on Thursday Grassley announced on the Senate floor that he would schedule a hearing for Nov. 29 for Minnesota Supreme Court Justice David Stras, nominated for the US Court of Appeals for the 8th Circuit. Minnesota Sen. Al Franken had announced in September that he would not return his blue slip for Stras, saying in a statement that he was concerned that Stras "would be a deeply conservative jurist in the mold of Supreme Court Justices Clarence Thomas and Antonin Scalia."
Grassley said that the blue slip process was not intended to give senators "veto power" over nominees. A growing chorus of Republicans, including Senate Majority Leader Mitch McConnell, had been calling on Grassley this year to get rid of the blue slip process, at least to the extent that it allowed Democrats to indefinitely hold up Trump's nominees.
"It's very clear from the history of the blue slip that's not what the blue slip was meant for," Grassley said.
Grassley said the judiciary committee would also hold a hearing on Nov. 29 for Kyle Duncan, nominated for a seat on the US Court of Appeals for the 5th Circuit designated for a Louisiana nominee. Louisiana Sen. John Kennedy had "declined to return a positive blue slip," Grassley said, but had indicated that he did not oppose a hearing.
California Sen. Dianne Feinstein, the committee's ranking Democrat, said in a statement that Grassley's decision "couldn't be more troubling."
"The lengths to which Republicans are going to jam extremely conservative and controversial nominees through the Senate is unprecedented. What's happening is diminishing the Judiciary Committee and the Senate and undermining the independence of the federal judiciary," she said.

With Republicans in control of the Senate, Democrats have been unable to defeat Trump's judicial nominees once they get out of the judiciary committee. Democrats have been able to slow down the process by refusing to give their consent for a floor vote, forcing McConnell to go through a series of procedures that push back the timeline for confirmation — a set of rules that some Republicans are also in favor of changing. But because Democrats got rid of the filibuster for lower court nominees when they controlled the Senate in 2013, the blue slip process appeared to be the only way left to stop a nomination from moving forward absent a "no" vote from any Republicans.
Grassley said that he would continue to give deference to the blue slip system, since it encouraged the White House to consult with senators, but Thursday's announcement drastically undercuts any leverage that Democrats have with the White House. Grassley said he would be more inclined to wait for both blue slips for district court nominees before scheduling a hearing, given the traditional deference the White House has given home state senators for the trial courts, but less so for appeals courts, which cover multiple states.

Oregon Sens. Ron Wyden and Jeff Merkley, both Democrats, said in a Sept. 7 letter to White House counsel Don McGahn that they would not return their blue slips for 9th Circuit nominee Ryan Bounds because he hadn't been vetted through a bipartisan judicial selection committee in their state. McGahn had written a letter to the senators the day before accusing them of refusing to cooperate with the White House. Grassley hasn't made an announcement yet about whether he intends to schedule a hearing for Bounds.

Wisconsin Democratic Sen. Tammy Baldwin hasn't returned her blue slip for 7th Circuit nominee Michael Brennan. Grassley also hasn't said yet if he'll hold a hearing.
A spokesman for Franken did not immediately returned a request for comment. A news anchor in Los Angeles, Leeann Tweeden, went public on Thursday with allegations that Franken groped her without consent in 2006, when they were both overseas entertaining US troops. A spokesman for Grassley, Taylor Foy, said the timing of the blue slip announcement was unrelated to the Franken scandal.

A spokesperson for Kennedy also did not immediately return a request for comment.
Liberal groups denounced Grassley's announcement, noting that Republicans used unreturned blue slips to block former president Barack Obama's judicial nominees, including when Grassley was chairman of the committee.
"This decision to shred the blue slip tradition is the latest outrageous move by Senate Republicans bent on shoving extreme, unqualified judicial nominees across the finish line as fast as possible. Not only that, Chairman Grassley has irretrievably sacrificed his own integrity in flip-flopping on the principle that blue slips must be respected," Nan Aron, president of the Alliance for Justice, said in a statement.
UPDATE
Update with comment from Sen. Dianne Feinstein.