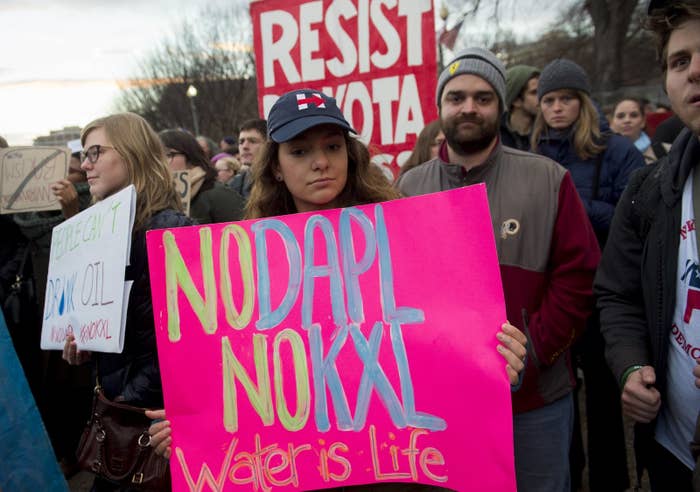 WASHINGTON — The company building the Dakota Access pipeline has asked a federal judge to seal information contained in a small cache of documents that it says could be used by terrorists or "others with malicious intent to damage the pipeline."
The 11 documents at issue discuss the amount of oil that would flow out if the pipeline ruptured in various places, according to court papers filed Wednesday evening by Dakota Access LLC. Since the pipeline is unlikely to break on its own, the company said, that information could only be useful to a bad actor who wanted to cause maximum damage.
The documents also explain how the company would respond if there is a rupture.
The two Native American tribes suing in the US District Court for the District of Columbia to challenge the pipeline have opposed sealing some of the information at issue, according to the court filings, prompting Dakota Access LLC to go to court. Lawyers for the Standing Rock Sioux Tribe and Cheyenne River Sioux Tribe were not immediately reached on Thursday morning.
In asking the judge to redact information, Dakota Access LLC raised concerns about terrorist attacks against the pipeline, citing an article that discussed the possibility that foreign terrorists or "environmental extremists" could use sensitive information about the pipeline to attack it.
"Given the intense amount of public attention this pipeline has received, and the unlawful activity already experienced, there is a greater than typical risk that this information would be misused to harm the public," the company argued in its sealing request to the judge.
According to copies of email exchanges between lawyers in the case attached to Dakota Access' request, a lawyer for Standing Rock Sioux Tribe said that the public should be allowed to review information about spill response.
The Obama administration in December halted construction on the pipeline, and called for additional environmental review. President Trump immediately changed course after he was sworn in, issuing a presidential memorandum that ordered agencies to expedite any review or approvals needed to get construction going again.

At a Jan. 30 hearing, a lawyer for the US Army Corps of Engineers — which is responsible for deciding if Dakota Access LLC can get any easements it needs to continue construction through federal land — told the judge that he didn't know yet how long the expedited review under Trump's order would take. The judge pressed for details, and ordered the government to come back to court on Feb. 6 with an update.
On Wednesday evening, the Army Corps notified the court that Acting Secretary of the Army Richard Speer issued a memorandum on Jan. 31 ordering the Army Corps to proceed with the pipeline review process. That memorandum didn't detail a time frame for how long that review would take.