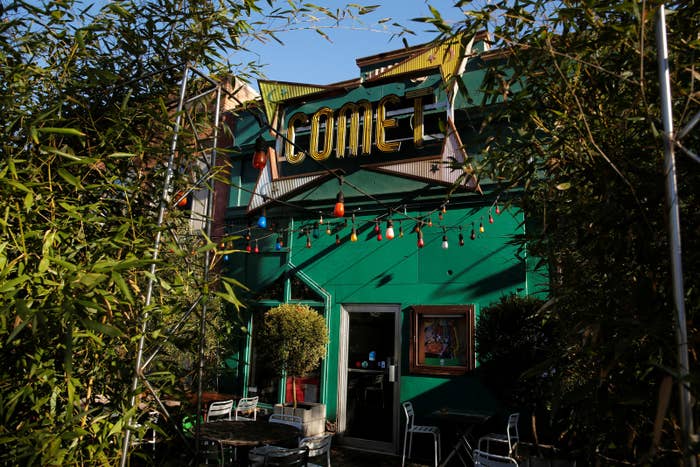 WASHINGTON — Charges against the North Carolina man accused of bringing a rifle and a handgun into a Washington, DC, restaurant in connection with the "Pizzagate" conspiracy theory were dismissed on Tuesday as prosecutors pursue the case in federal court.
Edgar Welch, 28, allegedly told police that he was investigating unfounded reports that Comet Ping Pong in northwest Washington was harboring child sex slaves when he walked into the restaurant on Dec. 4 in the middle of the afternoon armed with an AR-15 rifle and a .38 caliber handgun.

The US Attorney's Office for DC charged Welch in federal court with "interstate transportation of a firearm with intent to commit an offense." The charging papers were filed on Monday, but weren't made public until Tuesday. The charge carries a maximum sentence of 10 years in prison and potential financial penalties.
Welch was alone when he showed up at the DC pizza restaurant, but according to charging documents, he allegedly attempted to recruit others to join him several days prior. In one text message, he talked about "Raiding a pedo ring, possibly sacraficing [sic] the lives of a few for the lives of many."
Welch, a father of two from Salisbury, North Carolina, who listed a grocery store as his employer in court papers, has been held at the DC jail since his arrest. He initially faced local charges in DC Superior Court, where he appeared for a hearing on Tuesday. The prosecutor then told the judge that the US Attorney's Office was dismissing the local case to pursue federal charges.
Welch made his first appearance in the US District Court for the District of Columbia later in the afternoon.
Wearing an orange uniform and white T-shirt, he answered several questions about his background. He told the judge he had completed some college-level education and did not have a job. Welch is scheduled to return to court on Friday, when a judge will decide if he should stay in jail.
Welch's lawyer, federal public defender Dani Jahn, and prosecutors declined to comment after the hearing.
Prosecutors had asked US Magistrate Judge G. Michael Harvey on Monday to seal the charging papers until Welch appeared in court, citing fears that witnesses might try to destroy electronic evidence or coordinate their statements, however, the request was denied.
A witness who was outside when Welch allegedly entered the restaurant told police he heard "three loud bangs" inside and that Welch swung his rifle towards him. Police said Welch fired shots that hit walls, a door, and a desktop computer. No one was injured.

According to police, Welch surrendered peacefully when he found no evidence of children being held at the restaurant. Welch later told The New York Times that, "the intel on this wasn't 100%," referring to fake reports online that the restaurant was the site of a child sex slave ring.
In addition to the AR-15 rifle and .38 caliber handgun, police said they found a loaded shotgun and ammunition in Welch's car. Investigators also said they recovered a video that Welch appeared to have recorded on his phone while he was driving, telling his family that he loved them.
Court papers filed by Welch's first lawyer offered an early sign of a defense strategy. In a Dec. 7 letter, DC public defender Leshaah Murphy asked prosecutors to turn over any statements from witnesses who said her client did not point a gun at anyone. That information would go toward proving Welch's "lack of intent to harm the employees and patrons of the restaurant," Murphy wrote.
Tuesday's hearing in DC Superior Court was supposed to happen last week, but was postponed at the request of Murphy, who told the judge she needed time to investigate and allow Welch's family and friends to make arrangements to travel to Washington. A judge granted the delay over the government's objection.
Welch initially faced four charges: assault with a dangerous weapon, carrying a pistol without a license, unlawful discharge of a firearm, and carrying a rifle or shotgun. According to court documents, he tested negative for drugs when he was arrested and had one prior conviction in 2013 for driving while impaired in North Carolina.
Comet Ping Pong and its employees faced harassment in the weeks leading up to the incident as false claims of a child sex slave ring spread online, spurred by hacked emails from Hillary Clinton campaign chairman John Podesta's account that referenced pizza and restaurant owner James Alefantis's ties to the Democratic party.
Washingtonians have rallied around Comet Ping Pong since the incident. The restaurant was reportedly packed with supporters over the weekend.