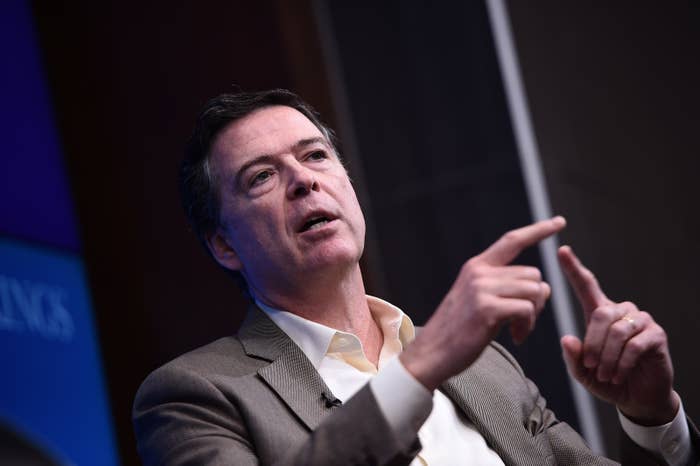 The Justice Department inspector general's office concluded in a long-awaited report released Thursday that political bias did not play a role in the Justice Department's decision to clear Hillary Clinton of criminal wrongdoing, even as investigators slammed former FBI director James Comey for being "insubordinate" in his handling of the investigation.
The report did reveal a recently-discovered text from a former FBI agent involved in the investigation that the inspector general's office said suggested political bias may have played a part in certain decisions made in the fall of 2016 related to the investigation of Clinton's use of a private email server while she was Secretary of State. The former FBI agent, Peter Strzok, prioritized the FBI's investigation into Russian interference in the 2016 election over the email probe, investigators wrote.
A key text exchange between Strzok and former FBI lawyer Lisa Page from Aug. 8, 2016, part of which the inspector general's office said they only discovered in May, Page had texted Strzok, "[Trump's] not ever going to become president, right? Right?!" Strzok replied, "No. No he's not. We'll stop it."

That response from Strzok — the part that the inspector general's office discovered in May — led the inspector general's office to conclude that political bias may have played a part in the FBI's delay in acting on information they learned in September 2016 about additional emails discovered on former congressman Anthony Weiner's computer that may have been relevant to the investigation; Weiner was married to Clinton's longtime aide Huma Abedin. That was the only evidence of political bias related to the Clinton emails probe that investigators identified in the 500-page report.
The report delves into the actions of the FBI and the Justice Department leading up to the 2016 presidential election, as investigators were looking into Clinton's use of a private email server while she was in the Obama administration. No charges were filed against Clinton, who denied that she compromised classified information.
Other key revelations in the report include that there were "numerous FBI employees" in frequent contact with reporters and that there is an investigation into whether employees "improperly received benefits from reporters"; and that two other FBI agents and a FBI lawyer involved in the investigation sent text and instant messages expressing hostility towards Trump, and that information has been referred to the FBI for possible internal disciplinary action.

Attorney General Jeff Sessions said in a statement that the report "reveals a number of significant errors by the senior leadership of the Department of Justice and the FBI during the previous administration." He called the investigation a "prolonged and painful process," for the Justice Department and the FBI, but said that it is not over, noting that Utah US Attorney John Huber — who was appointed to determine if there were any matters not currently under investigation that should be, or if another special counsel was needed — was still conducting his review in cooperation with the inspector general's office.
"Accordingly, this report must be seen as an opportunity for the FBI — long considered the world's premier investigative agency — and all of us at the Department to learn from past mistakes. The Department is not above criticism, and it is accountable to the Chief Executive, Congress, and most importantly, the American people," Sessions said.
Comey weighed in via an op-ed in the New York Times published after the report was released, saying he did not agree with all of the conclusions but "respect the work of his office and salute its professionalism." He defended his decision to go solo in announcing the conclusions of the investigation in July 2016, saying that if then-attorney general Loretta Lynch had been involved at the time, it "would have done corrosive damage to public faith in the investigation and the institutions of justice."
"In 2016, my team faced an extraordinary situation — something I thought of as a 500-year flood — offering no good choices and presenting some of the hardest decisions I ever had to make. We knew that reasonable people might choose to do things differently and that a future independent reviewer might not see things the way we did. Yet I always believed that an inspector general report would be crucial to understanding and evaluating our actions," Comey wrote.
Shortly before Trump was sworn into office in January 2017, Justice Department Inspector General Michael Horowitz announced that his office was launching an investigation into allegations of misconduct by the FBI and the Justice Department leading up to the 2016 election. Comey drew fierce criticism for his decision to make a public announcement in July 2016 that the FBI was not recommending charges against Clinton — a pronouncement that nevertheless included criticism of Clinton for her actions — and then to send letters to Congress with further updates about the investigation shortly before the election.
Trump fired Comey in May 2017, citing recommendations by Attorney General Jeff Sessions and Deputy Attorney General Rod Rosenstein. Rosenstein had written a memo to Sessions on May 9 that faulted Comey for his handling of the Clinton email probe, writing that "the FBI is unlikely to regain public and congressional trust until it has a Director who understands the gravity of the mistakes and pledges never to repeat them. Having refused to admit his errors, the Director cannot be expected to implement the necessary corrective actions."
Sessions then wrote a memo to Trump recommending that Comey be fired, citing Rosenstein's findings and saying that he had "concluded that a fresh start is needed at the leadership of the FBI."
But Trump appeared to undercut his own stated reasons for firing Comey in an interview with NBC's Lester Holt a few days later, saying he had "this Russia thing" — referring to the Justice Department probe into whether Russia colluded with the Trump campaign to interfere in the 2016 presidential election — in mind when he decided to fire Comey.
"And in fact when I decided to just do it, I said to myself, I said, you know, this Russia thing with Trump and Russia is a made-up story, it's an excuse by the Democrats for having lost an election that they should have won," Trump said at the time.
Clinton's supporters accused Comey of damaging her campaign with the election-eve revelations about the status of the investigation. Republicans and the Trump administration have claimed the investigation was biased in favor of Clinton. In public appearances promoting his new book, Comey has defended his actions, although he told ABC News that he regretted some of the critical language he used in his July 2016 announcement.
Here are key findings from the report:
Comey was "insubordinate"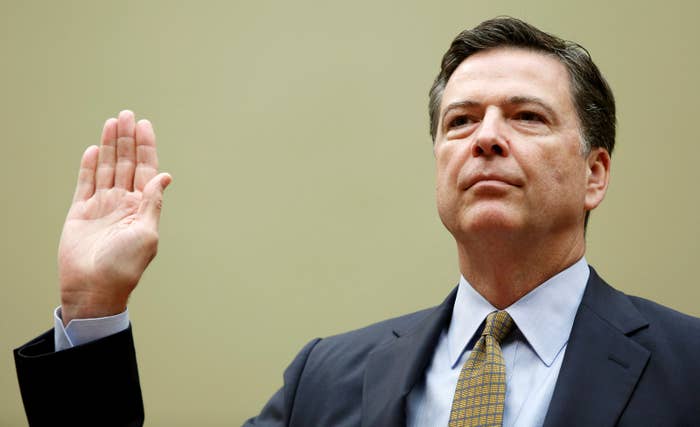 The report takes Comey to task for effectively going rogue at key junctures of the investigation, including his decision to make the July 2016 announcement about the conclusions of the investigation without coordinating with Lynch and other senior officials at the Justice Department.
According to the report, Comey told investigators that he decided to "go it alone" with the July 2016 statement because he was worried he would be told not to do it. Comey only told Lynch and then-deputy attorney general Sally Yates about his decision to hold a press conference the day it was happening, and after telling the press, according to the report.
"We found that it was extraordinary and insubordinate for Comey to conceal his intentions from his superiors, the Attorney General and Deputy Attorney General, for the admitted purpose of preventing them from telling him not to make the statement, and to instruct his subordinates in the FBI to do the same," the report said.
But the report also faulted Lynch with not exercising more control over Comey.
"We found that Lynch, having decided not to recuse herself, retained authority over both the final prosecution decision and the Department's management of the Midyear investigation. As such, we believe she should have instructed Comey to tell her what he intended to say beforehand, and should have discussed it with Comey," the report said.
Comey made a "serious error of judgment" in how he handled the decision to notify Congress in late October — right before the presidential election — about the discovery of potentially relevant emails on Weiner's computer. Comey "engaged in ad hoc decision making" based on his views about what was best "even if it meant rejecting longstanding Department policy of practice."
The report also accused Comey of telling Yates that he was thinking about recommending the appointment of a special counsel when it fact he did not seriously consider it — it was leverage to push the department to move faster with certain parts of the investigation, investigators said.
No bias in clearing Clinton
Investigators found that Justice Department officials who considered whether Clinton should be charged with a crime made their decision based on the same legal analysis applied in past cases, including a 2008 decision not to charge former attorney general Alberto Gonzales with mishandling classified documents.
"We found no evidence that the conclusions by the prosecutors were affected by bias or other improper considerations; rather, we determined that they were based on the prosecutors' assessment of the facts, the law, and past Department practice."
The report made clear that investigators were not making a judgment call about whether the decision not to charge Clinton was right or wrong, but rather whether the process leading to that decision was proper.
The text messages
Strzok and Page's text messages — many of which were previously released, some of which disparage Trump — have spurred charges of pro-Clinton political bias from Trump and Republicans.
The inspector general's office said it did not find evidence of political bias at earlier stages of the investigation, although it did find evidence that Strzok and Page in some instances "advocated for more aggressive investigative measures than did others on the Midyear team, such as the use of grand jury subpoenas and search warrants to obtain evidence."
However, investigators said that Strzok was not the sole decision maker with respect to decisions made at various stages of the investigation. With the exception of the delay in examining Weiner's computer once the emails were discovered in September, the report found no other evidence of political bias in the specific investigative decisions probed by the inspector general's office.
Strzok's lawyer Aitan Goelman released a statement saying the report was "critically flawed in its bizarre conclusion" that it could not rule out that Strzok's political bias may have led to the delay in the FBI's examination of Weiner's computer.
"In fact, all facts contained in the report lead to the conclusion that the delay was caused by a variety of factors and miscommunications that had nothing to do with Special Agent Strzok's political views. The report itself provides indisputable evidence that, when informed that Weiner's laptop contained Clinton emails, Strzok immediately had the matter pursued by two of his most qualified and aggressive investigators," Goelman said.
According to the report, Strzok said that he immediately directed another FBI official to find someone to go to New York to look at the computer; the other official told investigators he did not recall that conversation. Strzok told investigators that in late September he recognized that the computer was "something that we need to look into" and that his understanding was that the FBI's New York field office would go through the computer and report back on whether there was relevant information.
Comey's emails
During the investigation into Clinton's use of a private email server, it turns out Comey, too, was using a personal email account to do official, unclassified business, according to the report.
Comey told investigators that he did not have an functioning unclassified FBI connection at home, so he would use his personal laptop and then send the text to another FBI official and include Comey's personal address as well. He said he wasn't worried about complying with his record-keeping obligations, because the messages were still ending up in the FBI's system.
The inspector general's office found that his use of personal email on multiple occasions was "inconsistent with the DOJ Policy Statement."
Leaky bureau
The inspector general's office found that the FBI's policy limiting contact with reporters was "widely ignored during the period we reviewed."
Investigators found "numerous FBI employees" at all levels of the department who were in contact with the media "with no official reason." The report also indicated that there is an ongoing investigation into instances where FBI employees "improperly received benefits from reporters, including tickets to sporting events, golfing outings, drinks and melas, and admittance to nonpublic social events."
"We have profound concerns about the volume and extent of unauthorized media contacts by FBI personnel that we have uncovered during our review," the report said.
The report includes two exhibits that identify certain unnamed reporters and the various officials they were in touch with. One reporter was identified as being in communication with 18 different FBI employees, in some cases multiple times.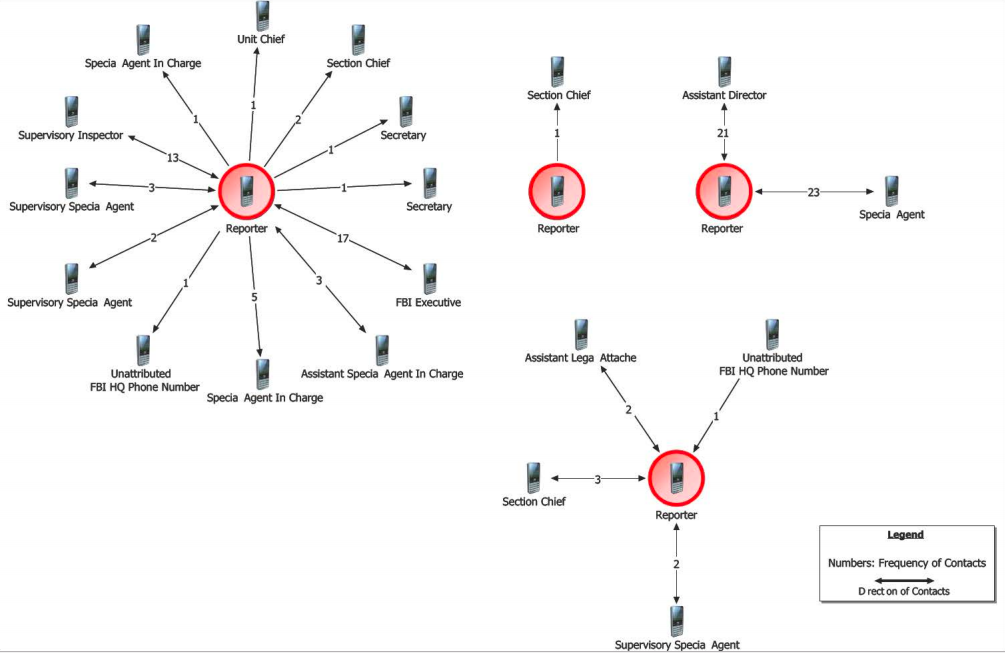 At a press conference following the release of the report, FBI Director Christopher Wray said they were taking a series of steps to address the culture of leaks identified in the report, including doing training on the FBI's media contacts policy, which he said is stricter than it has been in the past; making it "painfully clear" that the bureau won't tolerate violations; and having the FBI's internal disciplinary office review whether the current penalties for having unauthorized contacts with reporters are sufficient.
The tarmac meeting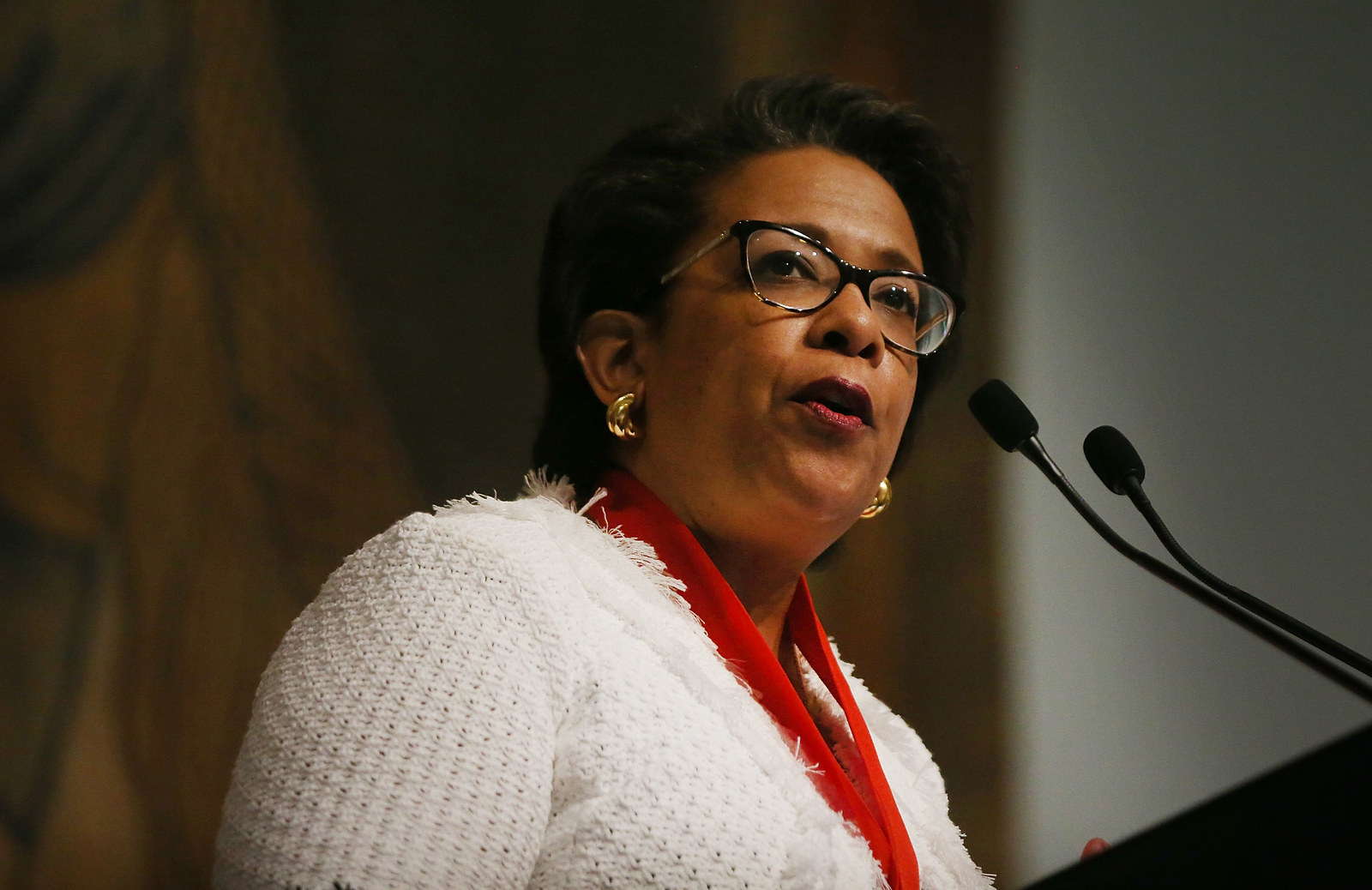 Lynch faced criticism for a meeting on June 27, 2016, with former president Bill Clinton, which took place on her plane as it was parked at an airport in Phoenix. Lynch and Clinton told investigators that they did not discuss the investigation into Hillary Clinton's email server, or any other department investigation.
Lynch told investigators that "it was just too long a conversation to have had," and that afterwards she sought guidance from Justice Department ethics officials. Lynch was told that she did not need to recuse from the Clinton emails probe.
The inspector general's office found that Lynch's "failure to recognize the appearance problem" and to act at the time to cut short the meeting with Bill Clinton "was an error in judgment." The report also found that Lynch's statements about her decision not to recuse created confusion about her role.
The Andrew McCabe controversy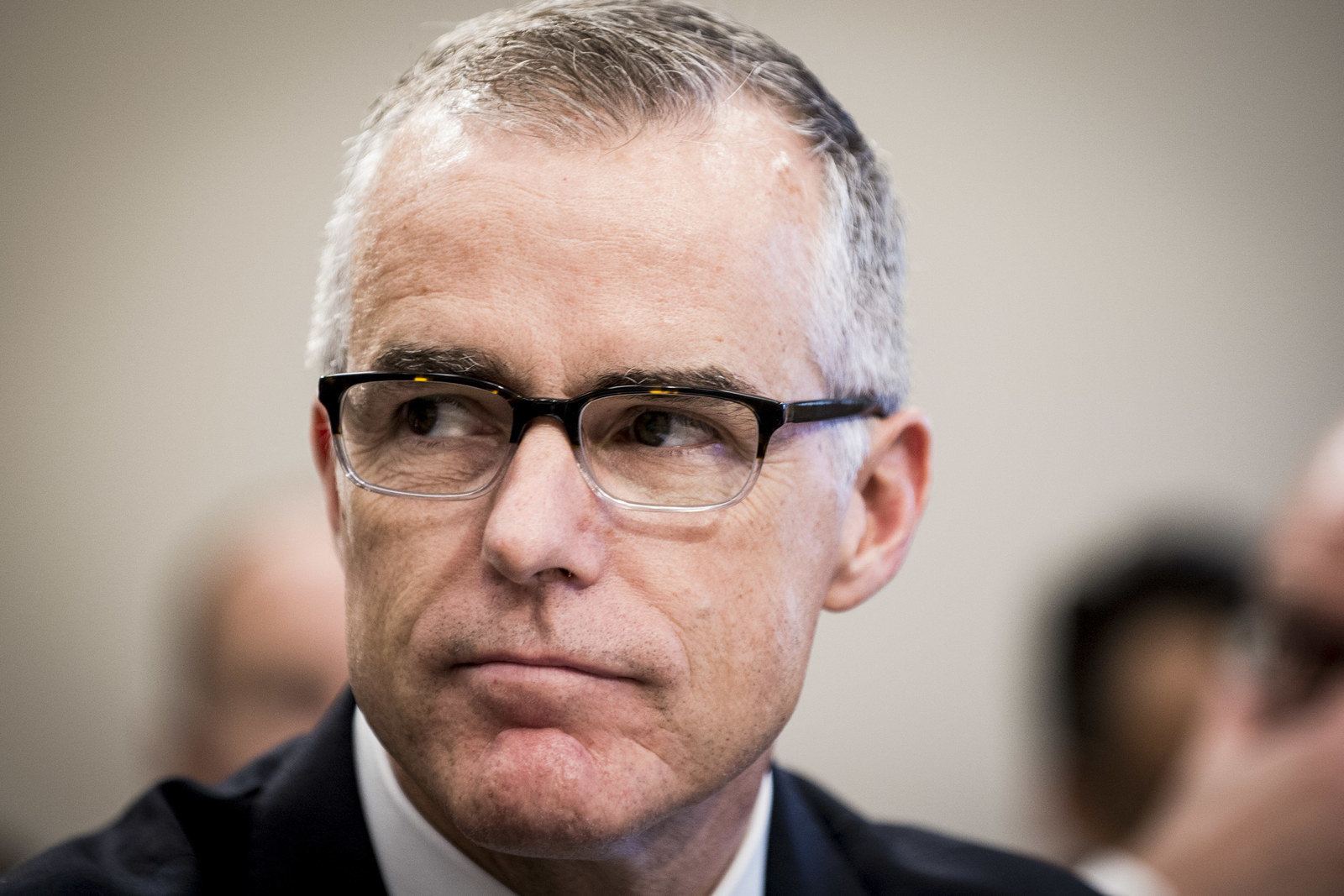 Trump and Republicans have accused Comey's former deputy, Andrew McCabe, who was involved in the investigation until his recusal on Nov. 1, 2016, of being biased because of his wife's ties to the Democratic party. Dr. Jill McCabe unsuccessfully ran for a Virginia state senate seat in 2015, and accepted donations from then-Virginia Gov. Terry McAuliffe's political action committee. McAuliffe has longstanding ties to the Clintons, and Hillary Clinton spoke at a Virginia Democratic Party event in June 2015 that McAuliffe attended.
Sessions fired McCabe in March, citing findings by the inspector general's office, the FBI's professional responsibility office, and a senior Justice Department career official concerning McCabe's role in authorizing the disclosure of information to a reporter about an investigation into the Clinton Foundation.
McCabe had asked for ethics guidance from FBI officials when his wife decided to run for office, and was told he was not required to recuse. The inspector general's office agreed with that assessment, but said the FBI officials involved in the ethics review did not do a review of campaign donations to look for potential conflicts or appearance of conflict issues.
If the FBI did have a campaign donations review system, officials might have identified the appearance issues sooner, the report said. Investigators also found that McCabe "did not fully comply" with his recusal in the Clinton Foundation investigation.
McCabe's lawyer Michael Bromwich released a statement noting that the report identified McCabe as pushing early on for a review of Weiner's laptop once he learned that it might have Clinton-related materials in it in late September. According to the report, McCabe told investigators he directed another official to send someone to New York to examine Weiner's computer; the other official told the inspector general's office he did not recall that conversation.
Browich also criticized the inspector general's office for creating a separate, nonpublic version of the chapter related to McCabe that included "Law Enforcement Sensitive" information, saying that it created "unfounded doubts and confusion."
Read the Justice Department inspector general's report
Download PDF
US Department of Justice Office of the Inspector General