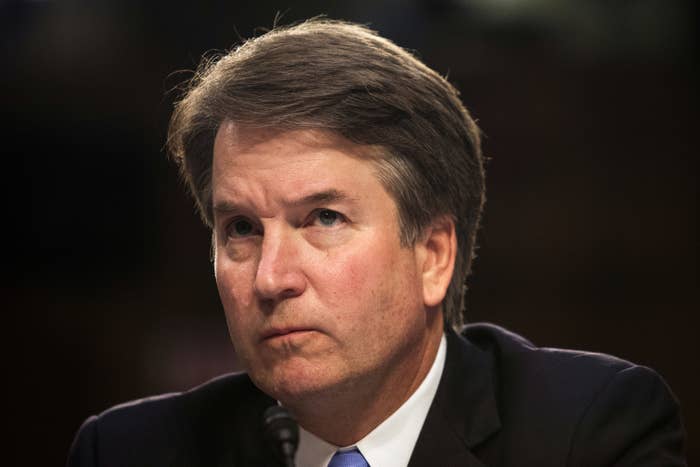 WASHINGTON — Christine Blasey Ford, the woman who alleged that US Supreme Court nominee Brett Kavanaugh sexually assaulted her when they were teenagers, is open to testifying next week in Congress, but her lawyers are still trying to negotiate the terms.
Ford's lawyer Debra Katz sent an email to Senate Judiciary Committee staff on Thursday afternoon asking to set up a call later in the day to discuss the "conditions" under which Ford would be prepared to testify next week; the text of the email was provided to BuzzFeed News. Committee Chair Chuck Grassley had set a hearing date for Monday, but Katz wrote that Monday "is not possible."
"As you are aware, she has been receiving death threats, which have been reported to the Federal Bureau of Investigation, and she and her family have been forced out of their home. She wishes to testify, provided that we can agree on terms that are fair and which ensure her safety," Katz wrote.
On Tuesday, Ford's lawyers had said in a letter to Grassley that an FBI investigation "should be the first step" in addressing Ford's allegations against Kavanaugh. In Thursday's email, Katz wrote that Ford's "strong preference continues to be for the Senate Judiciary Committee to allow for a full investigation prior to her testimony." The New York Times first reported the email.

Ford's other attorney Lisa Banks did not immediately return a request for comment.
Grassley so far has resisted calls to postpone the hearing and has said repeatedly that it is the Senate's — not the FBI's — role to investigate her allegations. In a letter to Ford's lawyers on Wednesday, he said that her prepared testimony and biography were due by 10 a.m. on Friday if she wanted to testify on Monday. Grassley hasn't said if he'll still hold the hearing if Ford decides not to testify at that time.
A senior Republican staffer familiar with the negotiations with Ford told BuzzFeed News Thursday night that two particular things Ford and her lawyers are asking for are nonstarters for the Judiciary Committee: subpoenaing a high-school friend of Kavanaugh's who Ford says witnessed the assault and allowing her to testify after Kavanaugh.

In a letter to Grassley released Thursday afternoon, Kavanaugh thanked Grassley for the invitation to testify, writing, "I will be there." Kavanaugh said that during an interview with Senate Judiciary Committee staff on Sept. 17, he twice asked to have a hearing the next day.
"I continue to want a hearing as soon as possible, so that I can clear my name," Kavanaugh wrote. "Since the moment I first heard this allegation, I have categorically and unequivocally denied it. I remain committed to defending my integrity."
Ford went public less than a week ago with her allegations against Kavanaugh, claiming that when the two were teenagers in high school in the suburbs of Washington, DC, Kavanaugh tried to sexually assault her at a house party. Kavanaugh pinned her to a bed, groped her, and tried to force himself on her, Ford said in an interview with the Washington Post, and he covered her mouth with his hand when she tried to scream.
Ford had raised the allegations against Kavanaugh in a July letter sent to California Rep. Anna Eshoo and Sen. Dianne Feinstein. Feinstein and Eshoo kept the letter secret; Feinstein later cited Ford's request for confidentiality. After news reports came out about the letter less than two weeks ago, however, Ford decided to go public.
Kavanaugh has denied the allegations, and the White House and Senate Republicans have rallied around him. President Donald Trump said Wednesday that "it's a very unfair thing what's going" on, and suggested that additional FBI interviews weren't something that the FBI did. Former government officials who worked on judicial nominations have said the White House and the Justice Department can, and did, asked the FBI to reopen background investigations for nominees and do additional interviews.
On Wednesday night the Senate Judiciary Committee's Republican chief counsel for nominations, Mike Davis, tweeted that he had personally questioned Kavanaugh about the allegations under penalty of being convicted of a felony if he lied. "I'm still waiting to hear back from the accuser's attorneys, who can't find time between TV appearances to get back to me," he tweeted.
He also tweeted: "Unfazed and determined. We will confirm Judge Kavanaugh."
Davis later deleted both of those tweets, then sent out an explanation.
"To clear up any confusion, I was referring to Democrats' partisan political attacks and their refusal to take part in the committee's thorough and fair investigation," he tweeted. "I deleted the tweet to avoid any further misinterpretation by left wing media as so often happens on Twitter."
As calls for an FBI investigation continued to be rebuffed by Judiciary Committee Republicans, Democratic Sens. Mazie Hirono and Kirsten Gillibrand held a press conference Thursday afternoon with three alumni of Holton-Arms School, which Ford attended, presenting a letter supporting her.
At the press conference, Alexis Goldstein, who graduated in the class of 1999, held up her old Holton-Arms field hockey sweater emblazoned with the motto "Don't Mess" on the back and made an allusion to Anita Hill's testimony during the Clarence Thomas hearings.
"Don't mess with Dr. Christine Blasey Ford," said Goldstein. "Don't mess with survivors, because this is not 1991 and America has their back."