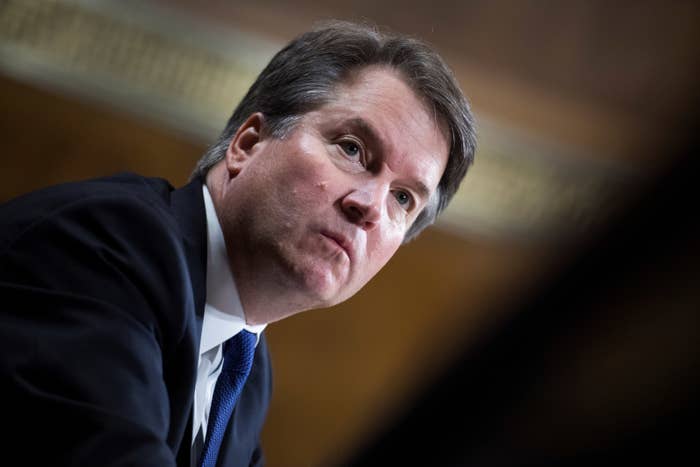 WASHINGTON — Last week, US Supreme Court nominee Brett Kavanaugh railed against Democrats in Congress, the Clinton family, and "left-wing opposition groups." It was a startling display of partisan rhetoric from a judicial nominee — and one that raises ethics questions that are likely to follow him whether he is confirmed or not.
The ethical sticking points for Kavanaugh are multifold whether he joins the Supreme Court or stays on the US Court of Appeals for the DC Circuit, where he currently sits. Kavanaugh's angry jabs at Democrats and liberal groups could be grounds for recusal requests in either court. Ethics complaints have been filed against Kavanaugh in the DC Circuit, including at least one claiming he lied about the sexual assault allegations against him. Ethics experts say there's no precedent for what happens to those complaints if he's elevated to the Supreme Court. For now, they're under the purview of the DC Circuit chief judge — former Supreme Court nominee Merrick Garland.
If Democrats take control of the House of Representatives after the midterm elections in November, they could launch further investigations into the sexual assault allegations against Kavanaugh as well as his Senate testimony and other public statements in response to the accusations — and pursue impeachment if they find he committed misconduct.
Kavanaugh's attacks on the left won't automatically disqualify him from politically sensitive cases going forward, though. Judges have long resisted calls to step aside based on their political affiliations — the late justice Antonin Scalia famously denied a recusal motion in 2004 based on his friendship and hunting outing with then–vice president Dick Cheney.
"Confirmation is a political event, [Kavanaugh is] at the center of it, and he testified as a nominee who happens to be a judge, not as a judge," Stephen Gillers, a judicial ethics expert at New York University School of Law, wrote in an email to BuzzFeed News.
Federal judges and Supreme Court justices have to follow federal law when it comes to recusing. The law says judges and justices should step aside from cases where their "impartiality might reasonably be questioned," and if they have a "personal bias or prejudice." The more specific the connection to a litigant or potential conflict, the more seriously judges consider recusing. The decision would rest solely with Kavanaugh.
Lower court judges are also subject to a code of conduct that features a more in-depth set of ethics rules, and they can be investigated via the judiciary's internal conduct review system for alleged violations. Discipline can range from a private talking-to by the chief judge — Garland on the DC Circuit, in Kavanaugh's case — or a public reprimand to a suspension from hearing cases or, in the most serious cases, a referral to the House of Representatives for potential impeachment proceedings. The federal judiciary doesn't have the power to remove judges.
Supreme Court justices are not bound by the code of conduct, however, and there is no parallel ethics review system. Chief Justice John Roberts Jr. wrote in his 2011 year-end report that justices did consult the code, but they also looked to a wide range of sources for ethics guidance, so there was "no reason" to formally adopt the code. The only body that can investigate Supreme Court justices for alleged misconduct is Congress.
"Political hit"
Since mid-September, multiple women have come forward to accuse Kavanaugh of sexual assaults and other misconduct that took place decades ago. Christine Blasey Ford accused him of trapping her in a room, groping her, and trying to remove her clothes while they were both in high school at a party. Deborah Ramirez claimed that when she and Kavanaugh were students at Yale University, a male student exposed himself to her and urged her to "kiss" his penis, and she recalled seeing Kavanaugh pulling up his pants and hearing other students say his name; Ramirez told the New Yorker she had been drinking that night and there were gaps in her memory. A third woman, Julie Swetnick, said that in high school Kavanaugh participated in getting girls drunk and was present at parties where girls were "gang raped."
Kavanaugh has denied all of the allegations. In his opening remarks before the Senate Judiciary Committee on Sept. 28, Kavanaugh called the events of the past two weeks "a calculated and orchestrated political hit, fueled with apparent pent-up anger about President Trump and the 2016 election, fear that has been unfairly stoked about my judicial record, revenge on behalf of the Clintons, and millions of dollars in money from outside left-wing opposition groups."
Kavanaugh also said the behavior of some committee Democrats at his first hearing was "an embarrassment," and he suggested Democrats may have planned to release Ford's allegations in order to prompt other "false last-minute smears."
Arthur Hellman, a judicial ethics expert at the University of Pittsburgh School of Law, said that to the extent Kavanaugh clearly identified people — such as the Clintons and certain Democrats in Congress — his "impartiality would reasonably be questioned" if they came before him in court. But Hellman said some of the judge's other statements were broad enough that it was hard to say whether liberal advocacy groups could have a viable argument for recusal. It would depend on the definition of "left-wing opposition group" and the extent of a group's efforts to oppose Kavanaugh's nomination, he said.
"I think it's almost impossible to say in advance what the proper outcome would be the further you get from a specific individual or a specific group that a judge has expressed anger toward," Hellman said.
There are already cases in the federal courts that could raise these types of questions. Organizations that have opposed Kavanaugh's nomination, such as the American Civil Liberties Union, Planned Parenthood, and Lambda Legal, are plaintiffs in lawsuits against the Trump administration. The ACLU rarely takes a formal position on Supreme Court nominees, but over the weekend announced that its board had voted to oppose Kavanaugh; it is only the fourth time the group has opposed a Supreme Court nominee.
Democratic Sen. Richard Blumenthal, a member of the Senate Judiciary Committee, is the lead plaintiff in a lawsuit accusing President Donald Trump of violating the US Constitution by refusing to give up his interests in his business empire. Late last week, a judge ruled that Blumenthal and the 200 other congressional Democrats named as plaintiffs had standing to sue the president, marking the first major win for Democrats in a case that raises novel constitutional questions. Any appeal in that case would go to the DC Circuit.
At a judiciary committee meeting following Kavanaugh's testimony last week, Blumenthal said that given the "rancor and animus" Kavanaugh displayed, "I cannot accept that he would be an impartial and objective justice on the United States Supreme Court."
As a Supreme Court justice, Kavanaugh's decisions about recusal would be the final word. There is no process for having other justices, or even Roberts, review the decision. If Kavanaugh's nomination fails and he goes back to the DC Circuit, he'd also field recusal requests solo. However, the losing side could raise the recusal issue if they challenged a ruling that Kavanaugh participated in.
Ethics complaints
Questions about recusal are hypothetical at this point, but at least two ethics complaints have been filed against Kavanaugh in the DC Circuit. Both were filed by the Democratic Coalition, a political action committee in Washington. The first was filed Sept. 10 — before the allegations of sexual assault came out — and accuses Kavanaugh of lying when he told the Senate Judiciary Committee at his confirmation hearing in early September that he didn't know he received information stolen from Senate Democrats when he was working in the White House in the early 2000s.
The second complaint, filed Sept. 27, claims Kavanaugh violated the judiciary's code of conduct by "engaging in a public and partisan campaign of lies to cover-up and conceal sexual misconduct and crimes he committed in the past." The complaint predates his Senate testimony on the subject, but accuses Kavanaugh of lying in his written responses to the Senate and in an interview with Fox News — a "partisan outlet," the complaint states — about the allegations.
The federal judiciary doesn't have the power to investigate allegations predating a judge's time on the bench, so the sexual assault claims against Kavanaugh from high school and college couldn't be the subject of an ethics inquiry. Last year, the Tenth Circuit dismissed a complaint accusing Richard Roberts, the former chief judge of the federal district court in Washington, DC, of sexually abusing a teenage girl three decades ago when he was a federal prosecutor and she was a witness in one of his cases. Roberts has retired.
Judicial misconduct proceedings are normally confidential, although the party that files a complaint can share information about it. Ethics complaints typically go to the chief judge of the circuit, which in Kavanaugh's case is Garland; decisions can be reviewed by panels of judges.
In high-profile cases in recent years, chief judges have asked Chief Justice Roberts to assign ethics cases to a different circuit, to avoid conflict of interest issues. That happened when women came forward last year and accused now-retired 9th Circuit Judge Alex Kozinski of sexual harassment. One day after the chief judge of the 9th Circuit asked Roberts to transfer the Kozinski case, Roberts did so. The Kozinski case was dismissed when he stepped down.
Nothing has been announced so far about the complaints against Kavanaugh. A Supreme Court spokesperson did not return a request for comment. Asked if Garland had requested Roberts transfer complaints against Kavanaugh, a DC Circuit representative told BuzzFeed News in an email that because of the confidentiality rules, they couldn't "confirm or deny the existence of a complaint." The transfer of Kozinski's case was public — chief judges have the power to make an exception to the confidentiality rule "to maintain public confidence in the judiciary's ability to redress misconduct."
Courts historically have found that ethics cases can become moot when a judge retires or resigns, but there's no precedent for what happens if a judge is elevated to the Supreme Court. Judicial ethics experts who spoke with BuzzFeed News said they couldn't recall another time when that had happened. Gillers said he thought a lower court could have jurisdiction even if a judge was confirmed to the Supreme Court, but he didn't think judges would choose to do so.
Charles Geyh, a professor at Indiana University Maurer School of Law, said in an email to BuzzFeed News that if Kavanaugh is confirmed, he expected Garland or whichever judges are handling ethics complaints against Kavanaugh to treat them as if he had left and dismiss them as moot. If Kavanaugh's nomination fails and he stays on the DC Circuit, Geyh said he thought it was unlikely judges would pursue complaints related to Kavanaugh's partisan remarks.
"The investigation itself would likely invite accusations of partisanship that the federal judiciary really wants to avoid," he said.
In the past week, liberal advocacy groups have issued statements that the sexual assault accusations against Kavanaugh and his responses to the allegations should disqualify him from serving not only on the Supreme Court, but also on any court. Several Democrats in the House of Representatives have already broached the subject of further investigations.
Rep. Jerrold Nadler, the top Democrat on the House Judiciary Committee, told ABC over the weekend that an investigation might be needed if Kavanaugh is confirmed. Rep. Ted Lieu, a member of the House Judiciary Committee, tweeted last week that in light of the allegations of sexual assault against Kavanaugh, the committee "must immediately start an investigation into Judge Kavanaugh to see if he should be impeached."