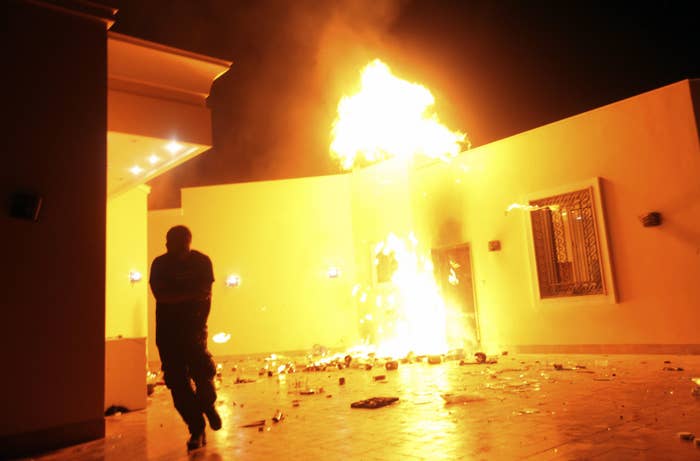 Late in the evening of June 15, 2014, Ahmed Abu Khatallah walked into a dark villa near the coast of northern Libya. An eight-person US capture team was waiting for him, according to court testimony. After an initial struggle, Khatallah was handcuffed, told that he was in US custody, and taken on foot to a small boat nearby. The entire operation lasted about 30 minutes.
Khatallah is charged with planning and participating in the Sept. 11, 2012, attack on the US government facility in Benghazi, Libya, which killed Ambassador J. Christopher Stevens and three other Americans. As the criminal case against him moves towards a trial — he is the only person to date to be prosecuted in a US court in connection with the Benghazi attack — his lawyers are challenging the legality of alleged statements he made to FBI agents during his 13-day voyage by boat from Libya to the United States.
"The capture of Mr. Abu Khatallah was a spectacular logistical operation and reflected more than a year of planning and millions of millions of dollars," Eric Lewis, one of Khatallah's lawyers, argued in court on Tuesday. However, he said, "it was a legal failure."
US District Judge Christopher Cooper in Washington, DC, heard testimony in May from US officials involved in planning and executing Khatallah's arrest and transportation to the United States. On Tuesday, the judge heard final legal arguments from lawyers with the government and Khatallah's defense team. Khatallah was in the courtroom for some of the testimony in May, but was not there for arguments on Tuesday.
An FBI special agent who was part of the capture team — only identified by his last name, Johnson — testified last month that Khatallah suffered a head injury when he first tried to fight his US captors, but was in good enough shape that he could walk across a beach to a small boat that brought him to a Navy ship, the USS New York, that transported him to the United States.
Khatallah was on the USS New York for 13 days. According to court testimony and documents, he went through two rounds of questioning. First, a US intelligence team interrogated him. Then, a separate team of FBI special agents, with the help of an Arabic linguist, questioned him as part of the criminal case. Before the second round, he was read his Miranda rights — including the right to remain silent and the right to an attorney — and, according to the government, waived those rights and agreed to talk.
That second round of questioning is what's at issue now. The objections from Khatallah's lawyers fall into two categories: First, that the government purposefully planned a long sea voyage from Libya to have more time for interrogation, in violation of Khatallah's right to appear before a judge promptly after his arrest.
Second, Khatallah's lawyers are arguing that any waivers he gave to his Miranda rights were invalid, because he wouldn't have understood a meaningful difference between the pre-Miranda warning intelligence interrogation and the post-Miranda warning law enforcement questioning. His lawyers said that after he was told he had the right to a lawyer, he asked if there was a lawyer on the USS New York, and was told there was not. That would have contributed to Khatallah's reasonable belief that he didn't have a choice about whether to cooperate, Lewis said on Tuesday.
Boat v. plane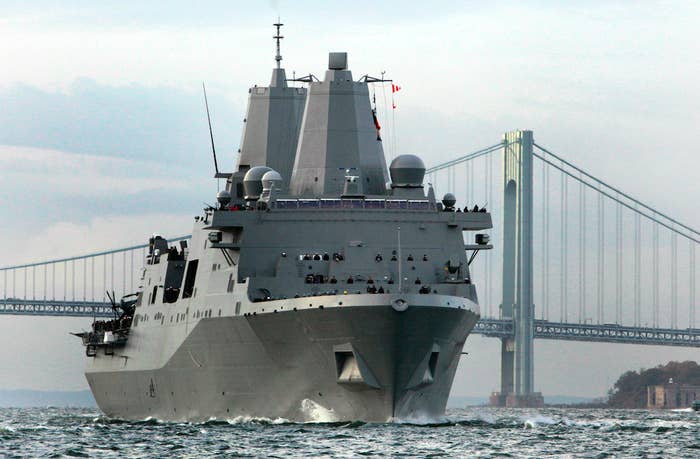 The US government disputes that it intentionally chose the slowest transport option possible to maximize interrogation time. A senior FBI official who testified last month, C. Bryan Paarmann, said that in order to fly Khatallah to the United States, the US needed cooperation from another country to facilitate the transfer from boat to plane, and that proved unworkable.
Paarmann identified a series of factors that made it difficult to find a third-party country willing to help. At the time of his arrest Khatallah was potentially facing the death penalty — the Justice Department later announced it would not pursue it — and European Union countries, which oppose the death penalty, typically will not work with the United States on these types of transfers, Paarmann said. Paarmann also said that some countries would be skittish for fear of security risks or domestic political consequences if their cooperation became public knowledge.
There were logistical and time pressures as well, Paarmann told the judge. Once Khatallah was on a boat moving west, they had to look for countries that were along the way, as opposed to behind them, he said. And he testified that officials determined they could only ask for help once Khatallah was in custody, since they didn't want to give up information about the dangerous and sensitive military operation in advance.
US officials did ask one country, identified as "G24," for assistance, but that country declined. Portions of the evidence in Khatallah's case are classified, so parts of the suppression hearing and arguments took place in a sealed courtroom, and lawyers were not allowed to discuss certain people, places, or other information by name in open court.
As for whether the US could have flown Khatallah to the United States without taking him to another country, Assistant US Attorney John Crabb Jr. on Tuesday pointed to testimony indicating that the USS New York — an amphibious assault ship — couldn't support a plane that could fly direct to the United States. Even if they could have gotten Khatallah to a larger aircraft carrier, Crabb said, the Navy wouldn't have had a plane with the range to feasibly fly direct to the United States from the Mediterranean.
Lewis argued that the testimony and evidence showed that there was bad communication between the FBI and the Department of Justice and Department of State about whether officials would ask multiple countries to assist with a transfer. Cooper asked if Lewis could show that another country would have agreed to help, given testimony that there were risks in making the ask if officials thought a country would say no. Lewis said there was evidence that at least one country, "G21", had expressed interest in helping when it was told in advance that an operation might take place, and that another country, "G1", had helped with transfers in the past.
"This plan was so..." Lewis paused as he seemed to search for the right words, "messed up."
Two-stage interrogation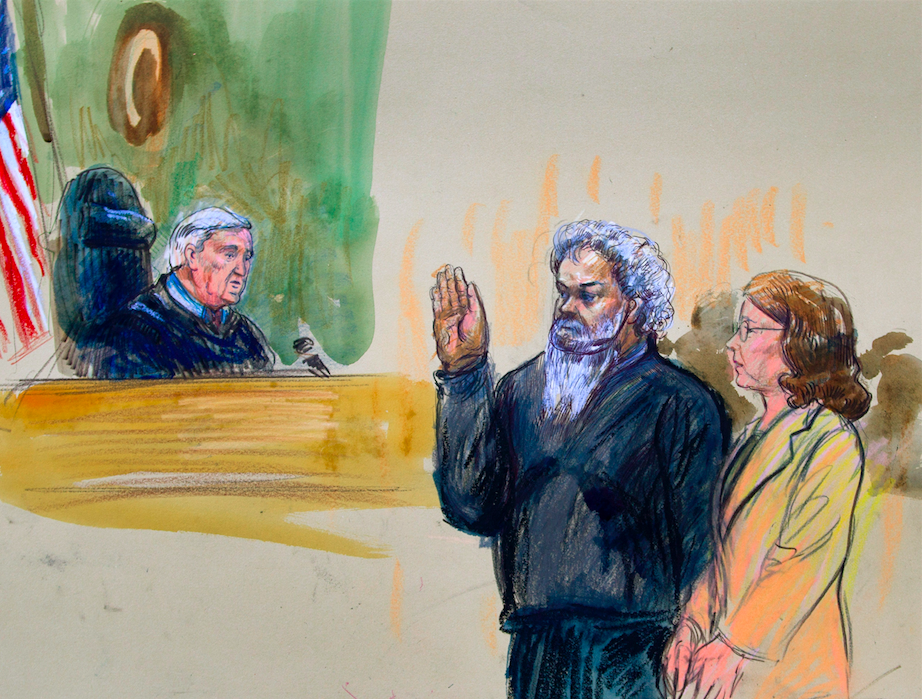 On the question of whether Khatallah waived his Miranda rights, the government is arguing that there was a clear divide between the pre-Miranda warning intelligence interrogation and the law enforcement questioning after he was read his rights.
Crabb said that Khatallah was repeatedly told that the FBI agents didn't know what he had told the intelligence team, and that whatever he told the intelligence team likely could not be used against him in court. There was a 48-hour break between the two rounds of questioning, Crabb said, and Khatallah's living quarters and the location of the interview room changed.
The FBI special agent who testified in May told the judge that there was physical separation on the USS New York between members of the intelligence team and the law enforcement team to avoid any cross-contamination of information. Crabb argued there was no evidence that the two-stage interrogation was deliberately designed to get around Khatallah's Miranda rights.
Lewis countered that there wasn't any meaningful change in Khatallah's circumstances between the two rounds of questioning — he was still being held on a ship and subjected to sensory and sleep deprivation that made him completely dependent on the people who were holding him. At that point, Lewis said, Khatallah wasn't aware of the charges against him or that he was possibly facing the death penalty. And the fact that Khatallah was told he had a right to a lawyer, but that none was available, contributed to the involuntariness of his statements, Lewis said.
Cooper asked Crabb about the access to counsel issue. Crabb said Khatallah did not clearly invoke his right to counsel — he only asked if one was present — and that law enforcement officers were not required to make a lawyer available. Cooper asked how that principle could apply to a situation where the government knew no defense lawyer would be available for two weeks. Crabb replied that Miranda clearly did not require the availability of a lawyer, and that if Khatallah had said he wanted to speak to a lawyer, the questioning would have stopped.
After about two hours of arguments on Tuesday, Cooper sealed the courtroom for arguments that dealt with classified information. The judge did not rule from the bench, and did not say when he expected to make a decision. Khatallah's trial is scheduled to begin in September.