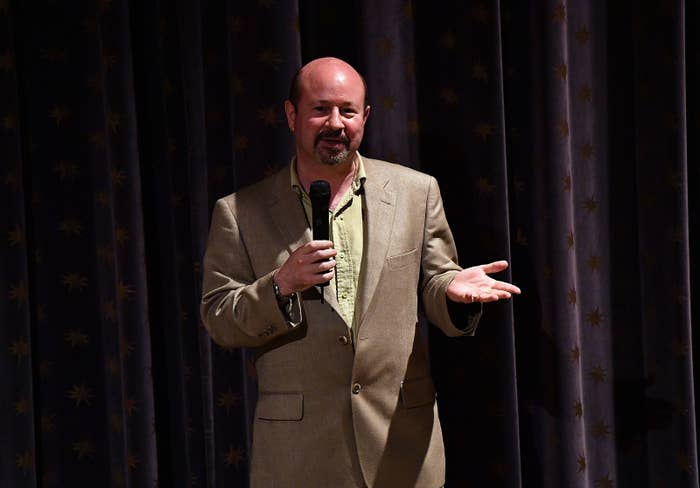 WASHINGTON — Climate scientist Michael Mann, known for his work on the "hockey stick" analysis of global warming, can proceed with defamation claims against two writers who accused him of fraud and academic misconduct, an appeals court in Washington ruled on Thursday.
The DC Court of Appeals, the District's highest local court, held that Mann had offered enough evidence for a "reasonable" jury to find that he was defamed by articles that, among other things, called him the "Jerry Sandusky of climate science," referring to the former Penn State University assistant football coach who molested children.
Judge Vanessa Ruiz wrote for the three-judge appeals panel:
"Tarnishing the personal integrity and reputation of a scientist important to one side may be a tactic to gain advantage in a no-holds-barred debate over global warming. That the challenged statements were made as part of such debate provides important context and requires careful parsing in light of constitutional standards. But if the statements assert or imply false facts that defame the individual, they do not find shelter under the First Amendment simply because they are embedded in a larger policy debate."

Mann brought the case against Rand Simberg, writing for the Competitive Enterprise Institute, and Mark Steyn, writing for the National Review. CEI general counsel Sam Kazman said in a statement that they were confident they would ultimately win the case.
"As a public figure with his own history of harshly attacking those who disagree with him, Michael Mann must now show that CEI's commentary met some very stringent standards of malice. It did not, and we will continue to fight against those who seek to punish and harass groups and individuals who speak out on controversial issues," Kazman said.
Mann's attorney, John Williams, said in a statement that they were looking forward to putting the case before a jury.
"We are obviously pleased with the decision and particularly with the court's conclusion that the allegations against Dr. Mann have been 'definitively discredited,'" Williams said, quoting from the opinion.
National Review's lawyer, Michael Carvin, did not immediately return a request for comment. Carvin, a partner at the law firm Jones Day, is considered a contender for US solicitor general in the Trump administration. Trump's pick for White House counsel, Donald McGahn II, is also a partner at Jones Day.
Mann, a professor at Penn State, worked on research that analyzed tree ring records and other "proxies" for climate conditions to recreate average global surface temperatures in past centuries. The iconic "hockey stick" graph that came out of that research was so named because it showed a spike in temperatures at the end of the 20th century.
The graph was criticized by climate science deniers, and Mann became the target of politicized attacks on his work. But the conclusions of the hockey stick graph were validated by peer-reviewed studies, the appeals court noted.
Mann has been a high-profile figure in the climate science debate. On Dec. 16, he wrote in an op-ed in The Washington Post that "with the coming Trump administration, my colleagues and I are steeling ourselves for a renewed onslaught of intimidation, from inside and outside government." Members of President-elect Donald Trump's transition team for the Environmental Protection Agency include Mann critics who unsuccessfully sued to get copies of his emails from his time at the University of Virginia.
After emails between Mann and other scientists were anonymously published online in 2009, critics pointed to some of the messages as proof that data had been falsified or manipulated. One email referred to a "trick" in handling data. Investigations by Penn State and several US and UK government agencies did not find evidence of fraud or misconduct by Mann.
In July 2012, Simberg published an article on a Competitive Enterprise Institute blog comparing the controversy over Mann's emails to the sex abuse scandal involving Jerry Sandusky. He alleged that Penn State had covered up Mann's "academic and scientific misconduct."
"Mann could be said to be the Jerry Sandusky of climate science, except for instead of molesting children, he has molested and tortured data in service of politicized science that could have dire consequences for the nation and the planet," Simberg wrote.
Two days later, Steyn wrote a piece for a National Review blog that quoted Simberg's article. Steyn called Mann "the man behind the fraudulent climate-change 'hockey-stick' graph, the very ringmaster of the tree-ring
circus," referring to Mann's use of tree ring records.
Mann's lawyer asked Simberg and Steyn for an apology and retraction, threatening a lawsuit if they refused. In August 2012, National Review editor Rich Lowry published an editorial critical of Mann's threat, writing that a reference to Mann's work as "fraudulent" didn't mean "honest-to-goodness criminal fraud," but rather "intellectually bogus and wrong."
Mann sued Simberg, Steyn, Lowry, and their respective organizations for defamation in October 2012 in DC Superior Court.
The defendants argued the First Amendment protected their statements about Mann and his work. They asked the lower court judge to dismiss the case under a DC law that prohibits "strategic lawsuits against public participation," known as SLAPPs. The anti-SLAPP law is meant to give defendants an early opportunity to have a case tossed out if they believe they're being sued for exercising their free speech rights.
A lower court judge found that Mann was "likely to succeed" on his claims, and rejected the request to dismiss the case. The defendants appealed, and the DC Court of Appeals heard arguments in November 2014.
The appeals court found that to defeat a motion to dismiss a case under the anti-SLAPP law, a judge had to find that a jury could reasonably conclude under defamation law that claims brought by a plaintiff — in this case, Mann — were supported by the evidence produced so far.
Mann met that standard in his claims against Simberg and Steyn, the appeals judges found, but they dismissed his claims against Lowry.

Articles that questioned Mann's methods and conclusions would be protected by the First Amendment, Ruiz wrote, but attacks on his integrity and statements that he engaged in professional misconduct could give rise to a defamation claim. Simberg and Steyn's articles weren't about the merits of global warming research, but were rather focused on accusations of personal wrongdoing by Mann, the judge wrote.
Lowry's editorial, on the other hand, didn't "repeat or endorse" the factual claims in Simberg and Steyn's article, the court found.
The ruling was also significant in that the appeals court held for the first time that a party that loses a motion to dismiss a case under the DC anti-SLAPP law has a right to immediately appeal. Normally, courts require parties to wait until the end of a case.
Dan Vergano contributed to this report.