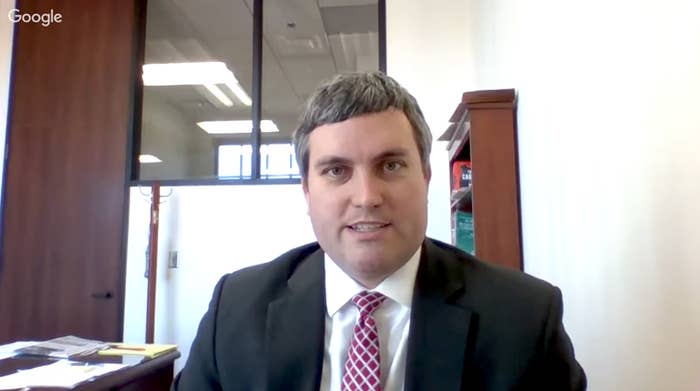 One of President Donald Trump's federal court nominees appears to have written posts for years on a University of Alabama sports fan website — including posts about gun control and immigration — and didn't disclose the writings on his Senate questionnaire.
The messages on TideFans.com were posted by the user "BamainBoston." In a Dec. 8, 2014, post, the user identified himself as Brett Talley, linking to a Washington Post article about Talley under the subject line "Washington Post Did A Feature On Me."
Talley has been nominated for a seat on the US District Court for the Middle District of Alabama, and is already facing criticism this week for a disclosure-related issue: The New York Times reported on Monday that Talley failed to include in his Senate questionnaire that he is married to a lawyer in the White House counsel's office, Ann Donaldson. The questionnaire asks nominees to disclose family members who are "likely to present potential conflicts of interest."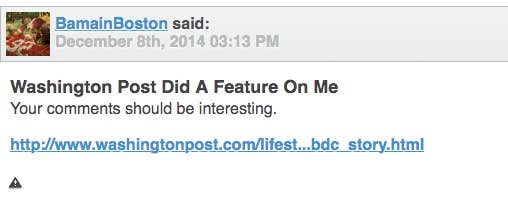 The questionnaire also asks nominees to list "published material you have written or edited, including material published only on the Internet." Talley listed posts he wrote for the blog Government in Exile and noted that he had also blogged on his personal website about horror writing. His posts on Government in Exile included pieces about the US political response to mass shootings — he called gun control efforts at the time "wrongheaded" — and pledging support to the National Rifle Association. There are no entries about posts on TideFans.com.

In an email to BuzzFeed News, White House spokesperson Hogan Gidley disputed that posts on a message board had to be disclosed to the Senate Judiciary Committee.
"The Senate Judiciary Committee questionnaire asks for published writings and public statements — not everything that's ever been typed on a keyboard. Alabama football fans' internet message board conversations are not deemed 'published writings', 'public statements', or 'published material;' nor are they deemed the equivalent of 'books', 'articles', or 'reports,'" Gidley wrote.
Talley is a senior official in the Justice Department's Office of Legal Policy. A Justice Department spokesman declined to comment on Talley's behalf. A White House spokesperson did not immediately return a request for comment.

Many of BamainBoston's posts are about sports. But some address politics and other nonsports subjects. On Dec. 17, 2012, a few days after the mass shooting at Sandy Hook Elementary School, BamainBoston posted, "My solution would be to stop being a society of pansies and man up."
BamainBoston continued: "We shouldn't depend on the government to protect us. We should be ready to protect ourselves. Everyone should know that part of their social responsibility is to learn how to use a firearm effectively and carry one with them at all times. I know some of you will freak out at that suggestion, but the only law I can imagine that would have stopped what happened in Connecticut is if every one of the teachers was armed with a gun and trained in how to use it."
BamainBoston appears to have edited at least two posts this year. On Jan. 24, 2012, BamainBoston published a post about a book the user had written being nominated for a Bram Stoker Award. That year, Talley was nominated for a Bram Stoker Award for one of his novels. The Jan. 24, 2012, post, and another one published by BamainBoston in the same thread two days later, were edited on June 28, 2017, by BamainBoston, according to the website — the same day Talley indicated in his Senate questionnaire that he met with Alabama Sens. Richard Shelby and Luther Strange about his potential nomination to the federal court.

According to TideFans.com, user BamainBoston joined the site in March 2005, and has published 16,381 posts. The user's most recent activity was on Monday at 2:58 p.m. The user indicated on a profile page that they were born in 1981, graduated from the University of Alabama, and were located in Boston. Talley was born in 1981, earned his undergraduate degree from the University of Alabama, and got his law degree from Harvard Law School in Boston. In 2012, Talley worked in Beverly, Massachusetts, about an hour's drive from Boston, for Mitt Romney's campaign.
Although the page says that BamainBoston's location is Boston, it also lists the zip code 36117, which is in Montgomery, Alabama. From 2015 until he joined the Justice Department in January, Talley worked in Montgomery in the Alabama attorney general's office as the deputy solicitor general.
In 2011, BamainBoston posted in a thread about immigration. Responding to another poster who wrote, "can we all agree that wasserman is a complete moron, even if you agree with the overall agenda she is peddling?" — an apparent reference to Rep. Debbie Wasserman Schultz, the former chair of the Democratic National Committee — BamainBoston wrote, "Agreed. It is hard to reform something if we can't even agree on what it is."


Later in the thread, BamainBoston wrote on the subject of how the US government should handle undocumented immigrants: "As for those people who are already here, yes, they violated the law. Great. That tells us nothing. The debate is how to punish that violation of the law. Go ahead. Punish them. Fine them. Whatever. Then give them a path to citizenship. The last thing we want here is a permanent underclass of people. And the thought of the police breaking down the doors of otherwise law abiding citizens and dragging them out to be deported is horrible and un-American. The crime most of these people committed is wanting a better life."
The Senate Judiciary Committee voted along party lines on Nov. 9 to approve Talley's nomination and send him to the full Senate for consideration. Democrats have criticized Talley for his professional record, saying he lacks experience and pointing to the rare "not qualified" rating that he received from the American Bar Association. Talley indicated in his questionnaire that although he had worked at a private law firm and in the Alabama attorney general's office in the years since he earned his law degree in 2007, he had never tried a case in court. He did clerk for a federal district judge as well as a federal appeals court judge.
UPDATE
This post has been updated with a comment from White House spokesman Hogan Gidley.