Judge Alex Kozinski of the US Court of Appeals for the 9th Circuit, a prominent federal appeals judge accused of inappropriate behavior by several former clerks and other women, is retiring effective immediately, his lawyer confirmed to BuzzFeed News on Monday.
"Family and friends have urged me to stay on, at least long enough to defend myself. But I cannot be an effective judge and simultaneously fight this battle. Nor would such a battle be good for my beloved federal judiciary. And so I am making the decision to retire, effective immediately," Kozinski said in a statement provided by his lawyer Susan Estrich.
The Washington Post first reported that Kozinski is stepping down.
In the statement, Kozinski said that he had received support from some former clerks, but apologized that his behavior may have made some feel uncomfortable.
"Still, I've always had a broad sense of humor and a candid way of speaking to both male and female law clerks alike. In doing so, I may not have been mindful enough of the special challenges and pressures that women face in the workplace. It grieves me to learn that I caused any of my clerks to feel uncomfortable; this was never my intent. For this I sincerely apologize," he said.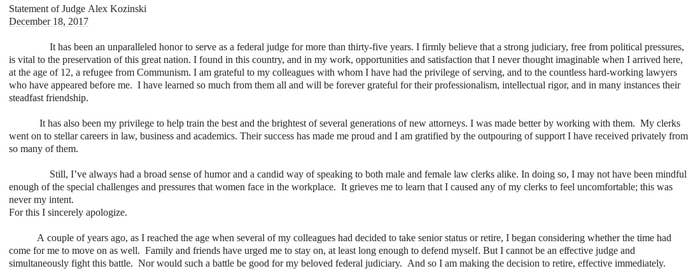 The Washington Post first reported on Dec. 8 that several former clerks had accused Kozinski of inappropriate behavior. His retirement comes several days after another Post story in which more women came forward to accuse Kozinski of misconduct.
Kozinski is facing an internal misconduct inquiry. Sidney Thomas, chief judge of the 9th Circuit, filed an order on Thursday that said that he had initiated a complaint against Kozinski based on allegations raised in the original Washington Post story.

Thomas wrote in his order that the court rules allow the chief judge to initiate an investigation even if no complaint has been filed against a judge, including, as is the case here, when issues are raised in media reports.
Thomas has asked Chief Justice John Roberts Jr. to assign the case to another circuit, "to ensure confidence in the impartiality of any proceedings, and
exceptional circumstances appearing." Any new complaints that are filed against Kozinski going forward will be covered by that transfer request, according to the order.
A spokesman for the 9th Circuit also said in an email to reporters that "one or more of Judge Kozinski's current law clerks has resigned." He did not provide any further details.
Judicial misconduct proceedings are normally confidential until there's a final action, and even then the names of judges aren't always revealed unless there is a finding of misconduct or in especially high-profile matters. Thomas wrote in Thursday's order that he was disclosing his order "to 'maintain public confidence in the Judiciary's ability to redress misconduct or disability.'" Future proceedings in the case will be subject to the normal confidentiality rules, he wrote.
Kozinski did not immediately return a request for comment on Thursday.
Kozinski previously faced a misconduct inquiry nearly a decade ago, after the Los Angeles Times reported in 2008 that he had maintained a website with sexually explicit material. Kozinski, who was the court's chief judge at the time, initiated an inquiry into his actions. The 9th Circuit asked the chief justice to assign the matter to another circuit and it was ultimately handled by the Judicial Council of the 3rd Circuit. The council in a June 2009 order admonished Kozinski for his "poor judgment," but did not take any further disciplinary action, citing the fact that the judge had taken responsibility, apologized, and taken action to get rid of the content at issue.
On Dec. 8, the Washington Post reported that several female former clerks had accused the judge of a range of inappropriate behavior over the years, including asking them to view porn in his chambers and making sexually charged comments.
In a statement in response to the article, Kozinski said: "I have been a judge for 35 years and during that time have had over 500 employees in my chambers. I treat all of my employees as family and work very closely with most of them. I would never intentionally do anything to offend anyone and it is regrettable that a handful have been offended by something I may have said or done."
This is a developing story. Check back for updates.