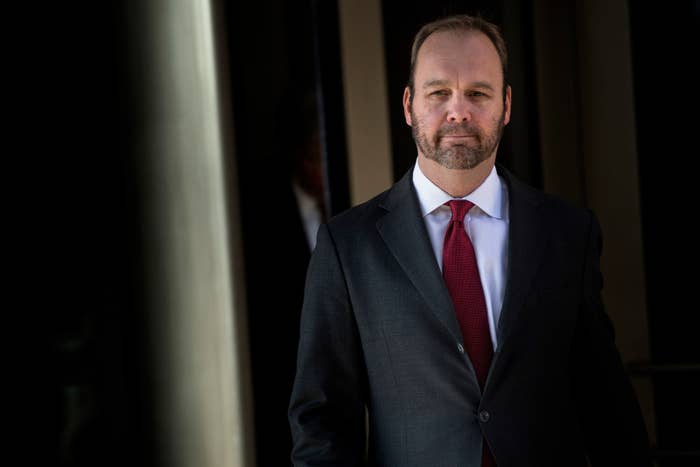 Rick Gates — former Trump campaign chairman Paul Manafort's longtime associate and codefendant — can get out of house arrest while his criminal case is pending if he agrees to forfeit assets if he flees, stays under GPS monitoring, and doesn't leave Richmond, Virginia, without the court's permission, a judge ruled in an order unsealed on Tuesday.
Manafort and Gates have been under home confinement since they made their first court appearance on Oct. 30. They're facing a 12-count indictment that includes allegations of money laundering, failing to file reports about foreign financial holdings, failing to register as agents for the Ukrainian government, and making false statements about their lobbying activities overseas.
The two men pleaded not guilty to the charges, and they've spent the two months since the charges were filed wrangling with special counsel Robert Mueller's office over what it would take for them to go free pending trial. On Dec. 15, the judge ruled that Manafort could go free if he met certain conditions, but according to the court docket, he has yet to submit the necessary paperwork to make that happen.
Under the order unsealed Tuesday by US District Judge Amy Berman Jackson, in order for Gates to be released, he'll have to agree to post a property that he owns in Richmond as well as two other properties owned by individuals whose names are redacted in the order. Gates will also have to agree to forfeit other assets, including a life insurance policy and retirement and investment accounts, if he fails to show up to court.
Jackson wrote that if the amount of those assets didn't add up to a combined value of $5 million — and she noted elsewhere in the order that they did not appear to — a person who had agreed to serve as a surety would be required to make up the difference. That person's name was redacted.
Once released from house arrest, Gates must get the court's permission for any domestic travel beyond Richmond, except for visits to Washington, DC, for court appearances and to meet with his lawyers. He'll have to abide by an 11 p.m. curfew. He won't be allowed to travel abroad, and he'll be required to stay away from "transportation facilities," such as airports and train stations, except for approved travel.
Jackson wrote that she was satisfied that the conditions were enough to secure Gates' presence in court, taking into consideration his "strong family ties to the region" and the fact that he stayed in the country while the case was under investigation and turned himself in when he was charged.
A lawyer for Gates declined to comment. Jackson has ordered all of the parties and lawyers to not make any public comments that could be prejudicial to the case.
Under Jackson's December order, Manafort will be allowed to leave home confinement once he submits a series of documents to the court, including forfeiture agreement and records verifying that his family members have the necessary assets on hand to serve as sureties. Once those are docketed, Jackson wrote, she would issue a separate order releasing Manafort from home confinement in Alexandria, Virginia, where he's been since his October court appearance.
Jackson has yet to issue a release order for Manafort. As of Tuesday afternoon, Manafort's lawyers hadn't filed the forfeiture agreement and other documents Jackson asked for with the court. Manafort's attorney Kevin Downing did not return a request for comment.
Once released from his home in Alexandria, Virginia, where he's lived since his first court appearance, Manafort will have to live at his home in South Florida, get the judge's permission for most domestic travel — he won't be allowed to travel overseas — continue GPS monitoring, and abide by an 11 p.m. curfew.

Manafort will have to agree to forfeit four properties in New York, Florida, and Virginia if he fails to show up at court. If Manafort does flee and the value of the four properties ends up being less than $10 million, Manafort's wife and daughter have agreed to serve as sureties to make up the difference.
Manafort separately filed a civil lawsuit last week against Mueller and the Justice Department, arguing that Mueller's appointment as special counsel by Deputy Attorney General Rod Rosenstein was invalid. Manafort asked the judge to not only throw out the appointment order, but also to set aside the charges that Mueller's office is pursuing against him. Gates isn't a party to the case.
A status hearing before Jackson in the criminal case is scheduled for Jan. 16.