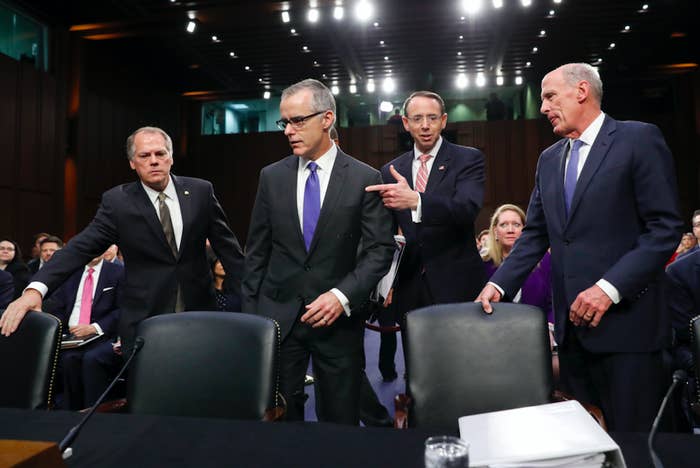 A former senior staffer on the Senate Intelligence Committee has been charged with lying to the FBI about his contacts with reporters, according to an indictment unsealed on Thursday night.
James Wolfe, who served as the committee's director of security, is accused of lying to the FBI in the course of an investigation into unauthorized disclosures of classified information; prosecutors say Wolfe shared nonpublic information with reporters.
Wolfe faces three counts of making false statements, a charge that carries a maximum penalty of five years in prison and a $250,000 fine. He is not, however, charged with leaking classified information.
According to the US attorney's office in Washington, DC, he was arrested on Thursday. He made his first court appearance on Friday in federal court in Baltimore, because he was arrested in Maryland, but the rest of the case will proceed in the US District Court for the District of Columbia, where he was charged. Reached Thursday, Wolfe declined to comment.
A federal magistrate judge in Baltimore agreed to release Wolfe until his next court appearance in DC on June 12. The judge imposed a series of release conditions, including that he not access or make any unauthorized disclosures of classified information, that he stay in Maryland and only travel to DC for court and meetings with his lawyers, and that he surrender his passport. Wolfe and his lawyer from the Maryland federal public defender office declined to comment after Friday's hearing; Wolfe asked to have counsel appointed by the court, and the judge indicated he will get a different lawyer once the case is in DC.
The New York Times reported on Thursday that as part of the investigation into Wolfe, investigators had secretly seized the phone and email records of Times reporter Ali Watkins; Watkins previously worked for BuzzFeed News and Politico. The Times also reported that the FBI attempted to question Watkins about a previous romantic relationship she had had with Wolfe. The indictment unsealed on Thursday did not name four reporters that Wolfe allegedly communicated with, but based on the published dates and information in the indictment, it appears that Watkins is one of the unnamed reporters.
Watkins' personal lawyer Mark McDougal did not immediately return a request for comment, but he told the Times: "It's always disconcerting when a journalist's telephone records are obtained by the Justice Department — through a grand jury subpoena or other legal process. Whether it was really necessary here will depend on the nature of the investigation and the scope of any charges."
BuzzFeed News editor-in-chief Ben Smith said in a statement, "We're deeply troubled by what looks like a case of law enforcement interfering with a reporter's constitutional right to gather information about her own government." Politico spokesperson Brad Dayspring released a statement saying that the Senate Intelligence Committee was not Watkins' primary beat and that she "did not disclose the personal nature of her relationship early on in her tenure, and she was managed accordingly thereafter."
"Any time that a journalist's ability to do their job is threatened in a manner such as this, it's a major concern," Dayspring added. A spokesperson for the New York Times said in a statement to the paper said, "communications between journalists and their sources demand protection."
Wolfe worked on the committee for 30 years; he left in December, according to the charging papers. Prosecutors said in the indictment that he was "responsible for receiving, maintaining, and managing all classified information provided to the SSCI by the Executive Branch of the United States."

The indictment was unsealed a day after the Senate passed a resolution authorizing the Senate Intelligence Committee to give the Justice Department records relating to a pending leak investigation. The resolution did not include details about the investigation, and members of the committee earlier on Thursday referred questions to the Justice Department.
In a joint statement Thursday night after the indictment was unsealed, Senate Intelligence Committee chair Richard Burr and vice chair Mark Warner said that they were "troubled" to hear about the charges against Wolfe. They said they learned about the investigation late last year and had fully cooperated with the FBI and the Justice Department.
"This news is disappointing, as the former staffer in question served on the Committee for more than three decades, and in the Armed Forces with distinction. However, we trust the justice system to act appropriately and ensure due process as this case unfolds. This will in no way interfere with our ongoing investigation, and the Committee remains committed to carrying out our important work on behalf of the American people," Burr and Warner said.
According to the indictment against Wolfe, the FBI has been conducting a criminal investigation into "multiple" leaks of classified information to members of the press since last year. Wolfe learned about the investigation in October, and participated in a voluntary interview with FBI agents in mid-December, according to charging papers. During the interview, prosecutors said Wolfe was shown a copy of an article written by three unnamed reporters, including one referred to as "Reporter #1," that contained classified information provided to the Senate Intelligence Committee about an unidentified person known as "Male-1."
Wolfe indicated in a written questionnaire that he had not had any contact with the three reporters. He also indicated that he did not have regular electronic communications with reporters. But prosecutors alleged that Wolfe communicated with multiple reporters using email and various messaging applications such as Signal and WhatsApp. He also allegedly "met clandestinely" with reporters in person, according to the indictment.
According to the indictment, Wolfe was asked about an article written by another reporter, referred to as "Reporter #2" and believed to be Ali Watkins based on publicly available information, that included information provided to the Senate Intelligence Committee, and he denied knowing that reporter's sources. Wolfe was confronted with photos showing him and the reporter together, and he admitted he had a personal relationship with the reporter, but denied providing the reporter with classified information or other nonpublic information that he got through his position with the committee, prosecutors said.
The indictment alleges that on the same day in March 2017 that the Senate Intelligence Committee received a classified document about Male-1 — a document that Wolfe maintained for the committee — Wolfe exchanged 82 text messages with Reporter #2 and had a 28-minute phone call. Several weeks later, on April 3, 2017, that reporter published a story revealing Male-1's identity, according to the indictment.
Watkins on April 3, 2017, published a story on BuzzFeed News identifying former Trump campaign adviser Carter Page as a person referred to as "Male-1" in the transcript of a recorded conversation in 2013 among members of a Russian spy ring; the conversation was about trying to recruit Male-1. Page confirmed to BuzzFeed News that he was Male-1. The indictment against Wolfe states that Reporter #2 appeared on a "national cable television show" to discuss the April 3 article; Watkins appeared on MSNBC that day to discuss the Carter Page story.
Prosecutors accused Wolfe of providing nonpublic information to Reporter #2 and to a third reporter, Reporter #3, and also regularly communicating with a fourth reporter, Reporter #4.
President Donald Trump and Attorney General Jeff Sessions have vowed to root out government leakers. At a press conference in August 2017 addressing the administration's efforts to investigate and prosecute individuals who shared classified information, Sessions said that since January 2017, the Justice Department had more than tripled the number of active leak investigations compared with the end of the previous administration.
"This nation must end the culture of leaks. We will investigate and seek to bring criminals to justice. We will not allow rogue anonymous sources with security clearances to sell out our country any longer," Sessions said at the time.
In a press release announcing the charges against Wolfe, Assistant Attorney General John Demers said: "The Attorney General has stated that investigations and prosecutions of unauthorized disclosure of controlled information are a priority of the Department of Justice. The allegations in this indictment are doubly troubling as the false statements concern the unauthorized disclosure of sensitive and confidential information."

Under Sessions, the Justice Department has filed charges in two other high-profile media leaks cases to date. The first was filed in June 2017 against Reality Winner, a former federal contractor in Georgia accused of leaking classified material to an online news outlet. Winner is fighting the charges; a trial is scheduled for October.
In March of this year, the Justice Department charged former FBI special agent Terry Albury with sharing classified information with a reporter. Albury pleaded guilty in April and has not been sentenced yet.
The Justice Department's internal manual for prosecutors includes heightened protections for journalists, based on a policy adopted under former attorney general Eric Holder. In most cases, prosecutors are required to get permission from the attorney general to issue a subpoena to a journalist or to use a subpoena to collect a reporter's records from a third party.
If the attorney general does authorize a subpoena to gather information about a reporter from a third party, the manual says the journalist should be given notice "unless the Attorney General determines that, for compelling reasons, such notice would pose a clear and substantial threat to the integrity of the investigation, risk grave harm to national security, or present an imminent risk of death or serious bodily harm."
According to the New York Times, Watkins did not receive advance notice that investigators had seized her communications records.
Emma Loop contributed to reporting.