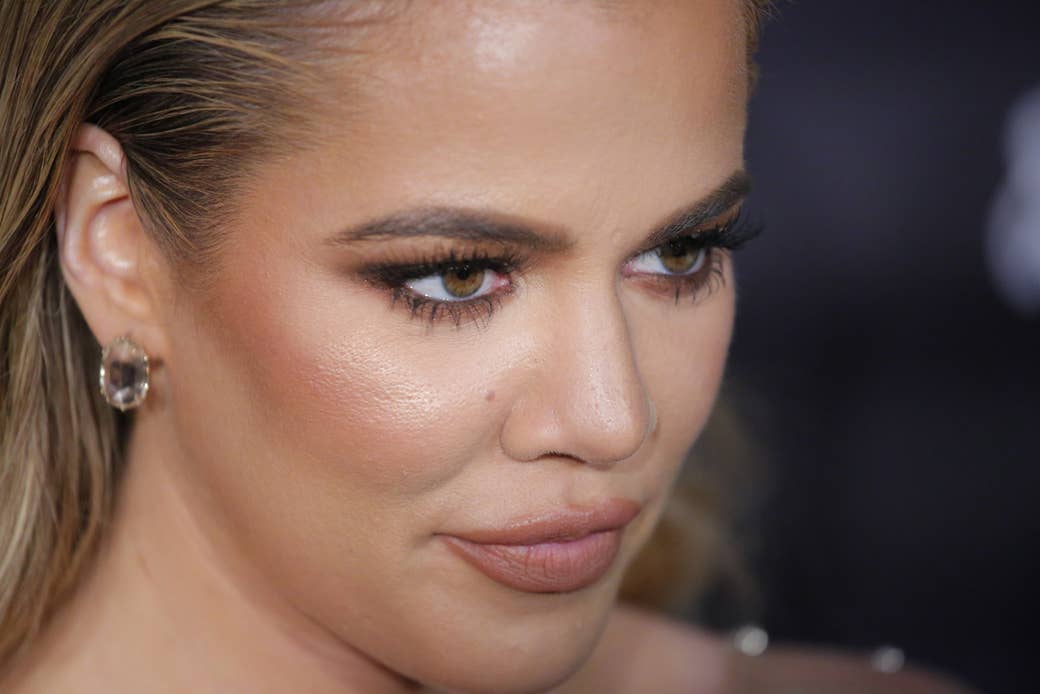 If the Kardashians are a fairy-tale family, blessed with beauty, money, fame, and power, then Khloé — born somewhere in the middle, of often questioned paternity, whose first husband cheated on her extravagantly before almost overdosing in a Nevada brothel — is certainly their cursed child. She's always been the underdog, perpetually on the verge of a Cinderella story. She's the one even non-Kardashian fans still kind of root for — in large part because, unlike her sisters, she actually seems to need our support.
So when the Daily Mail posted footage of Tristan Thompson, her boyfriend and the father of Khloé's infant, hooking up with another woman at a New York nightclub on April 7, as they approached the final days of Khloé's pregnancy (their daughter, True, was born on the 12th), the blowback was swift and intense. Thompson was booed as he took the court with his basketball team, the Cleveland Cavaliers, a few days after the news broke; fans held signs saying "We love Khloé" in the crowd. They've also expressed their displeasure in the comments on Thompson's Instagram page.
Anyone hoping it had been an isolated incident was soon disabused of that notion. The Daily Mail's revelation was followed by gossip website the Shade Room posting photos of Thompson and the same woman walking into (and then, hours later, out of) his hotel together; TMZ had footage of Thompson hanging out with three women at a club, and getting physical with two of them, in October, early in Khloé's pregnancy. The Daily Mail reports there's a fifth woman involved, one Thompson saw regularly for most of the last year.
Support for Khloé (CNN is rooting for her!) hasn't kept people from speculating that this is just another Kardashian orchestration: a way to stir up extra publicity around the birth, or perhaps to create another storyline that will keep people watching Keeping Up With the Kardashians.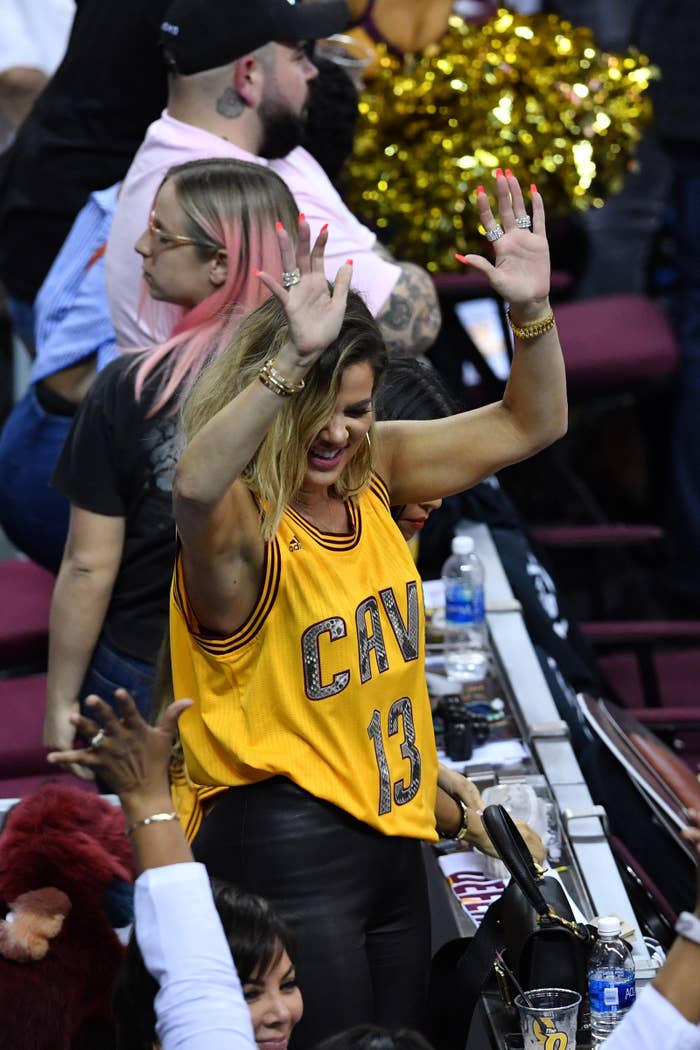 It's true that one of the Kardashians' most implausible qualities is the way their lives always find — likely with at least some guidance — the shape of maximally explosive tabloid drama (see: last summer's triple pregnancy). But this incident was actually fairly predictable: Thompson, who the current season of Keeping Up casts as a knight-in-shining-armor type, was already a father — and he'd left that baby's mother, model Jordan Craig, during the final stages of her pregnancy in order to take up with Khloé.
It's certainly not the first time that the Kardashian family has faced scandal. And of course, all of the Kardashian/Jenner siblings have suffered difficulties and disappointments. But there seems to be a difference in tone or quality between what comes for the rest of the sisters and what happens to Khloé.
Most of the Kardashians' problems are outsize: Kim's robbery in Paris, for instance, was horrifying — but also not exactly relatable. Kendall didn't make a maybe-racist remark to a friend or colleague; she starred in a problematic Pepsi ad campaign.
The sole Kardashian boy, Rob, is arguably a much more tragic figure than Khloé. But unlike his sister, Rob's sadness has no air of romance to it. His depression makes him bloated and agoraphobic: His is the difficult reality of mental illness, not a narrative taking a sad detour before promising to find, finally, a happy ending.
Khloé tends to have the extreme version of normal problems. She was open about her fertility struggles with her then-husband, Lamar Odom, on the show, for example. But while many women have struggled with fertility even as they watch friends and family get pregnant with ease, Khloé's family is world-famous for its baby-making prowess. Plenty of us have dated addicts, cheaters, or both; Khloé just dates the kind whose budgets and travel schedules make it that much harder to stay clean and faithful — plus, when they fail her, they make headlines doing it.
Khloé has talked about feeling like a giant among her petite sisters, about arriving on sets to find that the sample-size outfits on offer wouldn't fit her. Khloé is insecure but also outspoken: Kim actually banned her from giving a toast at her wedding because of her tendency to speak before she thinks. And when Amber Rose criticized youngest sister Kylie, then 17, for her relationship with twentysomething rapper Tyga, it was Khloé who clapped back on Twitter — and ultimately admitted that Rose's #DontPanic tweet (a reference to a song by Khloé's then-boyfriend, French Montana) was a good burn. Loyal, feisty, no-bullshit, but with a vulnerable side: Truly, Khloé is Just Like Us.
So it will be interesting to see what happens if — as is currently being reported — Khloé stays with Thompson (though it seems that, at least in the short term, her plan is to leave Cleveland and come back to Los Angeles with True). Her inability to leave Odom felt relatable because of his addiction: It was easy for us to imagine the responsibility she felt for him, and how it kept her tethered to what she's since admitted was a toxic relationship.
But staying with a serial cheater is a deeply unsympathetic choice. It allows us to blame women for their suffering — just look at the furor Rihanna caused by getting back together with Chris Brown after he brutally beat her in 2009. Fox News was the first outlet to step up with unsolicited advice for the new mother: Leave him, Khloé!
In fact, getting back together with a man who's wronged her would probably be the most regular thing Khloé could do, but that's not what we want from her. We need her to be us, but better. It's okay to get cheated on (relatable) as long as you rise above (aspirational). The world is watching Khloé like a story right now, when in fact, of course, she is a person. As if to prove that our goodwill for her isn't limitless, the reaction to the April 16 announcement of her daughter's name, True Thompson, provoked mockery and exasperation on two fronts: the audacity of naming a baby True when "her dad is a liar," and then of giving the baby Thompson's last name instead of her own. CNN may be rooting for Khloé, but it doesn't seem like Twitter is.
Our sympathy for Khloé comes from how she dramatizes our own sense of ourselves: as good people who haven't found the right one yet, and keep getting taken in by the wrong ones. The humanity of her story also grounds those of her sisters, reminding us that luck's handouts are unpredictable and unfair. Khloé anchors the Kardashians by giving the public a space in which to imagine ourselves among them: She's our avatar, the imperfect, struggling, insecure, unlucky one. We know what that feels like. We feel like that all the time.
And so it also feels especially good to know that everyone else is rooting for Khloé, that we're all shocked and outraged and furious about this together. It feels good, at least for the time being, to watch the world come together behind a woman wronged, and say, "We love you anyway. It's not you, baby — it is so, so, so him." ●
Zan Romanoff is a full-time freelance writer and the author of A Song to Take the World Apart and Grace and the Fever. She lives and works in Los Angeles.