"Salam Alaikum, everyone!" Yasemin Kanar, known to her fans as YazTheSpaz, uses the traditional Muslim welcome to greet her 68,000 subscribers at the start of almost every video on her YouTube channel. I'm watching as she films a tutorial on how to achieve a simple, stylish look with a navy-blue hijab — the headscarf worn by some Muslim women, and the Arabic word for "cover." We're in the guest bedroom of the condo that she shares with her husband, Zeyad, in Jupiter, Florida, 30 minutes outside West Palm Beach. She and Zeyad have lived here since they married in 2013. (Their wedding video is among the most popular on her channel.)

Their guest room has a dimmer switch that's been set to low, and a floodlight in front of the stool where she sits is shining bright. Her backdrop consists of a leopard-print sheet that Zeyad recently hung, "to make the set more studio-like," she tells me. I'm sitting on the edge of the double bed, watching as he films.
Yaz has shoulder-length brown hair that until this weekend I've never seen, as it's usually tucked underneath one of the many varied headscarves that have brought her recognition within a subset of Muslims in the US. Her thin, slightly pinched nose has been powdered, as have her cheeks and forehead, and her lips are coated in a pink gloss. Her tutorials, which are step-by-step guides to different ways of wrapping a hijab, require a good deal of planning, primping, and choosing — outfits, makeup, and of course, the hijab itself. "This one is Rabia Z brand," she says to the camera. "I just love the way they drape."
Yaz films without a script; she knows the material well. Zeyad puts down the camera as she removes the hijab and places it on a small table beside her. She still isn't showing any hair; it's tucked beneath a bonnet (pronounced "bon-nay"), which is a cap worn under her hijab to keep it in place and to prevent any stray hairs from getting loose. She wears it to further protect modesty, a central value of Islam that's deeply important to her. It's also a value that seems especially difficult to maintain when you're a YouTube personality, and when you're broadcasting hundreds of fashion tutorials to tens of thousands of viewers.
Yaz has her own product line and is working to grow her online store. "I have on a YazTheSpaz turtleneck, a YazTheSpaz bonnet, and a YazTheSpaz scrunchie," she informs her audience once Zeyad resumes filming, "but the scrunchies and bonnets are sold out right now." She first started the store because viewers asked where they could buy what they saw in her videos; the profits now support her production and clothing costs. On camera, she pins the turtleneck the bonnet, "so I don't have to worry about any neck showing," she explains.
In 2010, then-21-year-old Yaz became one of the first of what's now become known as "hijabistas" — Muslim girls or women who incorporate their headscarves into their fashion repertoires, and who provide tutorials and images via social media, usually YouTube and Instagram — for other Muslims who want to achieve similar looks. The trend began in predominantly Muslim countries and the UK, and it spread as young Muslim women asserted that it was possible to dress both stylishly and modestly, and that they had options when it came to doing so.
Prominent hijabistas include Kuwait-based Ascia Al Faraj, or Ascia AKF, who blogs with her husband, and has over 1.8 million Instagram followers. In the UK, English-Egyptian blogger and designer Dina Torkia — or Dina Tokio, as her fans know her — has more than 1 million Instagram followers and 500,000 YouTube subscribers. She began blogging in 2011 as well, and her channel is one of Yaz's favorites, as is Ascia AKF's. Among hijabistas in the US, where Muslims make up 1% of the total population (versus 5% in the UK), Yaz is one of the most popular, with 211,000 Instagram followers.
The deeply American cultural pluralism that Yaz embodies — her parents are Turkish and Cuban immigrants who met and raised their children in Miami — feels increasingly contentious these days, as hate crimes against American Muslims have tripled in the last year and a half across the country. At the Islamic Center of Palm Beach this past December, vandals smashed half of the windows and overturned all of the furniture. Muslim women in particular have been subject to incendiary rhetoric: When Khizr Khan, the father of a Muslim American soldier who'd been killed in Iraq, spoke during the Democratic National Convention, Donald Trump (who previously called for a "total and complete shutdown of Muslims entering the US") remarked on the soldier's mother's silence, speculating that she may not have been allowed to speak on stage because of her Muslim faith. As it happens, Yaz's home in Jupiter is about 30 minutes away from Trump's Mar-a-Lago estate.
In this climate, Yaz persists in her effort to be a visible, vocal Muslim American woman. "I want to show young Muslim women in the US that it's possible to be American and wear a hijab and to be stylish, all at once," she tells me.
As Zeyad films, Yaz proceeds to drape the jersey hijab over the bonnet. She wraps the scarf in a way that hides her turtleneck. "But if you want it to show," she says to the audience while looking directly at the lens, "that's your choice."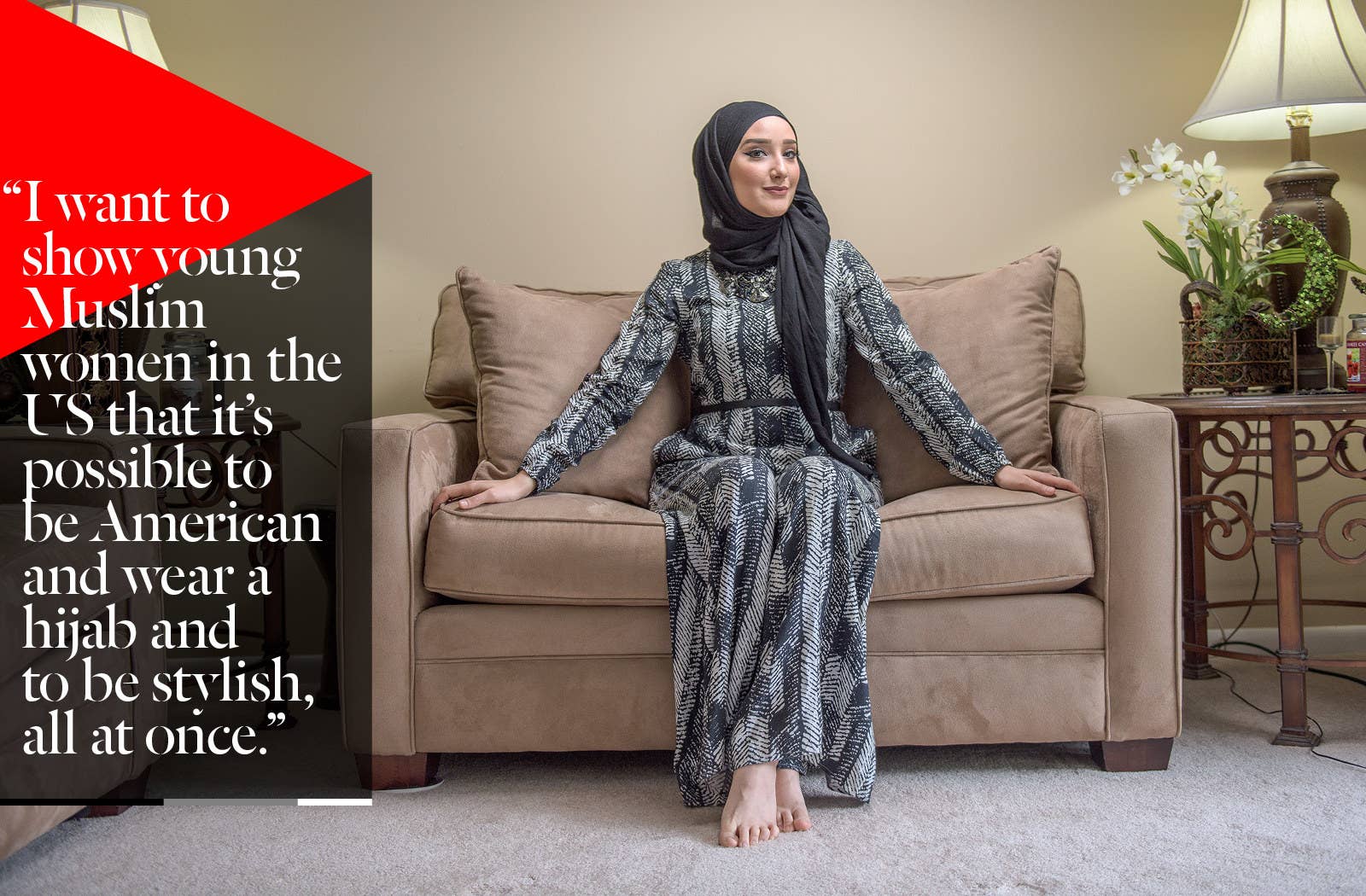 I arrive in Jupiter to meet Yaz the day before a Category 1 hurricane is predicted to hit. Gov. Rick Scott has already declared a state of emergency, the supermarket shelves are mostly empty, and a travel ban is in place. It's humid and buggy, and the clouds feel pregnant with unleashed fury. Jupiter is 82% non-Hispanic white, and its population is less than 1% Muslim. It's a suburban area that lacks the dynamism and diversity of Miami, where Yaz grew up, and she admits to missing that. Yaz's condo stands at the end of a long road inside a gated community with a man-made pond in the middle. I spot her standing halfway out her doorway, smiling and waving me over. She wears a loose green sweatshirt and fitted jeans, and a pair of cozy-looking socks. Her hair is in a low, loose ponytail — she's not wearing a hijab or a bonnet, as she's in the private sphere of her own home. Two cats weave between her legs, then wrap themselves around mine when I enter.

Ramadan decorations of glittering stars and moons hang in the living room. "I haven't taken them down yet," she says, though Eid, the holiday that marks the end of the holy month, was over a month ago.
Yaz began making tutorials in response to the women at her mosque in Miami consistently asking for fashion advice. "It was a time when people were eager to start trying new things when it came to style," she says. They wanted to know how she wrapped her headscarf the way she did, where she got the fabric — "Sometimes Target," she tells me, "or Michaels." After getting many of these sorts of questions, she decided to film a tutorial and upload it to YouTube instead of responding to everyone individually.
In her first video she is visibly nervous, her face fuller. "When I started making tutorials I'd already gone through many different styles," she tells me. "I wore it back like a bandana at first, and in high school people called me 'Du-rag.'" She doesn't mention feeling ostracized in high school, not until I ask, nor that there were times when people told her to "go back to her country," despite the fact that this is her country. "Then I tried using a tight pin under the neck, but it gave me bruises and a double chin. Now I still make sure not to show hair" — again, modesty — "but it's never too tight around my face."
People began sharing the video with their friends, both through email and on Facebook. Motivated by the interest, Yaz kept going. With time, she began catering to the different needs of individual women, based on their varied preferences, cultural traditions, and even face shapes. "Turkish women love to have definition of the neck," she says in one of her videos as she wraps a hijab in a style that creates a sun visor over her eyes. "This voluminous look in the back of the head is very common in Turkey." She speaks with firsthand knowledge; her father is from Niksar, a city in Turkey's Tokat province. She's been to Turkey several times, most recently this past March with Zeyad. "And for my ladies who have rounder faces," she continues in the same video, "this will cut off your cheek area and hide any facial hair."

There are, as it happens, a seemingly endless number of styles and choices when it comes to wrapping a hijab. You can use a square piece of fabric or a rectangular one; you can wrap it with pins or without. You can use a pashmina or jersey material. You can let the hijab flow loosely over your shoulders, or wear it in a tighter, turban style. Within that latter category, there's the side-bundled turban, the side-braid turban (inspired by Ascia AKF), the basic knot turban. There's the Turkish style, the Spanish style, the Palestinian style, the African hijab style. Yaz offers tutorials for all these different ways of wrapping.
"I never set out to become a YouTube personality," Yaz tells me. "Literally, it almost just happened upon me. I was genuinely making these videos as a service."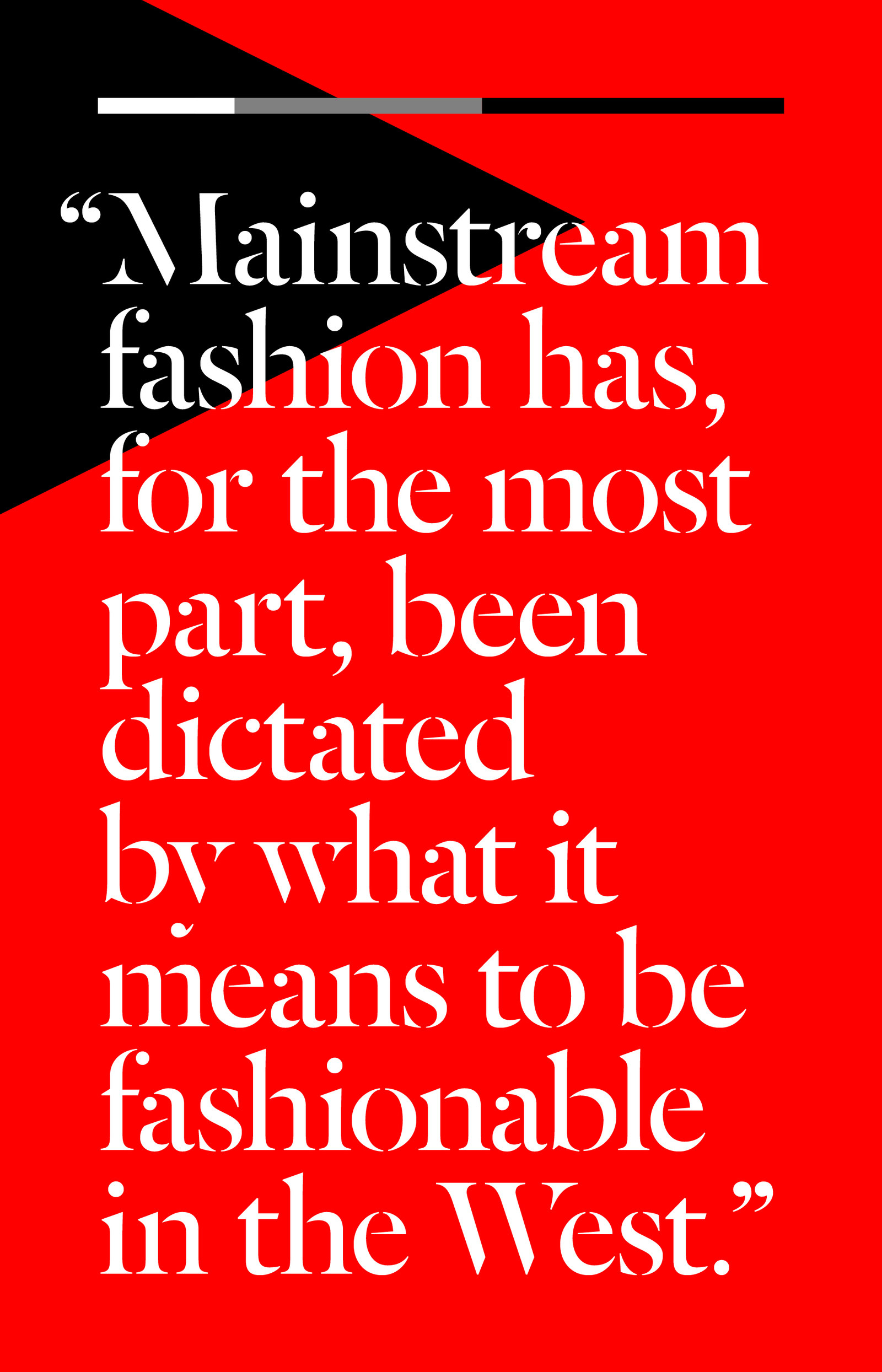 As hijab tutorials have become increasingly popular and demand for stylish and modest fashion choices has risen, some major fashion labels have made efforts to feature hijab-wearing models. DKNY led the pack in the summer of 2014 when it launched its Ramadan collection. This past January, Dolce & Gabbana debuted an abaya and hijab collection as part of its 2016 line. The following month Marks & Spencer made available online its signature "burkini," a full-body swimsuit that consists of a long-sleeved tunic, matching pants, and a hood. This August the mayor of Cannes, France, banned women from wearing burkinis, describing the bathing suit as the "symbol of Islamic extremism." At least 30 other towns along the French Riviera followed, imposing fines on women who violate the ban. In response to challenges by human rights groups, France's highest administrative court suspended the ban in the town of Villeneuve-Loubet, stating that it "illegally breached fundamental freedoms."
"Mainstream fashion has, for the most part, been dictated by what it means to be fashionable in the West," says Muslim actor, writer, and producer Nadia Manzoor. "So I'm really happy that wearing a hijab is becoming part of what it means to be stylish."
Together with the show's co-creator Radhika Vaz, Manzoor produces the web comedy series Shugs & Fats. Manzoor and Vaz play two burka-wearing Muslim immigrants in Brooklyn who, per the show's tagline, "walk the line between hipsters and hijabis." The show, which won Short Form Breakthrough Series at the 2015 Gotham Independent Film Awards and launched its third season at the Tribeca Film Festival, features the two characters going about their everyday activities, like exercising, doing laundry, and dating, all while wearing burkas. Neither actress wears a hijab or a burka in real life, but for Manzoor, "Covering was very much a part of my life growing up, even though I didn't consistently wear the veil." In addition, she says, " I felt very strongly that there was no characterization of my friends and my family in the media because women in burkas are always portrayed in one light."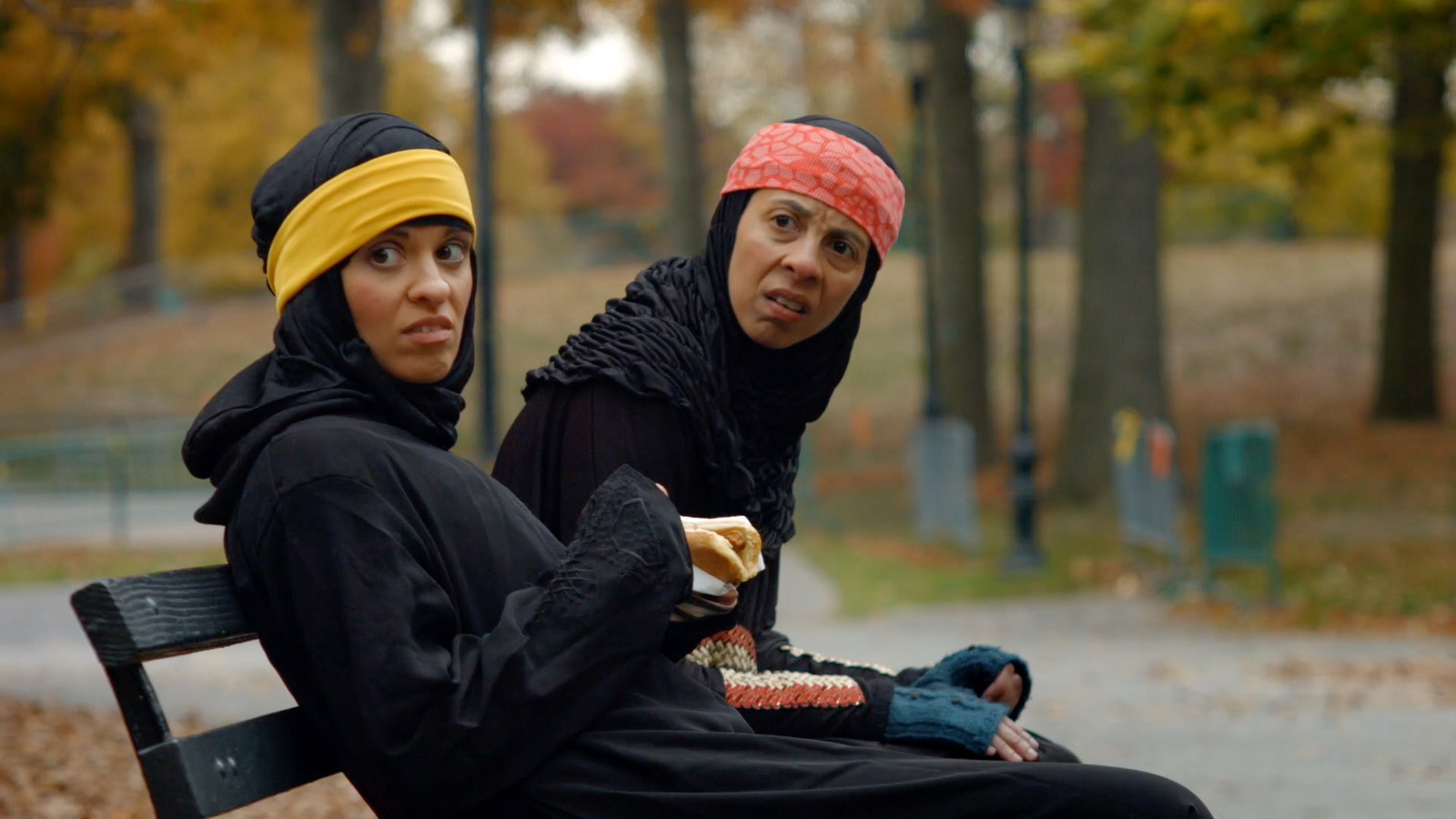 This singular portrayal of Muslim women is emblematic of the stereotypes that surround them. Manzoor lists off a few of these: "They're repressed, they're not sexual beings with desires, they don't do bad things, they aren't comedians, they don't dance." In creating multidimensional, relatable characters who also happen to cover, Manzoor's intention was to challenge these stereotypes by "putting a face on a community."
I ask Manzoor if she thinks that the success of both her shows and the recognition they've been afforded suggest a more accepting attitude toward Muslims in America, or just curiosity. "The first way you begin to accept people with different ideas is that you are curious about them." She's hopeful, since the questions she's been asked have been sophisticated, and express a desire "to understand cultural ideology that we have stereotypes around."
Many Americans have had limited exposure to and interaction with actual Muslims. (I spent four years teaching at a university in the Midwest, and many students told me that I was the first Muslim they'd ever encountered. "We had one in our town," an earnest male student told our class, when I asked if anyone had ever met a Muslim before meeting me.) This lack of firsthand familiarity and experience is partly what allows for Muslims to be portrayed as "Other." It helps to create the conditions for ill-founded suspicion toward them, as well as toward Arabs in general. In some cases, suspicion has led to outright violence.
When Yaz makes tutorials, she is partly motivated by a desire to show that the hijab isn't a threatening object, but a beautiful one. "Both as an accessory," she says, "and because it shows devotion to God." And at a time when young Muslims in America may feel hesitant or even afraid to display signs of their religion, Yaz offers visibility of an empowered Muslim woman. She represents a woman with desires and preferences, rather than an Other, an object, or a threat — a woman concerned with trends, society, and her ability to express herself as an individual.
Yaz is hosting a dinner party. The others at the table are friends she's made in the time since she moved here. They are also transplants to Palm Beach County; they came from different places — Atlanta, Denver, Palestine — after marrying their husbands, who work in the area. All of the women wear hijabs, and each has contributed something to the meal. One brought marinated lamb and chicken; another, a lasagna-like casserole; and another, the youngest of the group, brought a cake made out of Kit Kats, M&M's, and Oreos.

Once we finish the meal, the husbands retreat to the front porch, leaving us at the table to chat. They're OK with living in Florida, they say, but each admits to some homesickness. One of the women deeply misses Atlanta, a city that, like Miami, is demographically more diverse than Jupiter. It isn't easy to move your entire life to a place where you know no one, they tell me, besides your husband and his family. The women have found a sense of community and belonging through one another. "Yaz makes an effort to bring us all together," says the woman from Atlanta. I ask if she's felt ostracized in Jupiter, and if she's experienced any discrimination. "More just that I stand out," she says. "I get looks, which can feel ominous, but I can't tell if they're threatening or not."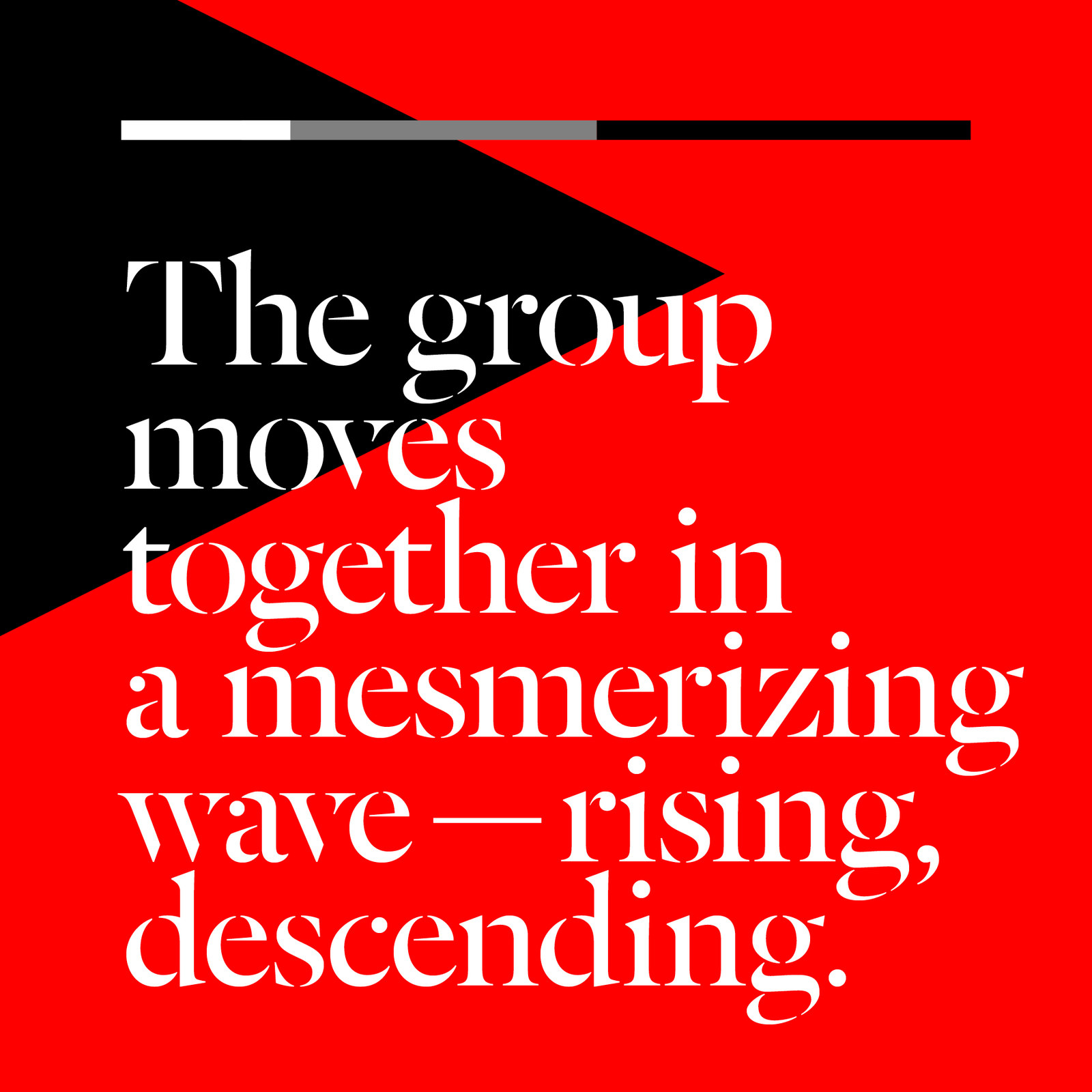 There's some muttering among the group as they clear the living room floor of the cat's scratch pad and a leather Turkish pouf. They assemble in rows, with one of the husbands standing in his own row in front, his hands placed firmly on his knees. He begins reciting a sura from the Qu'ran, leading the group in post-dinner prayer. The others stand behind him with eyes closed.
I watch uncomfortably from the open kitchen, feeling like a voyeur. Praying is a personal and private act, especially for Muslims, who have no priest, or reverend, or any form of intermediary between the individual and God. (Even imams, who lead congregations, aren't technically intermediaries.) I also can't help wondering if they're judging me for not joining since I'm Muslim, too. Although I learned the rituals that accompany salat, or prayer, when I was younger in my Saturday Arabic and religion classes, I don't really remember them.
The group moves together in a mesmerizing wave — rising, descending. When the prayer is over, I feel slightly relieved. The scratch pad is restored, the conversation resumes, and the men again retreat to the porch. One of the women produces a selfie stick from inside her purse. "We got it before we went on our honeymoon!" she exclaims, and we all become giddy in its presence. An iPhone is placed in its cradle, the stick is extended, and the six of us pose in front of it. She snaps several photos in rapid succession. The pictures are promptly reviewed, and the best among them, Instagrammed, Snapchatted, and hashtagged #YazTheSpaz. Within 10 minutes at least 100 likes have flooded in.
For Yaz, a big part of the hijab's significance is that it protects modesty. "It creates a distinction between my public and private self," she says, "and it instills in me a sense of haya, or shyness."
The idea that the hijab draws a line between Yaz's public and private life is especially interesting in light of the fact that she's sought out a notable public presence. Perhaps for that reason, the distinction is even more significant, and important to uphold. But when it comes to modesty, beyond the dictates of religion, why is that something to aspire toward?
"Because without modesty," she says, "you're prone to excesses."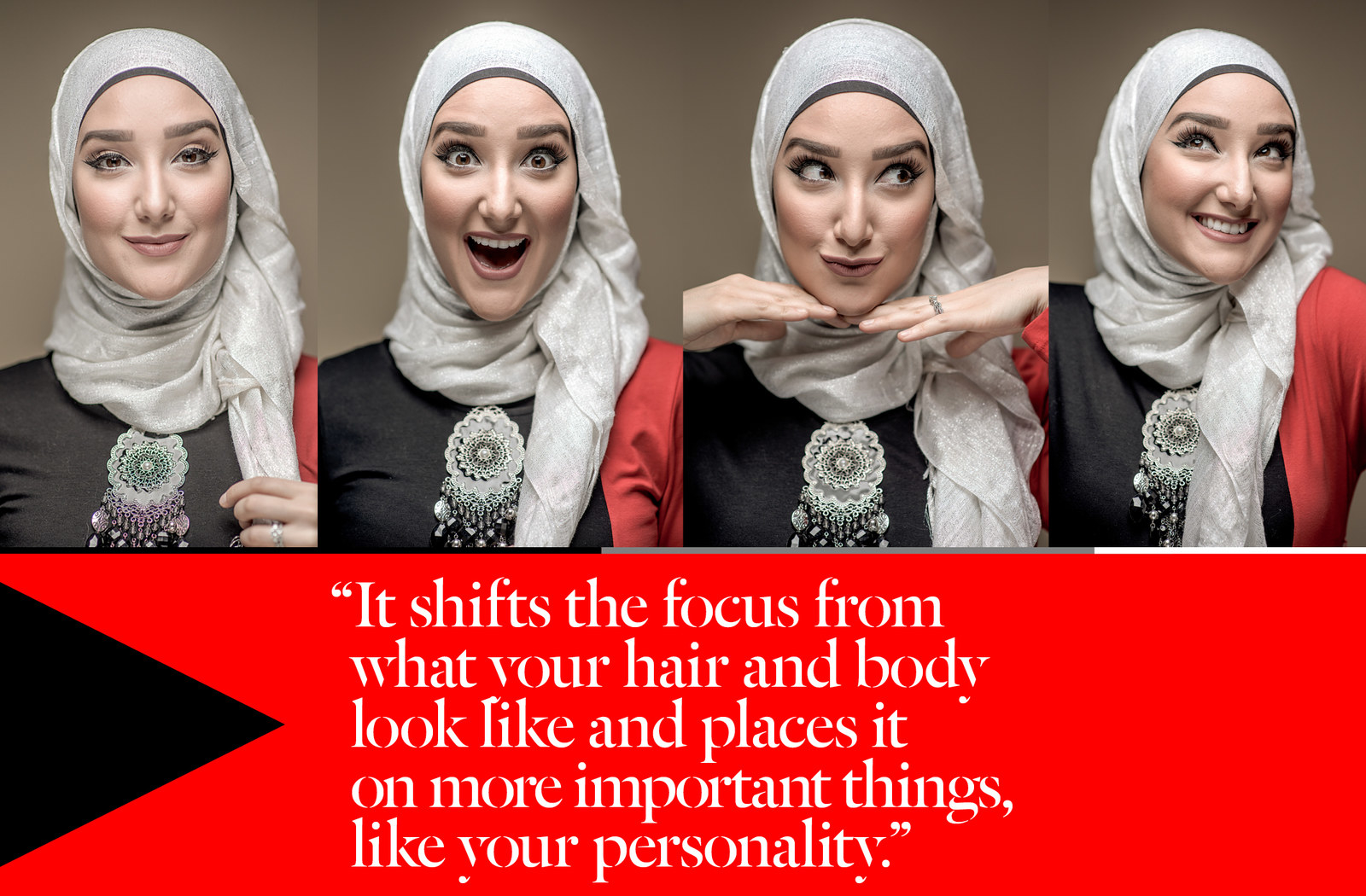 It's Sunday morning and we are at Yaz's kitchen table. The hurricane didn't end up hitting Florida — after crossing the Guantánamo Province of Cuba it puttered out in the Caribbean. Yaz is preparing a pot of Cuban coffee, which involves whipping together sugar and a splash of coffee to create a creamy foam. The aluminum espresso maker whistles on the stove; she pours tar-black liquid into two tiny teacups and brings them over on a tray. "Turkish coffee is supposedly the best, but I prefer Cuban," she admits, while she stirs sugar into one of the cups and hands it to me. "No offense to my dad."

Yaz's parents met in Miami; her father saw her mother driving an old Cadillac and asked to be introduced to her. "They were set up by a mutual friend who found them each too boring to hang out with," Yaz laughs, "since neither of them was interested in going out and drinking."
Her mother, Aisha, was seven years his senior, and had recently converted to Islam after being forced out of Cuba during the revolution. "When I got to the States," Aisha says, "no one was accepting, since we had lost everything. People looked down on us. But Islam was welcoming. It gave me the confidence I never had, as a non-Muslim."
Aisha raised her daughters, Yaz and her older sister, in the Islamic faith. When Yaz's older sister began covering, right around puberty, Aisha encouraged Yaz to do the same, so the girls could go through it together, knowing that it would not be the easiest transition in an American high school. "She never pressured either of us," Yaz says. "She just taught us what she knew, and encouraged us to find our own meaning in Islam, and in wearing hijab."
I press Yaz on why the hijab is so significant to her. "I'm more aware of myself when I'm wearing it, of my actions, than when I'm not," she tells me. "I'm the sort of person who naturally loves to dance and socialize. But the hijab keeps me away from clubs, and places where I might get into trouble. I'm more inhibited when wearing the veil, more modest, and that's important."
The veil is also significant to Yaz because it takes emphasis away from the superficial. "It shifts the focus from what your hair and body look like, and places it on more important things, like your personality."
But isn't there a contradiction between valuing modesty while simultaneously choosing to broadcast hundreds of fashion tutorials and sharing one's life online? Doesn't modesty entail a lack of interest in a public display of self, as well as in outward appearance and makeup?
She shrugs. "I still like to look nice. I like decorating and making things beautiful. And I know other women do, too," Yaz continues, "and it feels good to help them achieve that. I genuinely enjoy fashion. I'm just doing what I do online! It's something I enjoy, being artistic."
In her one-woman show, Burq Off!, Manzoor navigates this tension between self-expression and modesty. The show, which is autobiographical, explores "the compromise between the burka and the bikini," she says, "and how I found freedom and liberation through both while growing up in a Muslim family and figuring out what my identity was in the West." Like Yaz, Manzoor believes that being Muslim and being a performer are not mutually exclusive categories. In Burq Off!, she reconciles these two identities "by showing how a Muslim woman who chooses to dress modestly and cover — or not cover — is still able to come forward and express who she is underneath."

I ask Yaz if she has judgments about Muslim women who choose not to wear the hijab. While listening to her speak about the hijab's significance, I've found myself envying the peace of mind and contentment that she seems to derive from wearing one. I've never worn the veil. I grew up in a family of women who didn't, and until now, I've never felt guilty about my choice to not cover. It isn't that Yaz has done anything to make me feel ashamed, but her choice leaves me with an odd sense of inadequacy, as though some part of me lacks self-discipline.
"I don't," she assures me. "I judge people for who they are on the inside, what their intentions are. That's what matters."
I nod, but can't resist asking if she thinks God is judging. She smiles, and hesitates for a moment before answering. "That's between them and him."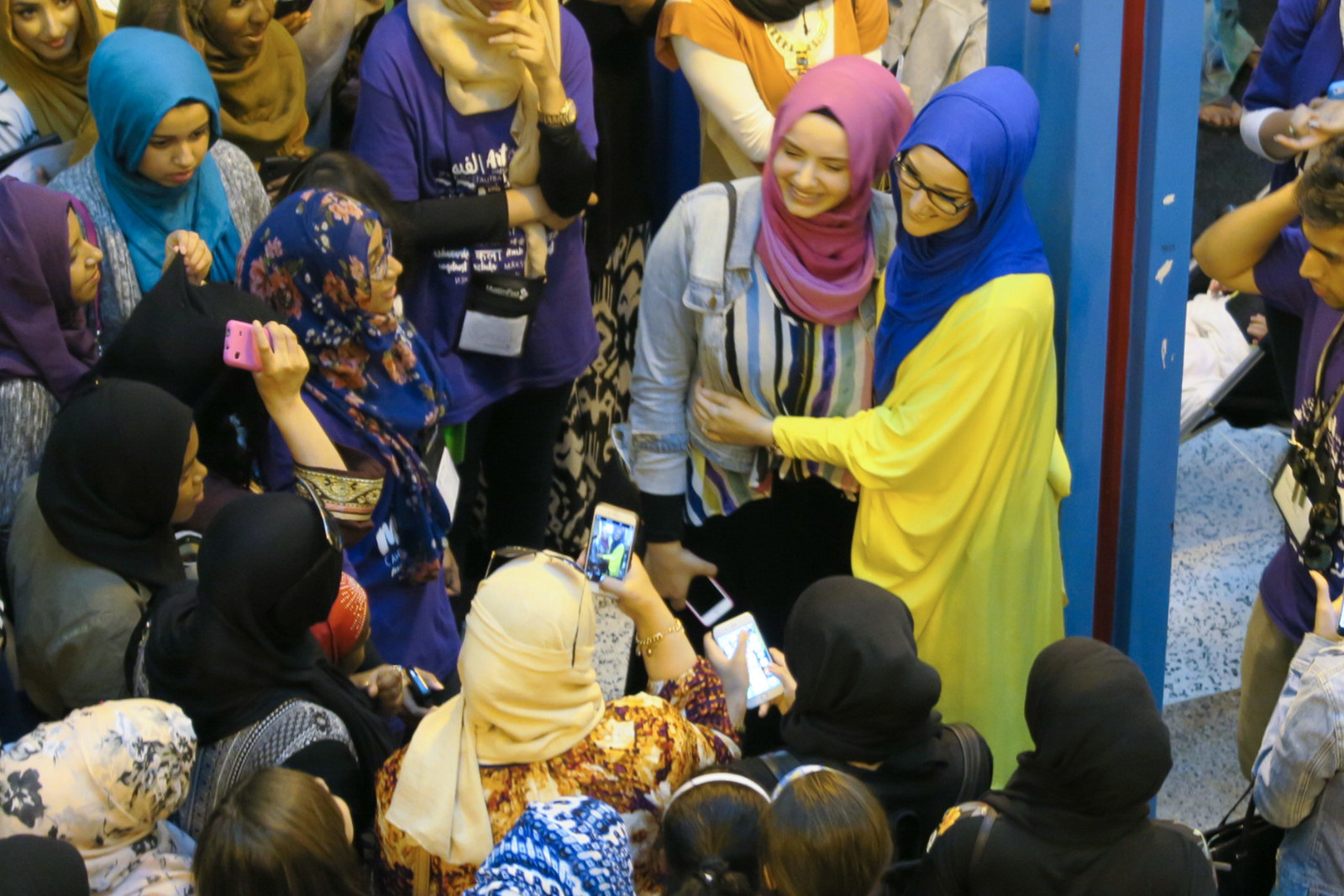 Zeyad fully supports his wife's social media presence. Earlier in the summer he'd accompanied her to MuslimFest, an arts and entertainment festival held every year in Ontario. "All these women came up to her and told her how much she'd inspired them," he says. "That's when I realized how much she was accomplishing. I felt really proud."
Telisa Roessaptono, who is of Indonesian heritage and lives in Toronto, is one such woman. A longtime fan of Yaz, she coincidentally met Yaz and Zeyad during hajj, the pilgrimage to Mecca that every Muslim is required to make during their lifetime. (Yaz and Zeyad went with his family once they were married.) After grappling with the decision, Telisa began wearing the hijab in 2009, and in the years that followed, she derived great strength and certainty about her choice from Yaz and her videos. "I liked that Yaz was able to show that you can look stylish even if you're modest," she told me. "It gave me a great level of confidence knowing that someone in North America could dress well and be a hijabi."
Yaz's more recent videos, which are notably faster-paced with quicker cuts, involve exercise, cooking, and travel to different cities, both for Muslim artist–themed conferences and for fun. In a video produced by Deen TV, an online channel that streams halal entertainment, Yaz travels to New York with her friends Nora Tehaili and Nura Afia, aka Babylailalov, where they have a greasy egg-and-pancake breakfast at a diner, then shop in Times Square. In the evening they eat lamb and chicken from a well-known halal food truck and meet up with some Muslim musician friends in Central Park, who proceed to spin rhymes for her on camera.
Yaz has goals beyond just YouTube and Instagram. "I'd love to have more events with women," she tells me. She's engaged in volunteer work and charity efforts, and uses her YouTube and Instagram presence to raise awareness for causes she cares about, like Islamic Relief's Water Campaign, which aims to stop the spread of water-based illnesses in Syria. "God's blessed me, so I want to give back and help others who are struggling." She also just released her revamped website with new products, including hijab styling and makeup services for weddings and other special occasions.
Last October, Yaz made her film debut with a role in a small-scale production, American Sharia, which premiered in Detroit, a city with a significant Muslim population. The movie is about rogue government officials using Islamophobia to maintain power, while Muslim police officers try to solve a case involving the disappearance of several Muslims. Yaz has a minor role as Leila Rodriguez, a Muslim attorney who wears a hijab. "It was great to step out of my comfort zone and get into character," she says.
Now she's focusing on acting in addition to her tutorials, as well as motherhood — this past June she and Zeyad welcomed their first son, Sulaiman. Following the baby's arrival, she's taken a short break from YouTube, partly because she and Zeyad are searching for a new house ("I don't have the space in our condo to make the quality of videos that I want to make," she tells me, as they've had to convert the guest room — her studio — to a nursery). But it's just a hiatus. "I can't wait to start making videos again," she says. "There's so much to talk about, starting with my pregnancy journey."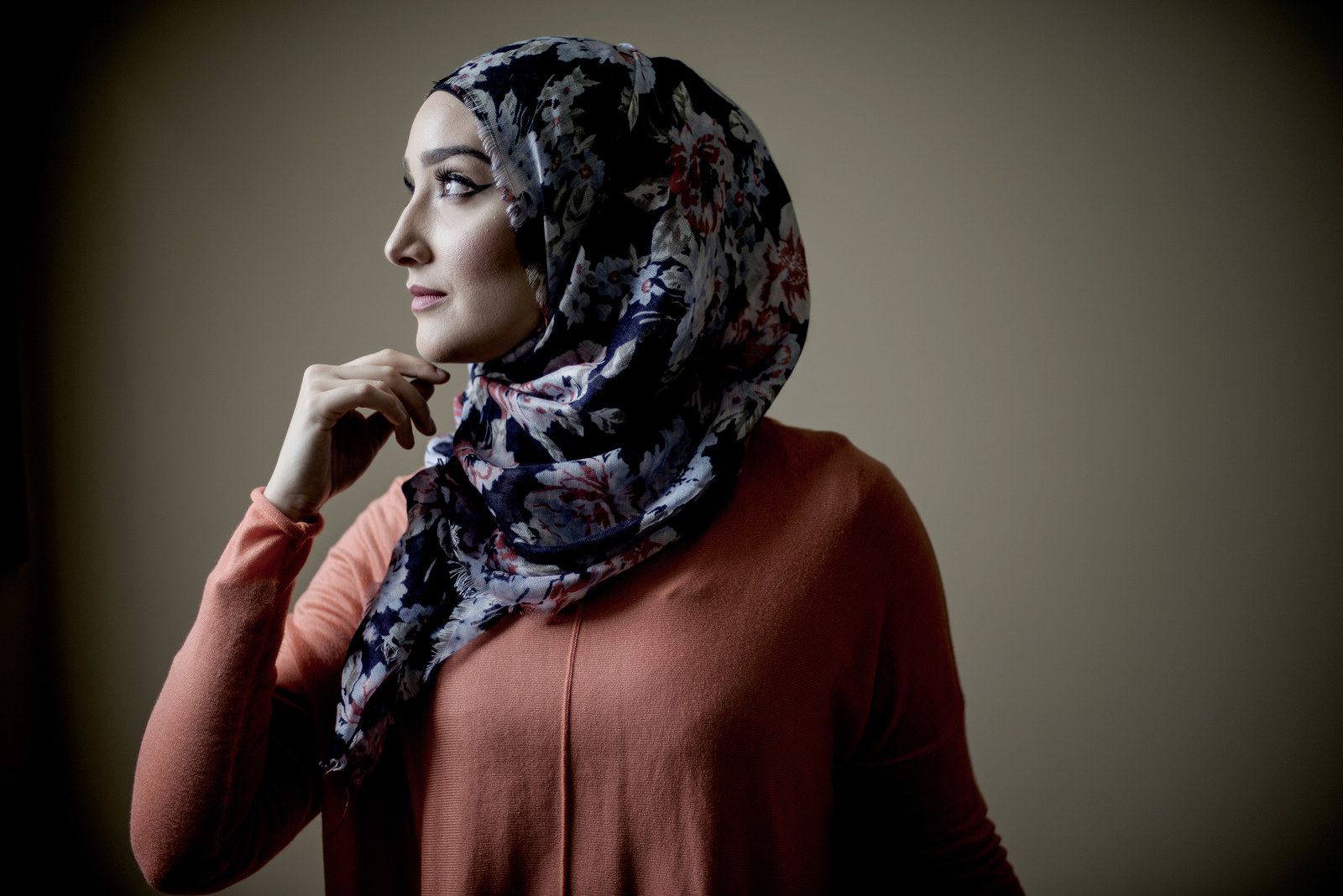 Before I leave Jupiter, Yaz gives me a tiny amber bottle of calendula oil, as I've been complaining about what the Florida humidity's done to my complexion. "I know it seems counterintuitive to put oil on oily skin," she says. We're in her and Zeyad's bedroom, and I'm sitting in front of the mirrored closet door examining my face. "But just trust me."
After all the talk about intentions, I ask Yaz what hers are. "I want to inspire young Muslims to love themselves as Muslims," she says. She admits that this isn't always immediate. "You have to grow at your own pace — it won't happen overnight. It takes strength to not care what people think, to not feel pressured."
It does take strength, even for women who don't wear hijab or display outward signs of their religion — this I know. For Yaz, this acceptance starts from within, and from being confident. "You can be a proud Muslim, and not let yourself be judged by others," she says. "And in the process, you'll end up spreading a positive image of yourself, and of your life." ●