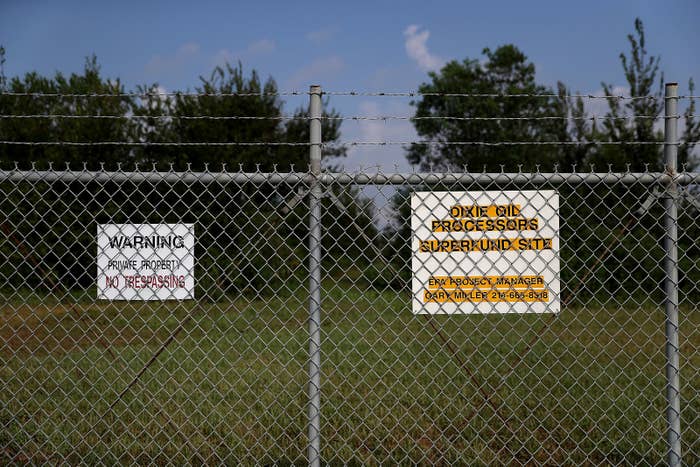 A US government watchdog will investigate how prepared toxic waste sites are for natural disasters and climate change, BuzzFeed News has learned.

In December, after an intense hurricane season that impacted dozens of federally managed "Superfund" sites, 10 senators asked the Government Accountability Office (GAO) to investigate these sites' vulnerability to extreme weather.
On Dec. 21 the GAO agreed to launch a study on the issue in the next four months. The agency "will be conducting a review on Superfund sites and natural disasters/climate change," J. Alfredo Gomez, a director in natural resources and environment at the GAO, told BuzzFeed News by email.
When Hurricane Harvey dumped record levels of rain across Texas last August, 13 Superfund sites were damaged and a site in Houston sprung a leak. These types of problems made it "evident that the potential public health harm from Superfund sites being impacted by natural disasters needs to be examined," Tyrone Gayle, a spokesman for Sen. Kamala Harris's office, told BuzzFeed News by email. Harris is a California Democrat and helped spearhead the GAO request.
Harris was joined on the request by Democrat Sens. Ben Cardin of Maryland, Cory Booker of New Jersey, Ed Markey of Massachusetts, Jeff Merkley of Oregon, Kirsten Gillibrand of New York, Sheldon Whitehouse of Rhode Island, Tammy Duckworth of Illinois, and Tom Carper of Delaware, as well as independent Bernie Sanders of Vermont.
"What is currently known about the number and types of Superfund sites that may be impacted by various natural disasters?" the senators asked the agency to examine. "Which of these are likely to be affected by extreme weather, local flooding, sea level rise, or other climate change-driven changes?"
They also asked how climate-related impacts on these hazardous waste sites threaten human health, as well as what the Environmental Protection Agency, which oversees the federal Superfund program, is doing to manage these risks and communicate them to the public.
It's unclear, however, whether all of these issues will be addressed in the study. According to Gomez, "the scope of the work has not yet been defined."
"[I]t would only be prudent to comment on their report after it's finished," Jahan Wilcox, an EPA spokesman, told BuzzFeed News by email.
UPDATE
This story has been updated to include an comment from EPA spokesman Jahan Wilcox.
CORRECTION
Tyrone Gayle's name was misstated in a previous version of this post.