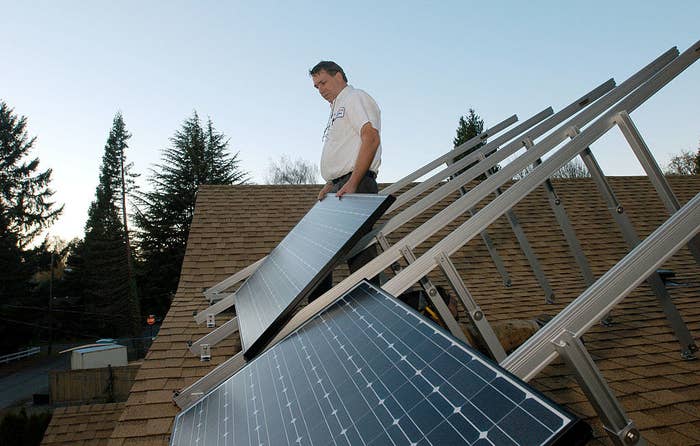 Solar panels and related products made abroad and sold cheaply in the US are hurting American manufacturers so badly that something needs to be done to help their bottom line, federal officials unanimously ruled in a landmark trade case on Friday.
The highly anticipated decision has delivered an opportunity for President Trump to put tariffs on certain solar panels made outside of the US — a move that officials have reportedly said is likely and would be consistent with his "America First" strategy.
So-called crystalline silicon photovoltaic cells "are being imported into the United States in such increased quantities as to be a substantial cause of serious injury, or threat of serious injury, to the domestic industry," according to the US international trade commission (ITC), the four-person panel that heard the case.
It will be months, however, before the administration makes a final decision on how — or whether — to remedy the situation, leaving the deeply divided solar industry in limbo.
The ruling was a big win for the two bankrupt US companies — Suniva and SolarWorld — that petitioned the ITC to take on this case earlier this year. The companies alleged that their financial woes have resulted from not being able to compete with foreign products.
"We brought this action because the U.S. solar manufacturing industry finds itself at the precipice of extinction at the hands of foreign market overcapacity," Suniva said in a company statement. "The ITC has agreed, and now it will be in President Trump's hands to decide whether America will continue to have the capability to manufacture this energy source."
But the decision was a blow to the leading solar trade group, the Solar Energy Industries Association (SEIA), which had argued the two bankruptcies were the result of poor management decisions.
"The ITC's decision is disappointing for nearly 9,000 U.S. solar companies and the 260,000 Americans they employ," SEIA president and CEO Abigail Ross Hopper said in a statement. "While we continue to believe that this is the wrong decision, based on Suniva and SolarWorld's mismanagement, we respect the commission's vote and we will continue to lead the effort to protect the solar industry from damaging trade relief."
A diverse group of solar companies, renewable energy advocates, and free-market groups had urged the commission to go the other way. The two petitioners, critics say, wrongly portrayed the state of the US solar industry.
"They've tried to create this fiction of a struggling solar manufacturing industry when actually it's doing quite well," Ed Fenster, co-founder and executive chairman of the solar provider SunRun, told BuzzFeed News ahead of the decision.
This is in part, he said, because the two petitioners narrowly defined solar manufacturers in the case, excluding companies that make solar panels using exported cells or producers of solar tracking equipment. Fenster was one of many solar executives to testify against the case and proposed tariffs at an August hearing before the trade commission.

Today's decision "raises serious concern about the potential for tariffs that could increase electricity prices and threaten a thriving solar industry that is one of the nation's most important economic drivers," according to a statement from Gregory Wetstone, president of the American Council on Renewable Energy.
The next step in this process is an Oct. 3 hearing before the trade commission, where industry members can suggest potential tariffs or other responses. By mid-November, commissioners will submit recommendations to Trump, who has wide latitude to act on those suggestions or take other actions.
Suniva's initial petition to the ITC asked for a tariff of 40 cents per watt on certain types of solar cells, and at least a 78-cent-per-watt tariff on solar modules, or packages of solar equipment including cells.
Although a SEIA analysis concluded that such steep tariffs could result in the loss of 88,000 future solar jobs, a Suniva-commissioned study found such taxes on foreign imports were necessary to create future jobs.
A separate analysis by GTM Research, a renewable energy analysis group, found these tariffs could lead to an approximately 50% reduction in future solar deployment over the next five years. Suniva has disputed this conclusion.
Adding to the disagreement about what impact future tariffs could have on the industry, some groups have argued that the World Trade Organization could legally challenge the efforts, or that countries impacted by such tariffs — notably China or India — could retaliate in some way. Meanwhile, some foreign-owned companies have announced they would consider opening up manufacturing operations in the US to circumvent potentially high tariffs.
UPDATE
This story has been updated with comments from Ed Fenster.