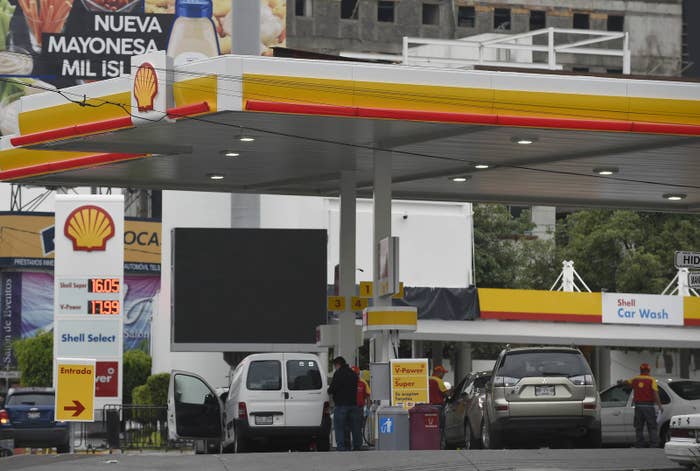 In a first for the oil and gas industry, Royal Dutch Shell this week acknowledged that a big source of the company's climate pollution comes from consumers — such as people gassing up their cars — and vowed to cut these emissions in a new climate strategy.
That's important because most emissions tied to this industry come from consumers using oil and gas products. Energy companies have insisted that's not their problem — until now.
"For a very long time, the oil industry has really refused to acknowledge that they face risk and have some responsibility for their end products," Andrew Logan, director of oil and gas at the sustainability nonprofit Ceres, told BuzzFeed News. "The industry has long tried to pass the buck to the end users — to drivers, to auto companies, to power companies — and argue that the problem of these emissions lies with them."
With this announcement, Shell is also aligning itself with the Paris climate agreement, which Trump pledged to pull the US out of. "That is big deal even if the details may come up short at the moment," Logan said.
Shell's new plan calls for reducing its net carbon emissions 20% by 2035 and 50% by 2050, according to a company announcement on Monday. This means the company is considering ways to both cut down on some emissions, as well as boost activities that don't produce any pollution.
"We believe this approach sets us apart from our peers," Shell spokeswoman Natalie Gunnell told BuzzFeed News by email. "We also believe it is critical that our aspiration covers the full energy lifecycle, from production through to consumption — as this is where around 85% of the emissions associated with our energy products occur."
Climate experts largely cheered Shell's news, which brings the oil giant closer — but not yet in line — with the goals outlined in the Paris agreement to prevent catastrophic climate change.
Some environmental activists, however, were not impressed. Although the company wants to halve its net emissions by 2050, the Paris accord calls for the world to bring its net emissions to zero by mid-to-late century.
"Until a fossil fuel company puts forward a plan to manage the orderly decline of the industry, we'll hold our applause,"Greenpeace wrote in a statement emailed to BuzzFeed News.
According to Mark van Baal, founder of a group of Shell shareholders devoted to sustainability called Follow This, Shell's "landmark decision" pushes forward the shareholder conversation around climate change.
Earlier this year, Follow This introduced a resolution for all shareholders to vote on that would require the company to set emissions reduction goals. It was overwhelmingly rejected. "Now that Shell has taken responsibility for the emissions of its products, the only debate will be about the target itself," van Baal said in a recent statement.
Under Shell's new plan, it will revisit the climate targets every five years. The company has also pledged to disclose more about its emissions: It will share not only its net carbon footprint from operations and energy use, but also how much pollution comes from the use of its products by consumers.
Shell does not yet know exactly how it plans to meet its long-term goals. It is considering growing its natural gas business, boosting its spending on renewable energy sources, and possibly using technology that pulls emissions out of the air, called carbon capture and storage.
The company even admitted that its total emissions may go up in the process.
"Progress is unlikely to be smooth," according to spokeswoman Gunnell. "While we have set this ambition to reduce our net carbon footprint, we may have a period in which Shell's absolute emissions increase."