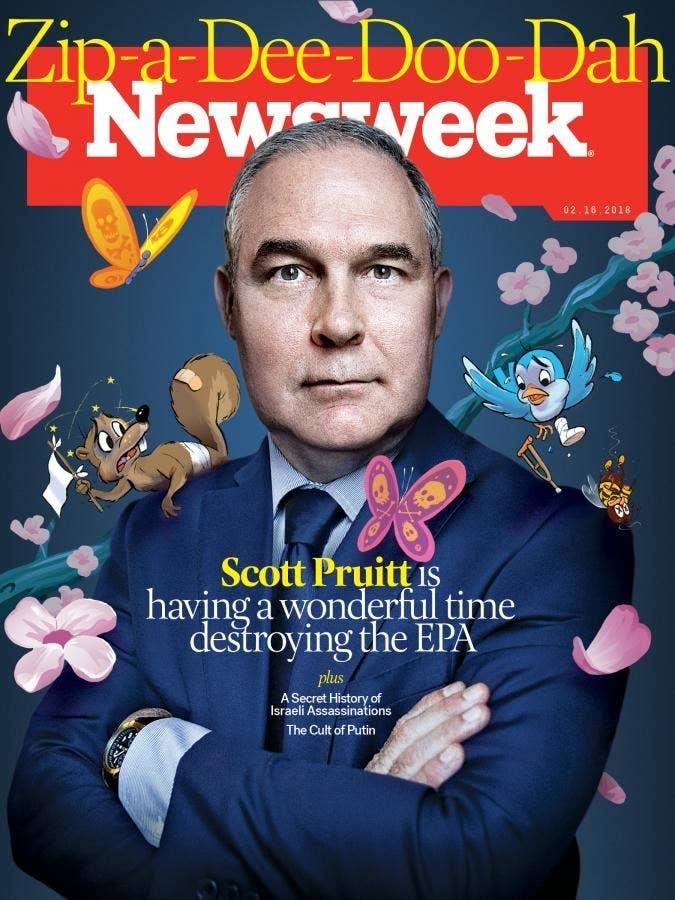 The Environmental Protection Agency's internal watchdog launched three investigations this year into potential threats against Scott Pruitt, the agency's administrator. All three cases were closed due to a lack of evidence that Pruitt had been seriously threatened, according to documents obtained by BuzzFeed News.
One of the threats, made in March, consisted of someone drawing a mustache on Pruitt's face on the cover of Newsweek and taping the magazine inside of an elevator at an EPA building. The case was closed due to a lack of an "overt threat" against Pruitt.
Another incident characterized as a threat was made on Nov. 8, 2017, by an 85-year-old who sent a letter to the agency on the back of Department of Veterans Affairs letterhead that was riddled with expletives.
"Just read your denial of global warming recently released by the National Academy of Sciences," the person wrote. "Hope that you & your kind die and choke to death of cancer of the guts, slowly in agony, & rot forever in a toxic sewer in hell forever!"
The investigation was opened on Jan. 9 and closed a month later based on the investigation's findings, the details of which were entirely redacted from the documents. Another potential threat was made against Pruitt via Twitter on Jan. 3 and closed March 14.
EPA's Office of Inspector General on Monday released these details as part of 57 pages of investigative reports and other documents about EPA security threats in response to a Freedom of Information Act request filed by BuzzFeed News.
This document release comes as the embroiled EPA chief faces questions from Congress, the White House, and federal watchdogs over his travel, security, treatment of staff, and more.
For example, the EPA has spent more than $3 million on Pruitt's first-class travel, lodging, and around-the-clock security detail, according to the Associated Press. EPA press officials have justified the costs by citing an "unprecedented" number of death threats against Pruitt. President Donald Trump has repeated the claim, tweeting on April 7 that "While Security spending was somewhat more than his predecessor, Scott Pruitt has received death threats because of his bold actions at EPA." But the internal documents suggest none of the threats were serious enough to warrant much follow up.
The EPA did not immediately respond to a request for comment.

The newly released documents show that 50 threats were made against the EPA in fiscal year 2017, at least through mid-August. Pruitt received 16 threats, former EPA head Gina McCarthy received three, one was directed at both administrators, and there were 30 others. Additional threats were made to Pruitt in the months that followed.
(That's up from the previous year. In fiscal year 2016, a total of 44 threats were made, including four directed at McCarthy, according to the internal watchdog.)
Many of EPA's internal reports show that the inspector general's office launched investigations into some of the threats in 2017 and 2018, several of which were directed at Pruitt via Facebook, Twitter, handwritten letters, postcards, and voicemail messages. These cases were quickly closed because investigators could not prove threats were made. Other cases that the inspector general's investigators were able to substantiate were sent to the Department of Justice for prosecution, but officials there declined to pursue.
Some of the documents in the cache related to threats that were previously released to the environmental publication E&E News or described in an April letter by two Senate Democrats, Tom Carper of Delaware and Sheldon Whitehouse of Rhode Island. For example, Pruitt received two letters in March 2017 from a person in prison. Upon closer review, officials "did not observe any overt threatening language." In another case, officials investigated Twitter threats to both Pruitt and Sen. Mitch McConnell, a Republican from Kentucky, and found they were made by someone who was drinking and watching Rachel Maddow's show.
CORRECTION
Sen. Mitch McConnell is from Kentucky. A previous version of this story misidentified the state.