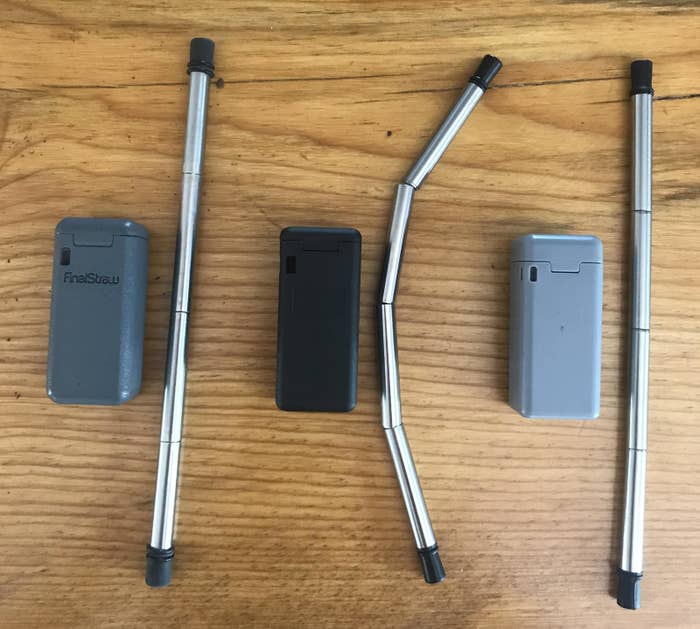 The Kickstarter campaign for FinalStraw, "the world's first collapsible, reusable straw," went viral in April, in the midst of a national backlash against plastic straws.
As the metal straw makers scrambled to fill tens of thousands of preorders, scammers flooded Amazon, eBay, and Alibaba with cheap knockoffs.
"The whole purpose was to reduce waste," Emma Cohen, a cofounder of FinalStraw, told BuzzFeed News about the stainless steel gadget. But this wave of bootleg straws has inadvertently created a bigger waste problem, she said.
These counterfeit straws are hitting the market as more and more cities and companies are limiting or banning plastic straws. In the past two months, Seattle's ban has taken effect and San Francisco moved to adopt its own. Then there are the corporate announcements, including Starbucks, Marriott International, American Airlines, and the Walt Disney Corporation.
The anti-straw movement has been around for more than a decade, but was galvanized in 2015 thanks to a video of a plastic straw being pulled out of sea turtle's bloody nose.
Cohen's cofounder, freelance cinematographer Miles Pepper, was shaken by the graphic video and wanted to quit plastic straws. But he didn't want to give up his iced coffee habit. He looked around for a small and light metal alternative, but it didn't seem to exist. So he designed one.
By the campaign's end, Cohen and Pepper received orders for about 86,000 straws at $20 apiece, raising nearly $2 million.
FinalStraw's monthlong Kickstarter campaign launched in early April and surpassed its fundraising goal of $12,500 on the first day. By the campaign's end, Cohen and Pepper received orders for about 86,000 straws at $20 apiece, raising nearly $2 million. They've continued to get preorders for the product, which includes the straw, a straw cleaner, and case made of recycled plastic.
(The Kickstarter campaign claims Americans use about 500 million plastic straws a day, and that one of the metal straws could save 584 plastic straws from entering oceans and landfills each year. There's a hot debate over the accuracy of that 500 million number, which traces back to a 2011 telephone survey of three straw manufacturers done by then 9-year-old Milo Cress.)
"I am just blown away," Cohen told BuzzFeed News. "I think Miles and I launched this project purely out of passion for waste reduction. I had no idea people liked straws so much. Personally, I don't really use straws." Before teaming up with Pepper, Cohen worked as a sustainability specialist at Los Alamos National Laboratory. She also gave a TedX Talk in July 2015 on why plastic straws "suck."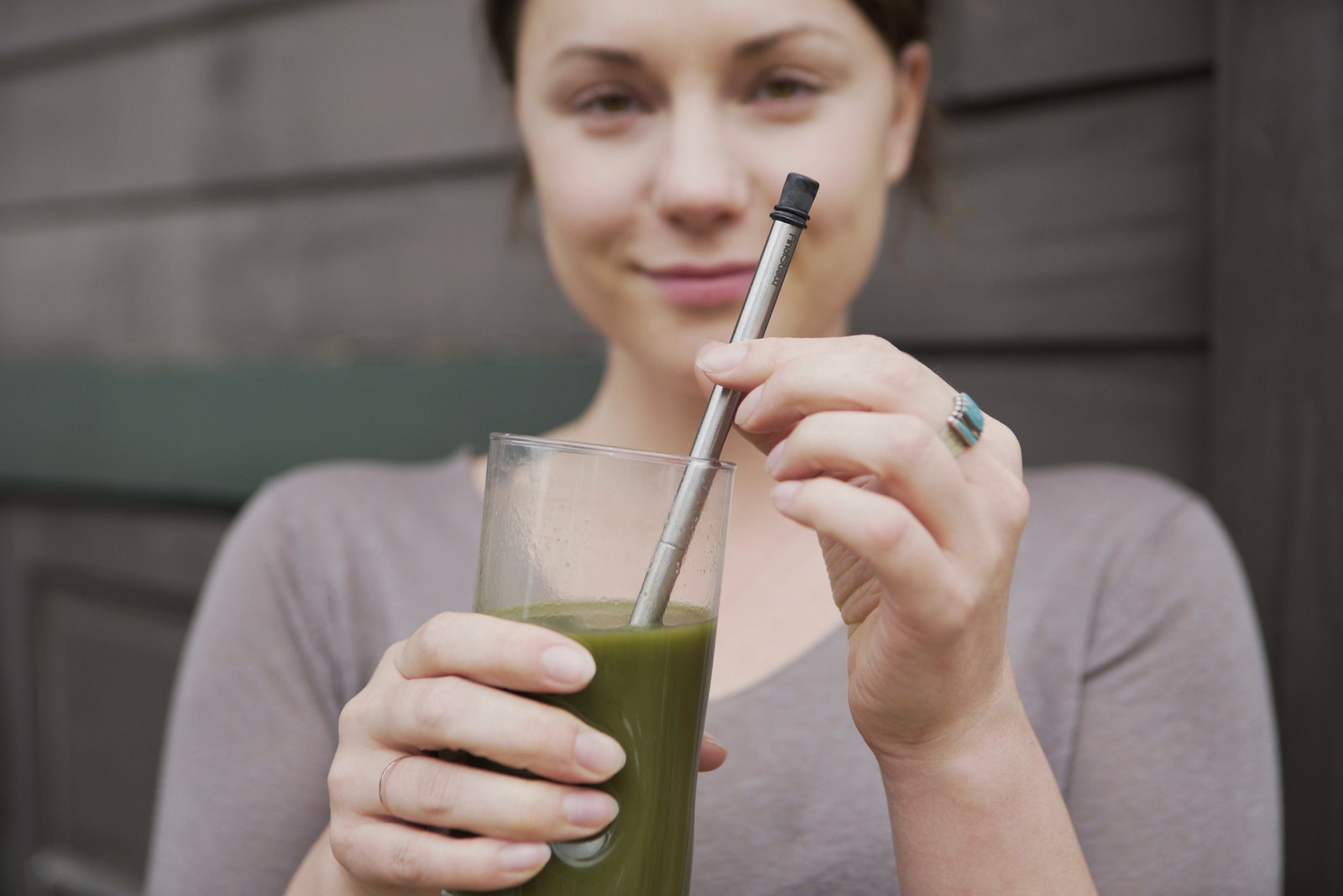 Metal straws have some of the fastest rising sales on Amazon. The FinalStraw knockoffs, some half the price of the real thing, appeared online within days of the end of the Kickstarter campaign, according to Cohen and Pepper, using their product name and photos. So far they have reported more than 200 listings on Amazon, eBay, and Alibaba that have used their photos and promotional text without permission. (It's called "copyright infringement.") FinalStraw has no listings of its own on these websites because the straw won't be ready until November.
If you go to these websites and type in "FinalStraw" or "collapse straw," Cohen said, "they are hard to miss. It's my face. I am advertising these knockoff straws." Pepper bought two of them on Amazon and found they didn't hold together as well as their own.
And other people who have bought the knockoffs have written to FinalStraw with questions, complaints about the straws falling apart, and requests for refunds, Cohen said. "People are just genuinely confused," she said, "some are angry and upset."
Experts in product competition and fraud say it's no surprise this trendy item has triggered so many knockoffs.
"The types of people who take advantage of the gaps in Amazon systems would find this as an opportunity and take advantage of it," said Chris McCabe, who used to work on the seller performance evaluation and policy enforcement team at Amazon and now has a consulting business. Some Kickstarter campaigns are particularly attractive to scammers, he said. "For these listing creators, this is a golden opportunity because there's not an actual seller to compete with — until November, at least."
Many of these posts have been taken down. Some have swapped out the stolen material, and others have done nothing. If and when FinalStraw's trademark and patent applications go through, Pepper said, they plan to go after a larger array of straw sellers.
BuzzFeed News found several posts on Amazon selling reusable, collapsible straws with FinalStraw's material. After reaching out to the sellers — Timcare, My Style My Show, and NoFree — as well as to Amazon about the posts, all three were taken down. The original postings, one of them shown below, were all made between July 4 and 12. The straws were being sold for $10 or less and available for delivery by mid-August.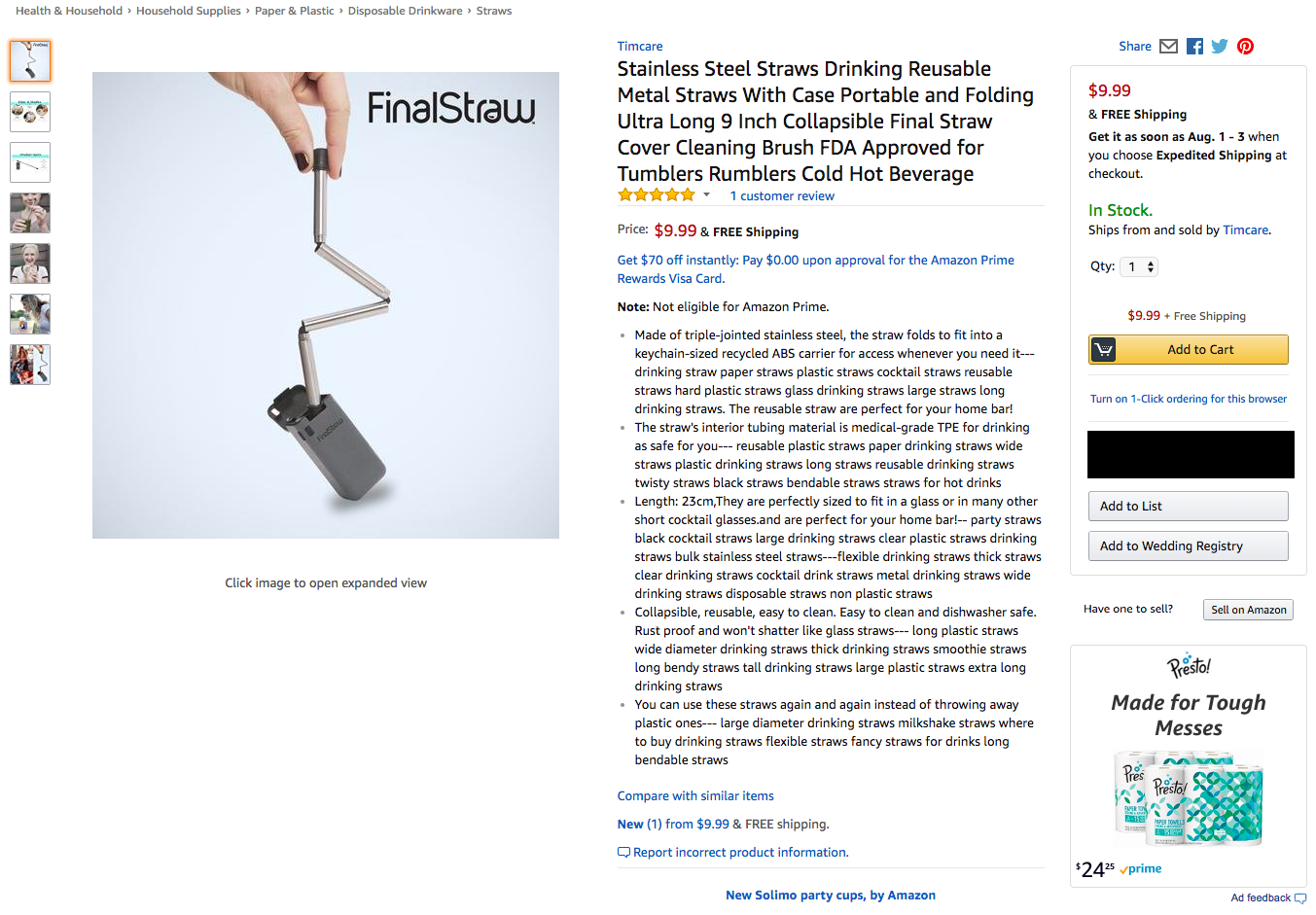 "Amazon respects the intellectual property rights of others and requires that third party sellers do the same when listing items for sale on Amazon," an Amazon spokesperson told BuzzFeed News by email. "We encourage anyone who has an IP rights concern to notify us, and we will investigate it thoroughly and take any appropriate actions."

"It is a whack-a-mole situation," Cohen said. "As soon as one is taken down, five more pop up."