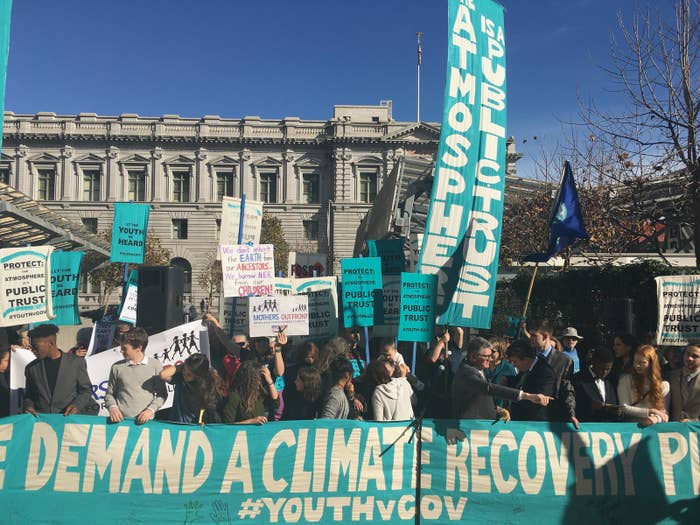 Twenty-one young people are suing the US government for contributing to climate change in violation of their constitutional rights. But the Trump administration is trying to keep the landmark lawsuit from going to trial.

What happens next will depend on the US Court Appeals for the 9th Circuit in San Francisco, where a three-judge panel heard arguments from both sides of the case before a crowded courtroom on Monday.
On one side was the Department of Justice, alleging this case is so "unprecedented" and "extraordinary" in its demands on the federal government that it should be dismissed. "This case is on a collision course with the executive branch," Eric Grant, deputy assistant attorney general, said on Monday.
The case was supposed to be going to trial in February. But the Justice Department successfully petitioned this federal court to temporarily pause that timeline to review that decision.
"We are grateful that the Court promptly scheduled this petition for oral argument and we await the Court's resolution of this important matter," Mark Abueg, a spokesman for the Justice Department, wrote in an email to BuzzFeed News.

The plaintiffs, represented by the group Our Children's Trust, argued that they deserve a chance to make their case in court. The US government, they claim, has violated their constitutional rights to life, liberty, and property for supporting activities that contribute to climate change, such as drilling for oil and gas on public lands. They are asking the court to order the government to craft a plan to reduce the country's emissions from fossil fuels.
"We simply ask the court to lift the temporary stay and send it back to the district court so that these young people can go to trial and present their historical and scientific evidence and make their case," Julia Olson, executive director of Our Children's Trust, told the judges on Monday.
Two of the three judges raised questions about the precedent that could be set for siding with the government and dismissing the case at this stage — suggesting to some observers that they would side with the kids.
"In terms of reading through the tea leaves, I think the short answer is: It appears to look good for Our Children's Trust," Michael Burger, executive director of Columbia Law School's Sabin Center for Climate Change Law, told BuzzFeed News after the Monday arguments. Burger is not involved in the case.
There's no deadline for when the federal court must make a decision. But if the case does go forward, the judges told the plaintiffs they would want the broad claims against the federal government to be narrowed down.

"This lawsuit is a demonstration of us, young people, reclaiming our democracy," Xiuhtezcatl, a 17-year-old from Boulder, Colorado, and one of the plaintiffs, said at a rally across from the federal court after the hearing.
UPDATE
This story has been updated to include a comment from a Justice Department spokesperson.