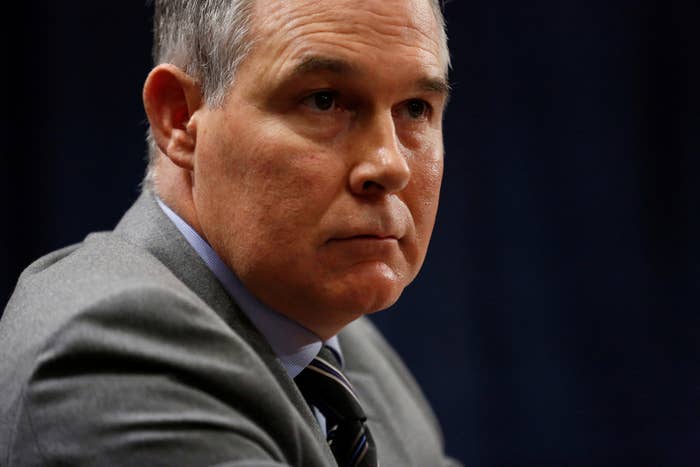 The Environmental Protection Agency closed far fewer pollution cases in its first year under Donald Trump — 48 cases, garnering $30 million in civil penalties — than previous administrations' first years, according to a newly released watchdog report.

The Environmental Integrity Project (EIP) report also points to a drop in how much polluters agreed to pay to clean up violations. In at least two cases, the environmental agency appears to have inflated company clean-up costs — conflating future payments with past ones.

"The facts speak for themselves," EIP executive director Eric Schaeffer, a former EPA enforcement officer, told BuzzFeed News. "There's certainly a drop."
EPA chief Scott Pruitt has repeatedly said he's tough on polluters. But the new report comes as the latest challenge to his enforcement record. A New York Times investigation, published in December, found the EPA opened about 1,900 cases during Pruitt's first nine months. That's about one-third fewer than the Obama administration started in that time, and about one-quarter fewer than the previous Bush administration's EPA.
"EPA works with state partners on enforcement oversight; and results of the agency's enforcement work are reliant upon work that takes place over multiple years," EPA spokeswoman Liz Bowman said in an statement emailed to BuzzFeed News. "We appreciate enforcement staff's continuous and consistent hard work to ensure compliance of environmental laws and hold people accountable if the violate the law."

When the Trump administration took over the EPA, it inherited a pipeline of active cases against polluters, said Schaeffer. But with each case, "you have to bring it across the finish line and that's what is being measured here," he told BuzzFeed News.
During its first 12 months, Obama's EPA closed 71 cases resulting in $71 million in civil penalties, Bush's EPA closed 112 cases resulting in $50 million in penalties, and Clinton's EPA closed 73 cases resulting in $55 million in penalties. That means Trump's EPA has closed about 44% fewer cases and issued about 49% less in penalties, according to the report.
The new analysis targeted so-called civil enforcement cases lodged, or brought to court, by the EPA during Trump's first 12 months in office; not included are Superfund cases, criminal cases, or more minor enforcement actions taken by the agency. These are the most significant cases brought against large companies violating several major environmental laws, including the Clean Water Act and the Clean Air Act.
The drop in cases could partly reflect a drop in staff working on enforcement, where more than 700 people have left the agency in the last year, said Schaeffer.
The EIP report also comes on the heels of EPA's own annual tally of how it's holding polluters accountable, which was released last week. That suggested there's actually been an increase in agency penalties against bad actors. (EPA's review also showed there's been a steady decline in the total number of civil cases opened and closed since the Bush administration.)
Why the difference? It has to do with the scope of the reports: The agency one focused on the fiscal year (September 2016 to September 2017) and covered all types of enforcement, not just civil cases. And the agency might be puffing up its penalty numbers.
In at least two cases, according to the EIP analysis, EPA inflated how much it was asking companies to pay to clean up their act. Back in October 2017, for example, EPA and the Department of Justice announced a settlement with ExxonMobil Corp, where the company agreed to spend $300 million in response to clean air violations across eight chemical plants in Texas and Louisiana. But some of this money covered costs the company had already paid, rather than future spending. "That's not usual for enforcement," Schaeffer said.
Exxon did not respond to a request for comment about this case.
UPDATE
This story was updated to include a new response from the EPA after agency officials reviewed the report.