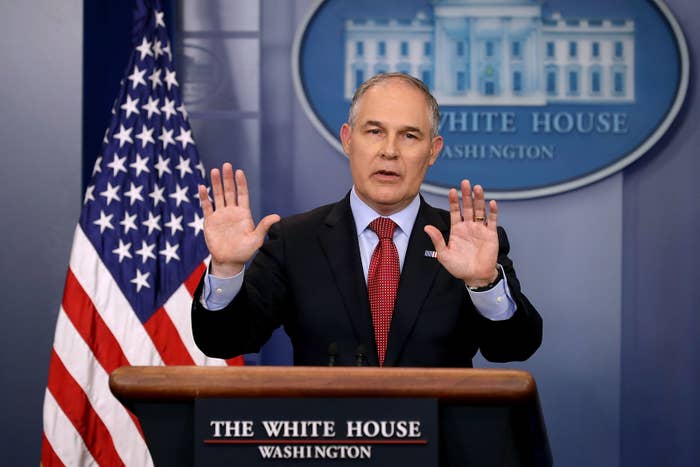 A rule expanding federal protection to thousands of streams, wetlands, and small waterways, many of which feed into drinking water sources across the US, is effectively dead.
The Environmental Protection Agency, in coordination with the Department of Army and Army Corps of Engineers, on Tuesday proposed rescinding the 2015 Clean Water Rule, which expanded the definition of US waterways that are federally protected and regulated. There will be a public comment period before the rule's fate is sealed.
President Donald Trump ordered the agencies to review the rule in February, calling it a "horrible, horrible rule" and "a massive power grab." Trump campaigned on killing the rule.
One impact of killing this rule is that it throws the regulatory landscape of US waterways back into pre-2015 chaos. The rule was crafted by the Obama administration to explicitly address public, industry, and regulatory confusion over which waterways were actually protected under the Clean Water Act, and it was finalized following hundreds of stakeholder meetings and public hearings on the issue.
Agriculture and energy groups protested the resulting rule, arguing it was too restrictive and burdensome. Following legal challenges, including one involving EPA head Scott Pruitt, then serving as Oklahoma attorney general, the rule was stayed shortly after it took effect. It's unclear what exactly happens to these legal challenges if the EPA eliminates the rule, but some legal experts told BuzzFeed News they would likely disappear.
Those groups are now praising its expected demise.
"Farmers and ranchers across this country are cheering EPA's proposal today to ditch its flawed Waters of the U.S. rule," Zippy Duvall, president of the American Farm Bureau Federation, said in a statement. "It was a federal land grab designed to put a straightjacket on farming and private businesses across this nation." This farmers and ranching group sued the EPA over the rule.
After repealing the rule, the EPA will have to replace it. But Pruitt offered few details about what this new rule could look like in today's announcement.
"We are taking significant action to return power to the states and provide regulatory certainty to our nation's farmers and businesses," Pruitt said in a statement. "This is the first step in the two-step process to redefine 'waters of the U.S.' and we are committed to moving through this re-evaluation to quickly provide regulatory certainty, in a way that is thoughtful, transparent and collaborative with other agencies and the public."
Environmental lawyers, activists and lawmakers have warned the rule's repeal will have public health impacts.
"It means fewer waters are going to enjoy federal regulatory protection and it will be easier to dump pollutants into them," Michael Gerrard, director of Columbia University's Sabin Center for Climate Change Law, told BuzzFeed News.
About 117 million people, or about one in three Americans, get at least some of their drinking water from the waterways that would have been protected by the 2015 rule, according to EPA's own analyses.
Without this rule in place, many streams in the continental US will not have protection from pollution such as the dumping of coal mining and agricultural waste, according to the EPA's own analyses. Millions of acres of wetland could also go unprotected.
"This is indeed a very dark moment in regards to the history of clean water in the US," Sen. Ben Cardin, a Democrat from Maryland, said in a press call about the news. Speaking to the impact of the rule's expected rollback, he added, "I think it will impact our drinking water."
Congress has the authority to pass a bill clarifying which waterways get federal protection, said Cardin. He will be pushing for such a bill, which he acknowledged likely faces an uphill battle in the Republican-controlled legislature.