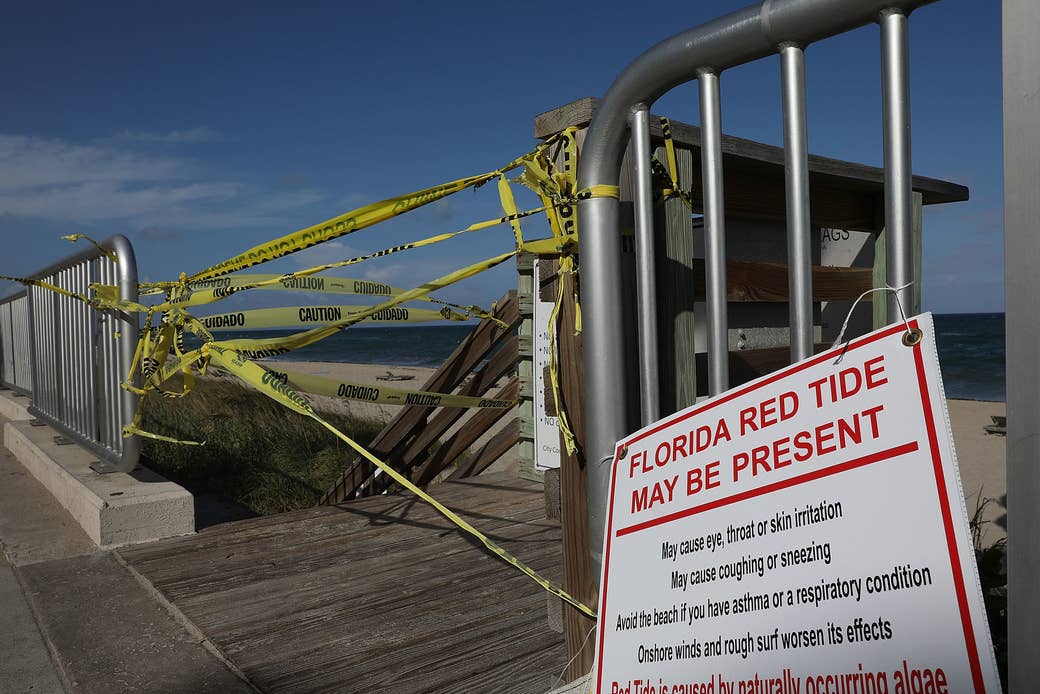 Climate change has largely taken a backseat for the midterm elections — except in Florida, where even Republican candidates have been forced to take surprisingly aggressive stances on saving the vulnerable coastline.
Take its high-profile Senate race. Sen. Bill Nelson, the Democratic incumbent, and Gov. Rick Scott, the Republican challenger, are attacking each other for not doing enough about an environmental scourge that's hurting beachfront business: toxic algae.
And in the race for a South Florida House seat, a new attack ad funded by national Republicans — yes, Republicans — alleges that Democratic candidate Debbie Mucarsel-Powell isn't doing enough on climate change and that her campaign is being funded by "dirty coal money." She's running against incumbent Rep. Carlos Curbelo, one of the few House Republicans that have vocally supported solutions to climate change, such as a carbon tax.
Every year, people debate whether environmental issues actually matter in elections. Climate change has "become more polarized than abortion" as a voting issue, Anthony Leiserowitz, director of the Yale Program on Climate Change Communication, told BuzzFeed News. "I think many Democratic candidates are still afraid to talk about it."
But in Florida in 2018, there's no debate: Hurricanes, rising seas, and algal blooms are influencing voters.
This year brought Hurricane Michael, one of the strongest storms to ever make landfall in the Florida Panhandle, which took out entire communities. Last year was Irma, which spiraled up the state's western coast and was the fifth most expensive storm in US history. In Miami, sea levels have risen at least five inches in recent decades, increasing flooding during high tides. According to one study, southeast Florida could see between 28 and 58 inches of sea rise by 2100.

And then there's the toxic algae, of two gross types: a blue-green slime that sits on top of lakes and rivers, and the "red tide" algal blooms that turn ocean waters red or brown. The latest episode of red tide, worsened by warming waters and pollution, has lasted about a year and plagued beaches on both of Florida's coasts, prompting the governor to declare a state of emergency in several counties. Hundreds of people have gone to the emergency room, hundreds of manatees, dolphins, and sea turtles have died, and thousands of pounds of fish. Beaches have been forced to close, badly damaging the state's tourism industry, and the clean-up will cost the state more than a million dollars.
The lingering visuals of dead fish and muddied oceans have made people care about the environment.
The lingering visuals of dead fish and muddied oceans have made people care about the environment, Susan MacManus, a University of South Florida political science professor emeritus, told BuzzFeed News. "Floridians got it," she said. "It definitely crossed party lines."

Both Democratic and Republican campaigns told BuzzFeed News that Florida voters are bringing up these issues. So in response, the candidates are talking about it.
They talk about it differently, though. Republicans will talk about resiliency and, occasionally, about rising seas (especially if they're in Miami). But most of the time, they stay focused tightly on the way environmental disaster impacts local business, infrastructure, and tourism — and not the underlying cause. Democrats, meanwhile, are far more likely to link climate change to hurricanes and red tide, use it to push for renewable energy, and describe it as an urgent, even existential problem.
"Climate change is huge here because it's life or death for us," Donna Shalala, Democratic candidate for Congress in Florida's 27th District in the Miami area, told BuzzFeed News. "If we don't build sea walls and pumps and raise streets, if we don't see the environment, see our country make a major effort to reduce carbon, we don't have a chance down here."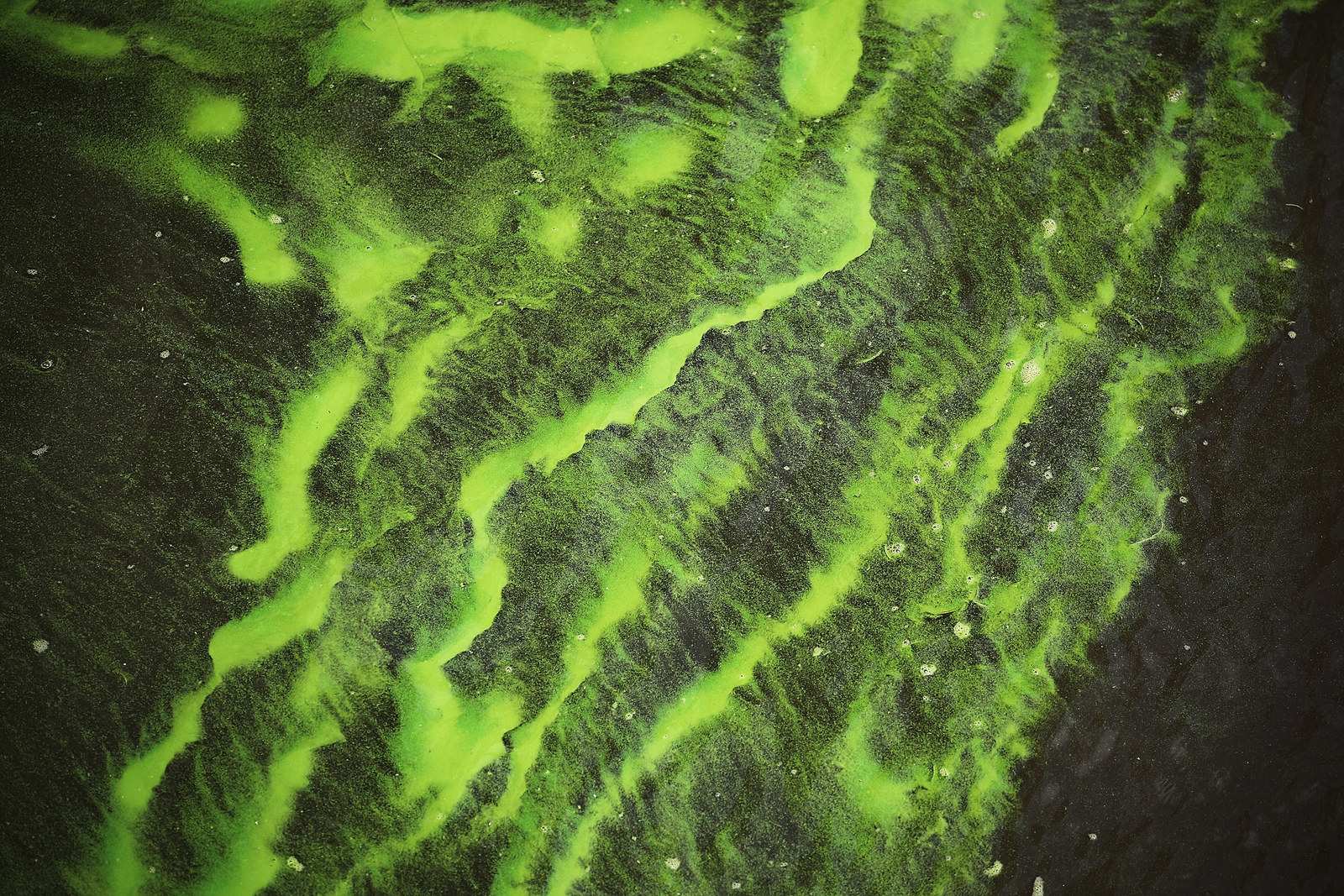 In the neck-and-neck Senate race, Nelson and Scott have both boasted of their environmental credentials, and repeatedly pointed fingers at each other for not doing enough to respond to the algae.
Last week, for example, Scott tweeted: "While Senator Nelson has spent years talking about red tide in Washington without achieving any results, Governor Scott has been taking action to try to fix this problem that has plagued our communities for centuries." Scott later announced from the Everglades that he's directing $3.5 million to restore the wetlands, where runoff from the region has contributed to runaway algal blooms.
Instead of "finger-pointing" like Nelson, Scott is helping communities by funding the algal response and supporting research in mitigating future impacts, Lauren Schenone, a spokesperson for Scott's campaign, told BuzzFeed News in an email. "That's because Governor Scott doesn't just talk — he fights for solutions."
Nelson's campaign, meanwhile, says the senator has fought for federal water funding but the real responsibility to clean up Florida's waters falls to the state, and Scott has been failing on the job. "Rick Scott caused the green-algae mess and resulting red tide by systematically gutting environmental protections and stacking regulatory boards with his cronies and contributors," Dan McLaughlin, a Nelson campaign spokesperson, told BuzzFeed News by email.
Environmentalists are rallying behind Nelson, and launching their own attacks on Scott's environmental record. The League of Conservation Voters and the Environmental Defense Fund spent a combined $2.25 million on a TV ad this month that starts: "Florida is being battered by red tide, but Rick Scott still won't take responsibility." Activists also started a campaign calling the governor "Red Tide Rick."
Local businesses impacted by red tide keeping people away from the beaches are closely watching what candidates say about how they will protect the environment.
"This year was a pretty big wake-up call for the businesses here on the east and west coast of Florida," Daniel Andrews, executive director of the nonpartisan nonprofit Captains for Clean Water, told BuzzFeed News. "We've never seen red tide to this magnitude."
Andrews, who declined to talk about specific campaigns, is pleased the issue has gotten air time in the elections. "It's good," he said, "The politicians are ultimately the ones that have to fix it."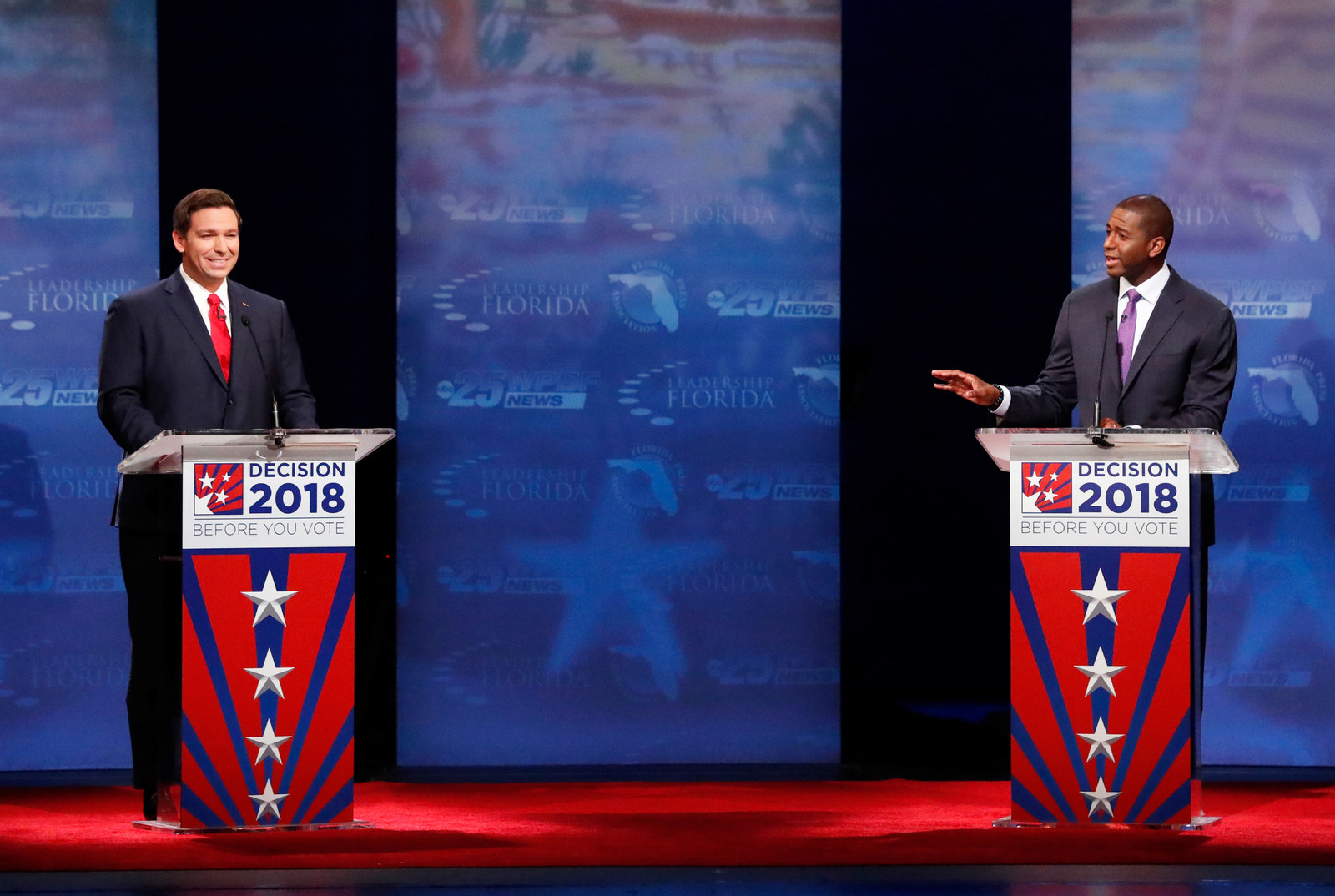 Environmental issues have also cropped up in the bitter fight to be Florida's next governor. Republican candidate Ron DeSantis, an Iraq veteran and close Trump ally, is pitted against Democrat Andrew Gillum, mayor of Tallahassee and a progressive who's called for Trump's impeachment.
Both candidates have said they would do more to protect water quality if elected to office. DeSantis, who is backed by conservative environmental group Everglades Trust, has vowed to curb discharges into waterways that feed algal blooms, respond to the threat of rising seas, and ban offshore drilling.
When asked about climate change in a mid-October debate, DeSantis said: "I don't want to be an alarmist. I want to look at this and do what makes sense for Florida.
"So for example, for the people of northwest Florida" — meaning those hit by Hurricane Michael's historic Category 4 landfall last month — "I will be there for you."
Gillum, meanwhile, is framing his environmental policies as opposite to those from the current governor, Scott, who reportedly banned officials from using the word "climate change." If and when voters choose Gillum, he said in a recent debate, "they will have a governor that believes in science — which we haven't had for quite some time in this state." Gillum has criticized Trump's pledge to withdraw the US from the Paris climate accord, and called for making Florida a leader in solar energy. He's also advocated to restore the Everglades, linked hurricanes to climate change, and pledged to ban offshore drilling. He has received millions in funding from the green billionaire Tom Steyer, and has been endorsed by the Sierra Club and Florida Conservation Voters.
"The governor's race generated a lot more interest among younger people" who care deeply about the environment, said MacManus of USF.
The most well-known Florida Republican to talk climate change is Rep. Carlos Curbelo, who is running for reelection in Florida's 26th District in the Miami area. In Congress, Curbelo has proposed climate legislation, and cofounded the bipartisan Climate Solutions Caucus.
"He's going out there campaigning on it," Yale's Leiserowitz said. "To not talk about it would be a problem."
In a twist, the National Republican Congressional Committee funded a startling attack ad on Curbelo's competition, Mucarsel-Powell, that paints her as anti-climate and claims her campaign has accepted coal money. The NRCC did not respond to a request for comment, but the ad seems to be referring to money from climate activist Steyer, who years ago invested in hedge funds linked to coal, drawing criticism.
Hitting back, Mucarsel-Powell's campaign responded by rattling off a list of oil and gas donations to Curbelo, and calling out his vote last year to allow oil drilling in the Arctic.
BuzzFeed News reporter Alexis Levinson contributed to this story.