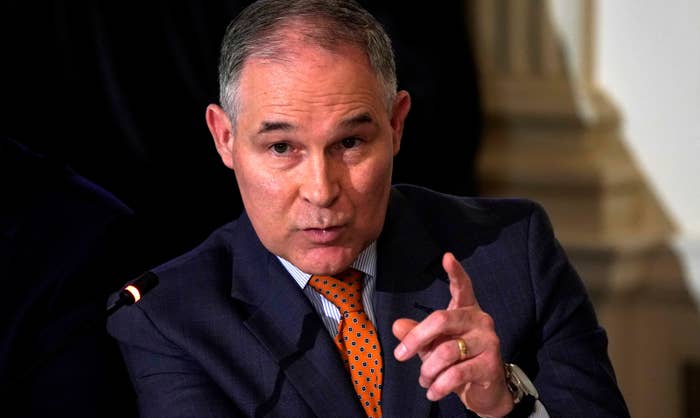 Environmental Protection Agency chief Scott Pruitt still has ethical questions to answer over his renting of a Washington, DC, apartment last year that was owned by the wife of an energy lobbyist, according to a bombshell memo and new comments from department ethics officials.

Contrary to initial reports, the EPA's ethics office has not cleared Pruitt of all ethics allegations. Instead, agency staff have so far only carried out a very narrow ethics assessment based on limited information, which concluded it didn't fit the bill of a gift.

That's according to the new memo by Kevin Minoli, the EPA's principal deputy general counsel, who has personally come under fire for how the agency has handled the controversy. Minoli, in the new memo, said he only reviewed the living arrangement in the context of the lease he was provided, but did not assess outside circumstances raised in news reports. Minoli declined to be interviewed for this story.
Minoli was one of two EPA staffers initially asked to review Pruitt's housing situation after it became a flashpoint in the news last week. Justina Fugh, Minoli's colleague who was asked over the phone to review the situation, told BuzzFeed News: "I received a phone call at 8:45 p.m. on Thursday. I was at the movie theater. I had to step out and I assumed they were providing me all relevant circumstances."

"I have now learned I was too credulous and I was not provided all relevant circumstances," Fugh said. The EPA has not asked its ethics team to do a new evaluation, Fugh said. She declined to comment on either of Minoli's memos.
Pruitt continues to draw scrutiny for measures he took in office, beyond his living situation or travel habits. At least five staffers at the EPA were reassigned or demoted after raising ethical and spending concerns about Pruitt, the New York Times reported late Thursday afternoon.
And for some critics of Minoli and the EPA's handling of the review, the new memo doesn't answer several outstanding questions and, in fact, raises new ones.
The unsettled questions: How exactly did Pruitt use the apartment apart from his bedroom? Under what conditions did Pruitt's daughter stay in the apartment? Why didn't the EPA do a more comprehensive ethics review? Is the agency planning to do one now? And why is an energy lobbyist's name crossed out on the newly disclosed lease?
"This memo is odd. Rather than clearing up conflicting reports about Pruitt's actual use of the rented property, the EPA's ethics office is justifying its previous ruling, one which they admit did not include all of the facts or an analysis of other potential ethics violations," Scott Amey, general counsel for the watchdog group Project on Government Oversight, told BuzzFeed News.
"The EPA ethics team needs to do a complete do-over based on the actual usage of the property and consider all ethics laws to determine whether Pruitt received a sweetheart deal from someone with business before his agency," Amey added.
The Wednesday memo was first obtained by the Campaign Legal Center and shared with CNN. BuzzFeed News has confirmed its veracity with the EPA.

News of Minoli's latest memo came hours after Pruitt's ethics concerns came up during a White House press briefing. When asked if the president was OK with Pruitt's behavior, press secretary Sarah Huckabee Sanders said, "The president's not. We are reviewing the situation."
However, the White House's tone on Pruitt's behavior shifted throughout Thursday, from deputy press secretary Hogan Gidley saying in the morning that he couldn't speak to Pruitt's future, to Trump saying in the early afternoon that he has confidence in his EPA chief. Gidley later told reporters that the president still does have concerns. "I mean, he reads the papers, he watches TV, he knows the reports that are floating around out there," he told reporters en route to West Virginia for an event with the president Thursday afternoon. "And they do raise questions and we expect that Administrator Pruitt answer those questions."

Trump, on the flight back from West Virginia, praised Pruitt.
"I think he's done a fantastic job. I think he's done an incredible job," he told reporters. "He's been very courageous. It hasn't been easy, but I think he's done a fantastic job." Asked if he was bothered by reports about Pruitt's conduct, he said he will "have to look at them," and that he'll "make that determination."
At least two House Republicans have called for Pruitt to go in recent days while Democrats in both the House and Senate have also asked the EPA's internal watchdog to look into the matter.
"The Review addressed the terms of the lease as they were written in the lease agreement only," Minoli wrote in the recent memo. "Some have raised questions whether the actual use of the space was consistent with the terms of the lease. Evaluating those questions would have required factual information that was not before us and the Review does not address those questions."
Pruitt rented the apartment for $50 a night for the nights he stayed there, totaling at least $6,100 in rent from March 18 through Sept. 1, 2017. His adult daughter McKenna Pruitt also stayed in a different room in the apartment for some period of time, ABC reported. The EPA has confirmed his daughter stayed at the apartment last summer while she was an intern at the White House, an agency official familiar with the situation told BuzzFeed News.
It's unclear if she had a separate rental arrangement, and Vicki Hart, who partially owned the apartment, told ABC she was unaware of her staying there.

The living situation has raised eyebrows among ethics experts. "There's so much drama going on with this story," Fugh, the EPA ethics lawyer, told BuzzFeed News Friday.
Pruitt and J. Steven Hart, the energy lobbyist whose wife partially owns the apartment, insist there was nothing untoward in the rental agreement. In a recent interview with Fox News, for example, Pruitt dismissed questions about his past condo deal being improper by citing his staff's review.
But appearances could be an issue: One client of Hart's had a pipeline plan signed off on by the EPA while Pruitt was staying in the apartment, according to the New York Times. Top officials from OGE Energy, another client, met with Pruitt last March at a meeting set up by a lobbyist from Hart's firm, the AP reported.
Minoli, who has served in various roles at EPA since 2000, signed an earlier memo on March 30 clearing Pruitt of any impropriety in the agreement. "The regulations issued by the Office of Government Ethics are clear that if a federal employee pays market value for something, it is by definition not a gift under those regulations."
He added that the terms of Pruitt's lease constituted "a reasonable market value." The memo went on to say that, under the terms of the lease as reviewed by the department's ethics office, it would be proper for Pruitt's immediate family to share the space at no additional cost.
Minoli was swiftly criticized by outside ethics watchdogs for the memo.
"I'm giving this EPA press release a rating of Total Baloney," former Office of Government Ethics director Walter Shaub tweeted Friday night. "You cannot get a whole place to yourself in that prime location for $1,500 a month, nor will you find anyone willing to hold the place open for you all month and charge you only for the nights you use it."

Norm Eisen, who served as an ethics officer in Barack Obama's White House, called the memo "out and out fraud."
Minoli's new document seemingly responds to these criticisms, including his analysis for determining if the deal was a gift, as well as specifics on what was and was not included in the initial evaluation. It also includes a copy of Pruitt's former lease, which was dated last February and in which J. Steven Hart's name is crossed out as landlord and replaced with his wife, Vicki Hart.
"Today's memorandum shares the factual analysis done by the career ethics officials and how that analysis supports the conclusion reached in the March 30th Memorandum that the lease did not constitute a prohibited gift," Minoli said in a statement emailed to BuzzFeed News. He added that the new memo also responds to "the misunderstanding or mischaracterization" of the original one.
UPDATE
This story has been updated to include comment from Justina Fugh, and that Kevin Minoli declined to be interviewed. It also includes information that the EPA confirmed Pruitt's daughter stayed at the apartment last summer, new details about the lease, White House reactions to the controversy, and how EPA staffers have previously raised concerns about Pruitt's spending and travel.