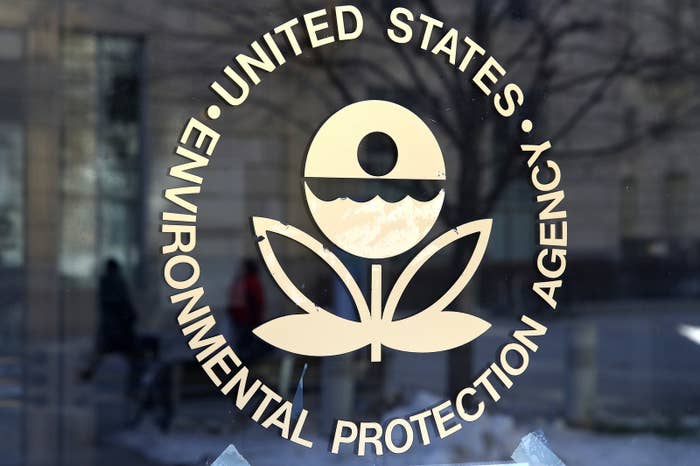 Setting up a brawl over toxic pollution, a US Senate committee on Wednesday narrowly approved President Trump's nominee, Michael Dourson, to oversee chemical safety at the Environmental Protection Agency in a 11-10 party-line vote.
Dourson is a University of Cincinnati toxicologist who worked as an EPA scientist more than 20 years ago — later attracting controversy over his close ties to the chemical industry — who writes "Science-bible stories."

The EPA has defended the nomination, and even brought on Dourson to temporarily serve as a senior advisor to EPA Administrator Scott Pruitt pending his confirmation as head of EPA's Office of Chemical Safety and Pollution Prevention.
Ahead of the Senate Committee on Environment and Public Works' vote for Dourson and three other EPA nominees, committee leader Sen. John Barrasso, a Republican from Wyoming, said: "These nominees have proven themselves to be well-qualified, experienced, and dedicated public servants. Their confirmations will fill critically important roles in ensuring that all Americans benefit from clean air, clean water, and clean land."
In contrast, minority leader Sen. Tom Carper, a Democrat from Delaware, called Dourson "one of the most troubling nominees I have ever considered during my 17 years on this committee."
Before asking his colleagues to reject the nomination, Carper said: "Throughout much of his career, Dr. Dourson has essentially sold science to the highest bidder and recommended standards for toxic chemicals that were tens, hundreds, sometimes thousands times less protective than EPA's own standards."
Following the vote, Sen. Tammy Duckworth, a Democrat from Illinois, said: "He's the absolute worst person I could think of to put in charge of chemicals and toxic safety in our nation."
In 1995, Dourson founded the nonprofit consulting group Toxicology Excellence for Risk Assessment, which evaluates the toxicity of chemicals. A 2014 investigation by the Center for Public Integrity and InsideClimate News found TERA has deep ties to the chemical manufacturing and tobacco industries. Dourson has also repeatedly failed to disclose his conflicts of interests, according to the green group Environmental Defense Fund (EDF).
"Should Dourson be confirmed, despite his long track record and extensive conflicts of interest, Congress will be reversing course from progress made just last year – which won't be good for either American business or the American public," EDF chemical safety expert Richard Denison said in a statement on Wednesday. In 2016, Congress passed bipartisan legislation to reform the nation's main chemical safety law.

Earlier this week, the committee's 10 Democrats sent a letter to Michael Dourson demanding information about his workload now as an EPA advisor, as well as questions following up some responses from Dourson's nomination hearing.
The EPA has insisted that Dourson's current work is unrelated to his potential role relating to chemical safety. "Dr. Dourson is a Senior Advisor to the Administrator and is not 'performing the duties' of the AA for OCSPP," EPA spokesman Jahan Wilcox wrote in an email to BuzzFeed News. He added that the EPA is in the process of responding to the recent letter.
Besides Dourson's nomination, the Senate committee this week also voted through three other EPA nominations: Matthew Leopold to serve as general counsel, David Ross to be assistant administrator for the Office of Water, and William Wehrum to be assistant administrator for the Office of Air and Radiation. The final Senate votes on these positions has not yet been scheduled.