Ten Senate Democrats are waging plagiarism accusations at Trump's controversial nominee to lead the Council for Environmental Quality.

In a letter sent Tuesday to nominee Kathleen Hartnett White, Democrats on the Committee on Environment and Public Works said she responded to questions from Congress about her opinions on various science and policy issues with 18 stolen answers.
"We are troubled that it appears that you have cut and pasted from the written answers of other nominees in your responses to questions that were submitted to you," the Senators wrote.
Even before these plagiarism allegations, Democrats on the Senate committee have criticized her qualifications for one of the government's top environmental roles, running an office that coordinates environmental efforts across agencies and works closely with the White House on related policy and programming.
White is the former chair of the Texas Commission on Environmental Quality, the state's main environmental department. She's now the director of the Texas Public Policy Foundation's Armstrong Center for Energy and the Environment, a conservative think tank that sponsored a climate denial conference last month in Houston and petitioned the EPA in May to review its so-called endangerment finding that carbon dioxide endangers human health and welfare. In this role, she has said climate science is uncertain, criticized the Paris climate agreement, applauded the expansion of fossil fuels, and called renewables "a false hope."
The letter outlines 18 examples of White submitting responses that match answers from others. In replies to questions about climate change from Sens. Jeff Merkley of Oregon, Bernie Sanders of Vermont, and Sheldon Whitehouse of Rhode Island, White wrote on Nov. 8: "If confirmed, I will work to ensure that any regulator actions are based on the most up to date and objective scientific data, including the ever-evolving understanding of the impact that increasing greenhouse gases have on our changing climate."
As the nominee to head the Environmental Protection Agency, Scott Pruitt in January wrote the same sentence in response to a similar climate question from the committee.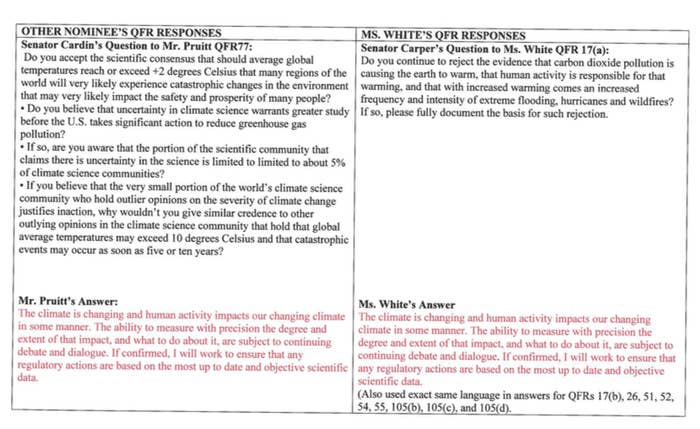 In another example, the senators said she provided a near-identical response to a question about an EPA air pollution rule as one previously submitted by then-EPA nominee Bill Wehrum. Wehrum is now the agency's assistant administrator for air and radiation.

When asked about the letter and its allegations, EPA referred BuzzFeed News to the White House, which did not immediately respond. The Texas Public Policy Foundation also did not respond to a request for comment.
In addition to Merkley, Sanders, and Whitehouse, the letter was signed by Sens. Tom Carper of Delaware, Ben Cardin of Maryland, Kirsten Gillibrand of New York, Cory Booker of New Jersey, Ed Markey of Massachusetts, Tammy Duckworth of Illinois, and Kamala Harris of California. The senators have asked White to provide a list for the record of every time she plagiarized someone else's work or did not write the answer herself, and to submit new answers by Dec. 22.
"It was bad enough that this nominee parroted fossil fuel industry talking points and flubbed answers to questions about basic science during her confirmation hearing," Whitehouse said in a statement emailed to BuzzFeed News. "She had a chance to rehabilitate her testimony with careful and deliberative answers to our written questions. Instead, she plagiarized the answers of previous nominees."

White's nomination was narrowly voted out of the committee on a party-line vote on Nov. 29, with only Republicans supporting her.
At the committee meeting to vote on White, Sen. Carper said: "If she is confirmed to serve in this important leadership position, I believe we will have failed in our responsibility as United States Senators to provide advice and consent, and we will have failed the people of this country. I cannot urge my colleagues more strongly to oppose her nomination."
There's no date yet for a full Senate vote on her nomination.
UPDATE
This story was updated to include a comment from Sen. Whitehouse.