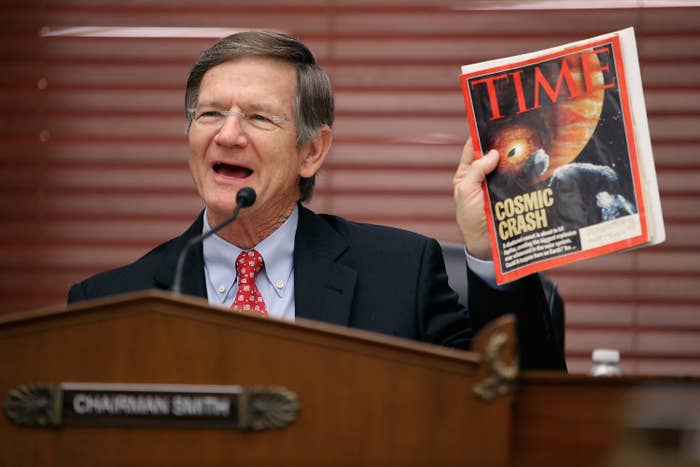 Rep. Lamar Smith, one of the most outspoken climate skeptics in Congress, announced Tuesday he will retire after his term ends in 2018.
"For several reasons, this seems like a good time to pass on the privilege of representing the 21st District to someone else," Smith said in a statement shared online. "I have one new grandchild and a second arriving soon! And I hope to find other ways to stay involved in politics. With over a year remaining in my term, there is still much to do. There is legislation to enact, dozens of hearings to hold and hundreds of votes to cast."
As House Science Committee chair, Smith has repeatedly challenged the research and integrity of federal scientists, including subpoenaing for their emails. He's also voted to cut their funding.

"It's a good day for the science community," Gretchen Goldman of the Union for Concerned Scientists (UCS) told BuzzFeed News. "Our hope is that this means the committee can return to being what it should be, which is a nonpartisan committee that furthers science in the US," she said. The science advocacy group UCS has not only criticized Smith's attacks on scientists, but also was the subject of one of his subpoena requests.

Smith has questioned the scientific consensus that humans are the primary driver of global warming.

Earlier this year, Smith led a secret science tour of the Arctic, according to a BuzzFeed News investigation. The trip was billed as an oversight visit for the science committee, and involved meeting with scientists, some of them researching climate change and its impacts, in Alaska and Greenland.
Smith did not comment on whether the trip changed his perspective on the issue. Then in July he published a bizarre and misleading editorial urging the world to focus on the supposed benefits of climate change.
UPDATE
This story was updated to include a link to Smith's statement and a comment from Gretchen Goldman at the Union of Concerned Scientists.