Climate information has been condensed or excised from the websites of at least six federal agencies under the first year of the Trump administration, according to a report released Wednesday.
The most extensive changes have occurred on the Environmental Protection Agency's website, which has dropped "climate" from various program names and removed hundreds of pages and links to climate resources.
The Department of Energy, Department of the Interior, State Department, and others have also seen changes, according to the report, compiled by the Environmental Data and Governance Initiative (EDGI) that's been tracking website changes since Trump took office.
EDGI is a network of international researchers and nonprofits that formed after Trump's win to protect federal scientific data in case the new administration tried to change or delete it. A year later, those fears haven't realized.
"Although there is no evidence of any removals of climate data, we have documented overhauls and removals of documents, webpages, and entire websites, as well as significant language shifts," EDGI wrote in the report.
In many cases, it's unclear if the website changes were mandated by Trump officials, self-censorship from career staff, or administrative tweaks without political motives. But the end result is the same: a lack of easily accessible climate information.
And although much of the old climate information is still available on archived websites — such as the Obama-era State Department website with climate reports, former Secretary John Kerry's many climate-themed speeches, and more — access to these archives isn't always easily available and links to archived sites are sometimes broken, according to EDGI.
Responding to questions about the numerous website changes, EPA spokesman Jahan Wilcox told BuzzFeed News by email: "We are constantly updating our website to reflect new initiatives and projects of the Agency. Of course the site will be reflective of the current administration's priorities – with that said, all the content from the previous administration is still easily accessible and publicly available-through the banner across the top of the main page of the site."
Here are the most notable website changes mentioned in the report, most recent first. (Apart from the EPA and the National Park Service, the agencies that made these changes did not immediately respond to requests for comment.)
1. The Department of the Interior scrubbed 92 documents detailing climate action at national parks in December 2017.
The sweeping removal of these resources was recently made on the National Park Service's "Climate Friendly Parks Program" website.

According to NPS, the move is temporary. Due to a looming deadline to make electronic information available to people with disabilities, "we are updating PDF documents on NPS.gov that are not yet accessible to all, including climate action plans for nearly 100 parks that were listed on a nps.gov webpage," Jeremy Barnum, an NPS spokesperson, told BuzzFeed News by email. "Those non-compliant PDF documents are temporarily unavailable for download while we work to make them compliant with the revised accessibility standards. In the meantime the PDF documents will be provided by email upon request."

2. The Energy Department and the Interior Department dropped pro–renewable energy language, between December 2016 and November 2017.
The Energy Department's Energy Efficiency and Renewable Energy office cut details about the climate benefits of renewable energy, such as wind being emission-free, and replaced it with details about job and economy impacts.
For example, this phrase was removed: "Wind power is an emission-free and water-free renewable energy source that is a key component to the Administration's renewable electricity generation goals." And, in a different part of the website, wind energy was linked to economic, rather than environmental benefits: "Wind energy currently supports more than 100,000 U.S. jobs, and wind turbine technician is the nation's fastest-growing occupation."
Similarly, the Interior Department's Bureau of Land Management website no longer lists "Clean and Renewable Energy" as a priority. Instead, it includes "Making America Safe Through Energy Independence."
3. The EPA rebranded its SmartWay website to remove the word "carbon," between January and September 2017.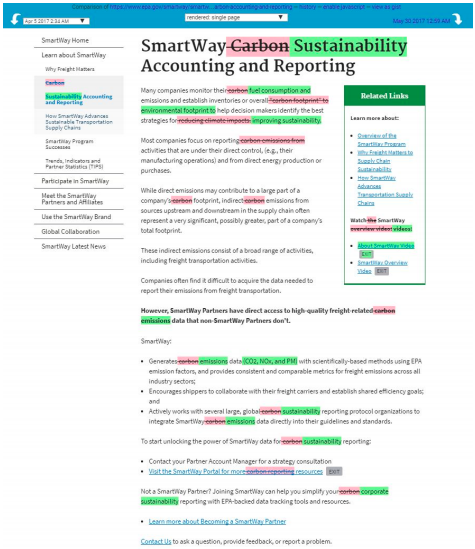 The EPA rebranded SmartWay, a program that helps freight transportation companies boost sustainability and efficiency.

What was once the "SmartWay Carbon Accounting and Reporting" is now "SmartWay Sustainability Accounting and Reporting." Across the page, "carbon" was replaced with "emissions," "sustainability," or edited out entirely. A few paragraphs on how greenhouse gas emissions come from the burning of fossil fuels and must decrease was also nixed.
The EPA also renamed its "Climate Ready Water Utilities" program to "Creating Resilient Water Utilities."
4. The National Institute of Environmental Health Services dropped some "climate change" mentions in July 2017.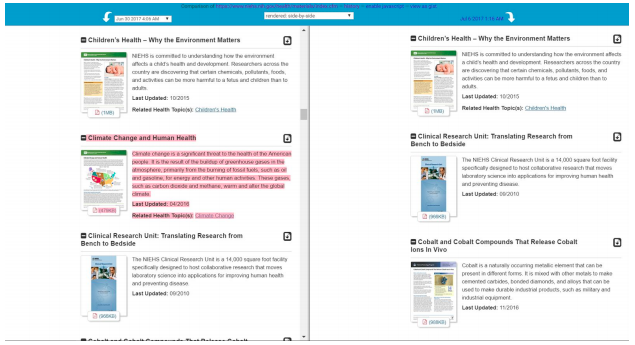 Across several of the agency's webpages, "climate change" was replaced with "climate." For example, the page header "Climate Change and Human Health" was renamed "Climate and Human Health." Links to the fact sheet called "Climate Change and Human Health" — which has maps and charts detailing how extreme heat, flooding, and other climate impacts can negatively impact human health — was removed.

5. The Interior Department removed its climate website, between May and July 2017.
EDGI recently noticed that the Interior Department's Bureau of Land Management removed its entire climate website — which had outlined climate impacts and BLM's plans to respond — without any explanation.
6. The EPA and Interior Department rebranded their tribal climate webpages, between April and July 2017.
The EPA overhauled its website called "Climate and Energy Resources for State, Local, and Tribal Governments." After temporarily taking the site down on April 28, 2017, it was renamed "Energy Resources for State, Local, and Tribal Governments." More than 200 climate-related webpages at the EPA were taken down in the following three months.

Similarly, the Interior Department's previously named "Tribal Climate Resilience Program" was changed to the "Tribal Resilience Program."
7. The State Department, Energy Department, and EPA cut down their international climate content, between January and March 2017.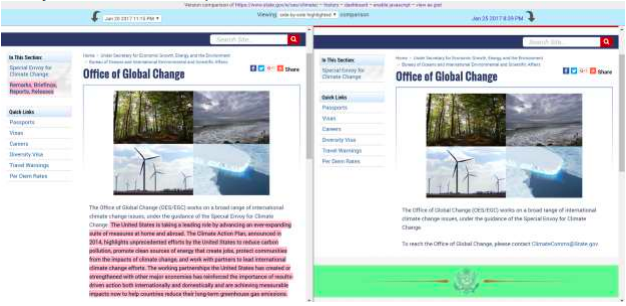 Soon after Trump took office, the State Department in January 2017 slimmed down the information on its website detailing US participation in international climate agreements, such as the Paris climate accord. Also in January, the EPA similarly cut language about the US climate commitments under the Paris accord on its "International Climate Partnerships" page, and overhauled webpages on federal climate collaborations. The Energy Department also edited down similar content, removing a video about the Paris agreement and some related links, between February and March 2017.

Following these changes, in June, Trump announced his plan to withdraw the US from the Paris agreement.
8. "Climate change" was also scrubbed from the Department of Transportation's webpages in December 2016.
The Federal Highway Administration overhauled various webpages about environmental impacts of transportation to replace references to "climate change," "climate adaptation," and "climate mitigation" with "sustainability." For example, the previously named "Sustainable Transport and Climate Change" group was renamed the "Sustainable Transportation and Resilience" group.