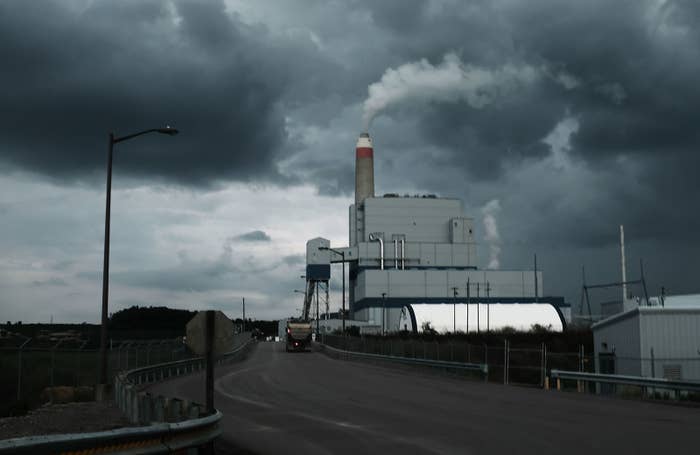 Some high-profile environmental initiatives fared badly in the 2018 midterms, with votes on climate taxes, environmental checks on oil drilling, and energy standards all falling short.
The votes came after two years of the Trump administration rolling back federal climate policies, leading environmental advocates to look to the states for action. But they face an uphill fight there, the midterm votes show.

In the highest-profile fight, voters in Washington state decided not to charge companies for pollution that contributes to global warming. Ballot initiative 1631, which proposed charging companies for their carbon pollution, failed after earning roughly 43% of the early voting count, too big a deficit to overcome with absentee ballots.
"While a majority of Washingtonians agree that we must address global warming by weaning our state off of fossil fuels, voters reminded us that we don't all agree on how to do that," said Environment Washington director Bruce Speight, who supported the measure, in a statement.

Economists have long proposed a carbon tax as a solution to the climate crisis. The Washington state measure would have initially charged large climate polluters $15 per metric ton of carbon they released into the atmosphere. The collected money would have been directed toward clean air and water initiatives, as well as clean energy projects.
A lot of money was injected into the fight in Washington: Clean Air Clean Energy WA raised nearly $16 million in support, per state records. Meanwhile, the opposition group, No on 1631, sponsored by the energy trade group Western States Petroleum Association, raised nearly twice as much — about $31.5 million, according to state records.
In Colorado, Proposition 112, which would have increased "setback" distances from parks, homes, and businesses to 2,500 feet away for oil and gas drilling, was nixed with 57% of the vote in preliminary counts.
"Our state has spoken loud and clear that we recognize the importance of the industry to the state's economic well-being," said Colorado Petroleum Council Executive Director Tracee Bentley, in a statement. The council claimed that passage of the setback rule would effectively outlaw new drilling in the state and cost some 150,000 jobs. (Such industry job estimates are almost invariably excessive, an Institute for Policy Integrity study showed in 2012.)
And in Arizona, nearly 70% of voters rejected Proposition 127 to boost the state's reliance on renewable energy. The measure would have mandated electric companies get half of their electricity from renewable sources, like wind and solar, by 2030. Arizona Public Service, the state's largest utility, spent many millions on a campaign to oppose the measure.
"It is always disappointing when ballot initiatives that make a lot of sense from the outside don't get passed, but I think we have to look at those as temporary setbacks," Shaughnessy Naughton of 314 Action, which trained and recruited scientist candidates for Congress in the midterms. "We need to do a better job explaining their relevance to people."

It wasn't all bad news for environmental measures: Portland voters approved a clean energy tax on large businesses, a measure supported by Greenpeace, and New Mexico voters chose to dramatically increase how much renewable energy the state uses by 2030.
According to a report from the Intergovernmental Panel on Climate Change released in October, even if the world succeeds in limiting global warming to 1.5 degrees, a series of dire climate impacts are unavoidable.
UPDATE
This story has been updated with comment from Shaughnessy Naughton.