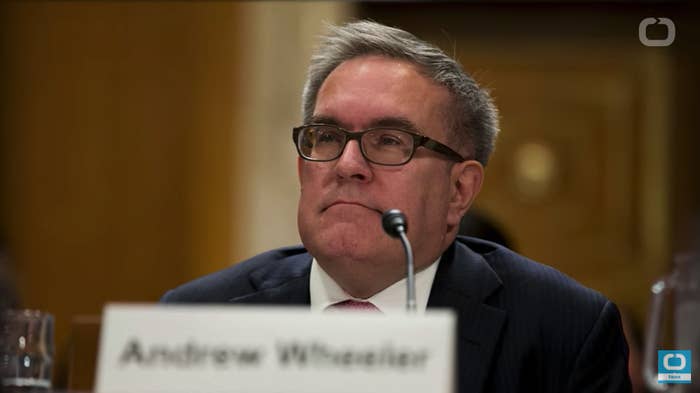 The Senate just confirmed Andrew Wheeler, a former coal lobbyist, to be the second-in-command at the Environmental Protection Agency.
The Thursday vote was largely along party lines — 53–45. Sens. Joe Donnelly from Indiana, Heidi Heitkamp from North Dakota, and Joe Manchin from West Virginia were the only Democrats to vote in favor of the confirmation.
Wheeler is one of only a handful of President Donald Trump's picks for the EPA confirmed so far, and he comes in as the agency's leader Scott Pruitt faces multiple ethics allegations, from frequent first-class travel to leasing a condo tied to an energy lobbyist.

Wheeler was tapped for the job while running the energy and environment practice at the Washington, DC–based consulting law firm of Faegre Baker Daniels. In this position, he's lobbied for Murray Energy Corporation, the largest US coal mining company, and other energy companies on issues tied to the EPA as recently as last summer, according to lobbying disclosure forms. He deregistered as a lobbyist in August 2017, according to the EPA.
Pruitt was quick to congratulate Wheeler after the vote.

Wheeler has the support of energy companies and conservative groups.
"Andrew Wheeler knows the important role that natural gas and oil plays in the daily life of every American and will work to further a smarter, science-based regulatory agenda," Jack Gerard, president and CEO of the American Petroleum Institute, an energy trade group, said in a statement.
"We strongly support Andrew. We look forward to him getting to EPA," Myron Ebell, a director at the conservative group Competitive Enterprise Institute and Trump's EPA transition head, told BuzzFeed News.
But environmental groups lined up in opposition to Wheeler's nomination. The League of Conservation Voters, for example, sent a letter to Congress asking senators to reject the nomination due to Wheeler's ties to the fossil fuel industry and ethics concerns.
"It would be similar to having a tobacco lobbyist heading up the American Lung Association," Judith Enck, the former head of EPA's Region 2, told Mother Jones.
Wheeler last May held campaign fundraisers for two Republicans on the Senate Committee on Environment and Public Works — John Barrasso of Wyoming and Jim Inhofe of Oklahoma — months before they participated in his confirmation hearing and then narrowly voted him through committee last November, according to the Intercept. Since Wheeler's nomination didn't make it to the full Senate floor before the end of the year, he was re-nominated and again voted through committee in a party-line vote.
Wheeler signed an ethics pledge agreeing to "not participate personally and substantially in any particular matter involving specific parties in which I know the firm is a party or represents a party, unless I am first authorized to participate," for a year. He's expected to sign Trump's ethics waiver requiring administration officials to step away from past work for two years.
Wheeler previously worked on energy and environmental issues as a staffer for Inhofe and for the Senate environment committee. Before that, he worked for four years at the EPA on issues related to toxic chemicals and pollution. He has reportedly supported Trump's vow to withdraw the US from the Paris climate agreement.
If Pruitt suddenly leaves the agency, Wheeler is the likely candidate to take over until a new head is confirmed. This possibility isn't lost on some Democrats.
"He's never been vetted to be the top job," Sen. Tom Udall of New Mexico said about Wheeler's nomination at a press conference Wednesday. "So we got a real problem there, because what's happening is we could see Scott Pruitt leave in a matter of days." Udall joined most Democrats in voting against Wheeler's bid.