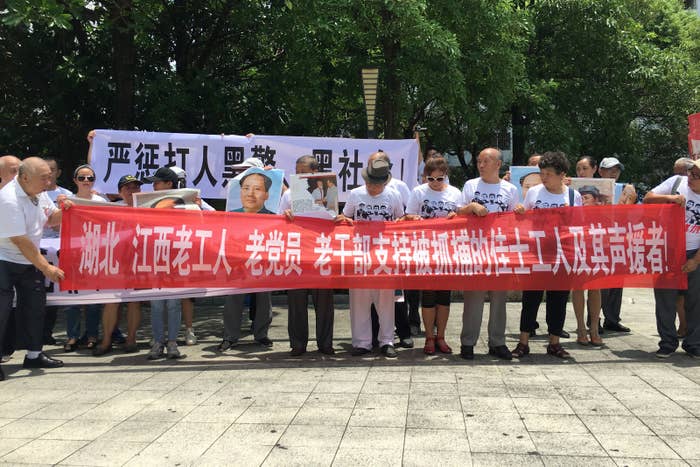 More than 50 student activists and former factory workers who had been protesting for workers' rights were arrested early Friday when Chinese police raided two separate apartments that the activists had been renting in Shenzhen and Beijing.
Two videos posted on Twitter show police dressed in riot gear storming into an apartment in Shenzhen, Guangdong Province, at 5 a.m. Friday and scuffling with student activists who appeared to have been caught off guard inside.
According to Patrick Poon, a senior researcher at Amnesty International, 50 student activists and five factory workers were arrested in the raid in Shenzhen, the booming industrial hub in southern China where student activists and others had joined local factory workers who have been protesting for factory workers' rights to unionize since early July.
In a separate raid on the same day, carried out by police from Guangdong Province in Beijing, a witness told BuzzFeed News that more than 20 riot police officers broke into another apartment and forcefully arrested two student activists and two factory workers. He said the police busted into the apartment with riot gear at 6 a.m., and began to ask about activists' personal information while confiscating all computers and mobile phones in the room. Four people who were part of the group that submitted petition letters to the All-China Federation of Trade Unions, the government agency that manages union registration, were taken away by police.
"The police barged into the apartment, but they only had a search warrant that didn't list any probable cause," the witness said.
The two raids were the latest episodes to come out of a brewing labor unrest that started in July, when protests began to break out in Shenzhen after seven workers at Jasic International were laid off for attempting to form a union. Protests are usually considered as challenges to the Chinese Communist Party, as independent labor action is prohibited and protesters have been routinely punished.
Jasic International is a stock market–listed company that exports welding machinery abroad. Representatives for the company declined to comment on this incident when contacted by BuzzFeed News.

Huang Lanfeng, a former Jasic worker, told BuzzFeed News that workers at Jasic were subjected to harsh working conditions, including being routinely forced to work 30 to 40 days consecutively without a day off.
Conditions like these led to a group of workers to try to form a union. Huang said that as a result of trying to unionize, factory management employees beat, threatened, and fired her husband and a group of other workers in June. Huang had left the company in 2017.
The next month, more than 100 riot police officers were on hand to arrest the group of workers when they tried to return to work.
"My husband tried to go back to work on July 27 because he was unlawfully laid off," Huang told BuzzFeed News. "As we arrived at the scene, over 100 riot police showed up, and they arrested 29 of us."

Shenzhen police said that the seven former Jasic workers were detained after illegally entering the factory, and they are now being investigated. Huang and some of the other workers were later released. Her husband remains in detention.
The incident caused over a thousand Chinese college students to write open letters on social media and as many as 50 of them traveled to Shenzhen to support the workers' cause.
"I was motivated to start supporting the Jasic workers after learning about the forced detention of student activists and former factory workers on July 27," a college student in Beijing told BuzzFeed News in a phone interview.
Following the arrest of 29 activists on July 27, 15 people were subsequently released but 14 people, including a nursing mother, still remain in detention as of today. On Aug. 6, a group of 50 student activists and supporters of the factory workers held a protest outside the police station in Shenzhen, demanding for the immediate release of those who remained in detention.
Since then, police and government officials have been increasing pressure on student activists and supporters of the Jasic workers, even recruiting the parents of the activists to come and make their children stop.
According to the student activists, plainclothes police officers in Shenzhen have set up a fake factory recruitment stand outside their rented apartment to monitor them, while parents of some student activists reportedly showed up at their apartment or other places where the students usually went.
In one particular incident, parents of a student surnamed Zhang appeared at one of the protests and began to physically attack her.
"Zhang's parents showed up at one of the recent public protests and slapped her twice," said one student activist. "Her dad even said, 'I have the right to decide how I discipline my daughter.'"

Additionally, China's Ministry of Education issued a statement to universities across China last week, asking them to prohibit students from traveling to Guangdong to join the protests.
Students in Beijing also told BuzzFeed News that school authorities have summoned those who shared information about the protests for questioning and collected a list of those who have been protesting in Guangdong this summer.

"One of my friends was questioned by officials at his school in Beijing after publishing content about the protests on social media," one student activist in Beijing told BuzzFeed News. "According to him, authorities at his school believe that the protests are inspired and supported by foreign influence."
Following the raids on the student activists, posts and information related to the labor unrest were censored on China's popular microblogging site, Weibo. Sources also told BuzzFeed News that all of the content that activists shared via messaging apps and videos that were uploaded to social media platforms had been removed from all services within China.
An article published Friday by the state-run Xinhua News Agency claimed that the scale of the protest was escalated through support from websites that are hosted outside of China, and also accused the detained workers of illegally infiltrating Jasic International. In response to Xinhua's claims, the Jasic Workers Support Group issued a statement arguing that the government does not have evidence to prove that the movement was supported by foreign influence, and the article on Xinhua intentionally avoids mentioning opinions from Chinese citizens.
"The reason why workers, students, and netizens actively participate in the protests is not because they are influenced by anyone," the article stated. "It is simply because they realize that under the government's oppression, workers and students are not too different. In order to move the society forward, workers and students need to be more united."
Despite the mass arrest of fellow student activists, Chinese college students are not deterred by the potential risks of continuing to support the labor movement. To them, the crackdown on student activists has only increased their frustration toward the local government and it only makes them want to keep protesting.
"The government's arbitrary actions only increase our dissatisfaction toward them," the student activist told BuzzFeed News. "Maybe when schools start in a few weeks, students can get together and come up with new strategies for the movement."
As for labor rights in China, experts think the government's response to Jasic workers' protests would have a chilling effect on other factory workers who might be thinking about making similar demands.
"Many workers [have] complained about the [ineffectiveness] of official trade unions in protecting their rights," Poon told BuzzFeed News. "Without the right to freely establish their own unions, it's difficult to see how workers in China can have their rights effectively protected."
Sources told BuzzFeed News on Monday that an unknown number of student activists have been released and sent home by authorities, while some still remain in detention.