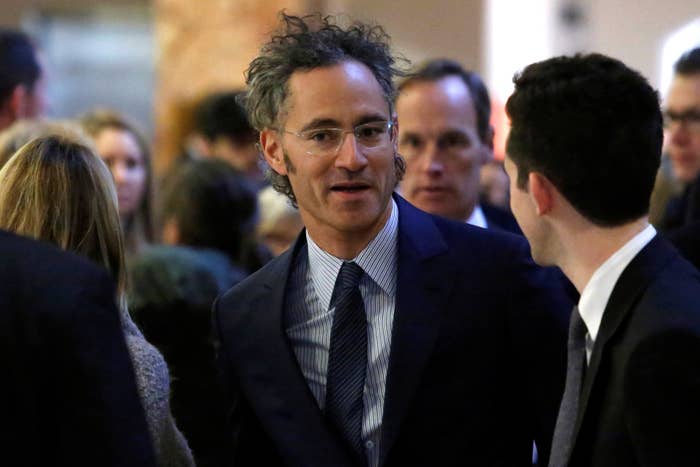 The market for stock in Palantir Technologies, the Silicon Valley data analysis company that does much of its business with the federal government, was in the doldrums for much of 2016. But since the election of Donald Trump — whose closest tech adviser is Palantir chairman Peter Thiel — demand seems to have picked up, one investor and middleman in that market has told BuzzFeed News.
"Since the election, we've seen an uptick in interest in owning Palantir shares," said Jared Carmel, a managing partner of Manhattan Venture Partners, a boutique investment bank and fund manager that arranges trades in startup shares, and which owns a stake in Palantir.
Palantir's elevated stature was on display this week when its CEO, Alex Karp, joined the tech industry's biggest players in a pilgrimage to Trump Tower. Others in the room were top brass from Apple, Google, Microsoft, Amazon, and Facebook — public companies each valued in the hundreds of billions of dollars. Karp's Palantir, which is privately held, has a relatively small valuation of $20 billion.
Given Palantir's roster of customers — which includes the FBI, the CIA, the Defense Intelligence Agency, the Securities and Exchange Commission, Immigration and Customs Enforcement, the military's Special Operations Command and other federal agencies — this face time with Trump and his closes advisors was particularly notable.
Palantir, Carmel said, now appears to be in a strong position to expand its work with the federal government. Trump "is nepotism 101. Any additional contracts that I imagine they could get, they will get."

For most of 2016, the market for Palantir stock was "dead," Carmel said. Former employees of Palantir struggled to cash out of the stock options that formed a major part of their pay packages, BuzzFeed News reported in October. Carmel said a BuzzFeed News article in May, which revealed Palantir had lost blue-chip clients and was struggling to stem staff departures, had contributed to the market lull. But things apparently turned around, at least a little bit, in early November.
Investors including hedge funds, family offices, and venture capital funds have recently inquired about buying Palantir shares, Carmel said. Manhattan Venture Partners helps investors buy shares of tech startups that it believes have a good chance of going public soon, and it manages funds that invest in those companies.
Backing off his longtime reluctance to plan for an IPO, Karp said in October that he was "now positioning the company so we could go public. I'm not saying we will go public, but it's a possibility."
A Palantir spokesperson did not immediately respond to a request for comment.

It's not just Manhattan Venture Partners that is getting interest in Palantir stock. This week, in a private Facebook group for Palantir alumni, one former employee said he had learned that EquityZen, a firm that arranges small sales of private company shares, was fielding investor demand for Palantir shares.
"I'm sure some of you guys got an email but EquityZen has some investor interest and has asked anyone that would like to sell to fill out their profile with # of shares, desired price, etc," the former employee wrote. Contacted by BuzzFeed News, EquityZen declined to comment.
"I would post more details," the former Palantir employee wrote, "but in case there's a BuzzFeed troll (hi William), DM me if you didn't get the email and I can gladly send over."