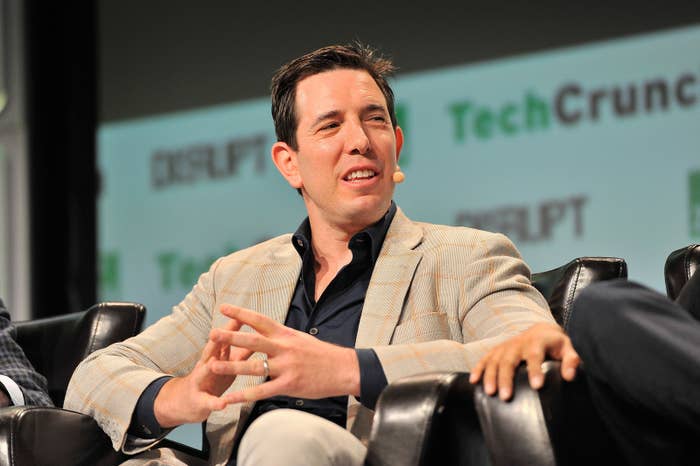 It might seem crazy now, with Silicon Valley bigwigs challenging the Trump administration in protests and in court, but there was a time not long ago when many tech leaders didn't really care about politics.
For Bradley Tusk, a political consultant who made a fortune helping Uber win important regulatory battles, finding new tech clients was a challenge, he told BuzzFeed News recently.
"There was this mentality of, 'Oh, I went to Stanford, I was in Y Combinator, John Doerr is on my board, and once this stupid regulator sees how smart I am, they're going to do whatever I want,'" said Tusk, an ex-aide of former New York City mayor Michael Bloomberg, as he sipped a latte at a Blue Bottle Coffee in San Francisco.
Now, President Donald Trump is on everyone's mind, and Tusk is highly in demand. He had built up a stable of clients well before the election, with his firm, Tusk Ventures, advising fantasy sports site FanDuel and marijuana delivery startup Eaze, among others, on issues with state and local governments. But these days, as the frenzied first weeks of the Trump administration have sown anxiety in Silicon Valley, Tusk has largely shifted his focus to Washington.
Last week, he sent a memo to clients outlining a strategy for dealing with Trump, advising them to take a deep breath and think before engaging in political protest. Taking a stand against Trump might be the right choice, Tusk said, but only if it makes business sense.
"If the business demands immediate action, that's one thing. If it's your conscience, that's another," he wrote in the memo. Pressure from the media or even from employees, he added, wouldn't necessarily be a sufficient reason to speak out, especially if it would create other problems.
The memo came just days after Tusk's flagship client, Uber CEO Travis Kalanick, resigned from President Trump's economic advisory council. More than 200,000 Uber customers had deleted their accounts, according to The New York Times, after the ride-hailing company was accused of trying to undermine a taxi strike over Trump's immigration order. Uber also came under pressure from employees and drivers, many of whom are immigrants. Kalanick's resignation from the advisory council contrasted with the decision of another tech titan, Elon Musk, to stay there.
"This is one of those cases where the symbolism and the emotion on both sides of it took everything in such an incredible direction that people like Travis, like Elon, who are pretty well intentioned, and are saying, 'O.K., let's see if we can help things,' got put in a really, really impossible position," Tusk told BuzzFeed News. "And they're handling it in different ways. But that's kind of why I wrote this memo."

Tusk said Kalanick made the right decision in this case, but he expressed regret that it had to be that way. "I think Travis joined the council for the right reasons," Tusk said. "You're far better off affecting policy if you're in the room."
Tusk himself has been in the room plenty of times before, as communications director for Senator Charles Schumer, as deputy governor of Illinois, and as the manager of Michael Bloomberg's final mayoral campaign in New York City. And he'd probably be back in the room now, had election season gone differently.
About a year ago, when his former boss Bloomberg was considering a presidential run, Tusk was meeting with Silicon Valley leaders to sketch out a campaign plan. Bloomberg had widespread support in tech; one venture capitalist, Chamath Palihapitiya, said he would take a break from his day job to help the billionaire technocrat get elected. Tusk even discussed a plan to enlist contract workers of the "sharing economy" as foot soldiers of the campaign.
This might have involved "Uber drivers taking Americans to the polls, DoorDash workers, when they're inside someone's building, handing out lit for us," Tusk said. "It's really, because people are independent contractors, saying, 'Look, if you like Mike Bloomberg, we will pay you x amount of money — probably more than they were getting paid in their other job — to work for us."
But voters elected a very different kind of New York billionaire, and Tusk has worked quickly to style himself as the ultimate Trump whisperer for tech. Hours after the election results came in, he dashed off a memo to clients with initial predictions for the Trump presidency — on the plus side, he wrote, "the sharing economy will not risk being shut down by new federal worker classification regulations, the SEC will not aggressively involve itself in private, illiquid companies and assets, and peer-to-peer lending will not face significant federal opposition."
Tusk's pivot to Trump shows the unusual degree to which federal policy — especially around immigration — might directly affect Silicon Valley. Companies like Google that had close ties to the Obama administration and the Clinton campaign have scrambled to make friends with Republicans. But a more urgent risk, in Tusk's view, is that a company might suffer a self-inflicted wound by mishandling its response to Trump.
As for the prospect of retaliation from Trump himself, Tusk was sanguine.
In Google's case, "it's not like their revenue is dependent on the government. The government's not their customer, they're not a defense contractor," Tusk said. "No one likes having the president of the United States send out a nasty tweet about you. But what are they going to do to you? Sometimes the answer is nothing."
And what about a tech company that does rely to an extent on government contracts?
"If they [government officials] just very explicitly say, 'O.K., your contracts are gone because you sent out a bad tweet about me,' I'm not sure that's not illegal," Tusk said. "I'm not sure you can't go to a U.S. attorney and say this is like reverse pay to play. So, I don't think they can be that blatant about a lot of it."
"And sometimes a fight, by the way, is a good thing for business," Tusk added.
Tusk certainly has experience in political combat. In 2015, with Uber facing a possible cap on its growth in New York City, he masterminded an aggressive campaign against Mayor Bill de Blasio. Uber ran about $4 million in "really gut-wrenching" TV ads, Tusk told Recode's Kara Swisher last fall, and added a trolly "DE BLASIO" button to the app that yielded a 25-minute wait time and the message, "SEE WHAT HAPPENS."
But his approach to Trump, so far, has been less about confrontation and more about gaining allies and insight. Since the election, Tusk has been meeting with think tanks and interviewing Republican lobbyists. "I've been to Washington more in the last six weeks than I'd probably been in the six months or 12 months before that," he said.
Tusk has also been publishing short blog posts on this theme. But unlike many Silicon Valley thought leaders, he resists simple adages — particularly on the topic of tussling with authorities.
"Every day someone says to me, 'Do I ask for permission or beg for forgiveness?'" Tusk said. "It's not a bright-line rule, man. It totally depends on the context of every situation, every jurisdiction. Are you begging for forgiveness to a random taxi regulator or to the U.S. attorney? Because getting a $100 fine and getting 3 to 5 are two very different things."
CORRECTION
Tusk told Recode that Uber spent $4 million on TV ads in its campaign in New York. An earlier version of this article, citing Recode's transcript of the interview, quoted the figure as $400 million.