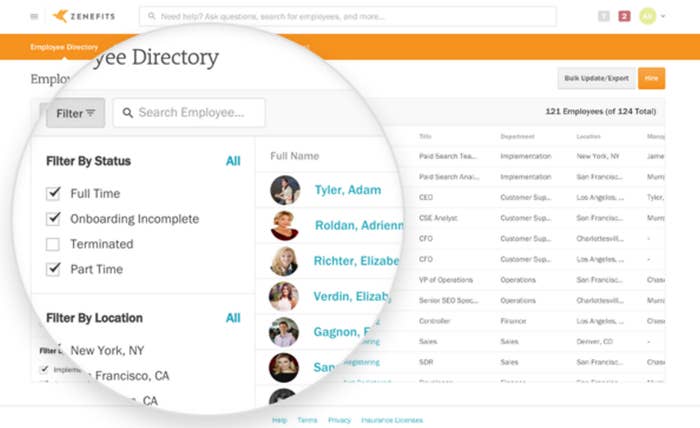 The embattled Silicon Valley startup Zenefits is introducing a paid tier of its human resources software product, a shift from its founding business model of giving it away for free.
The paid tier, part of a new strategy known as HR One, will come in the form of "bundles" of services sold on top of a core product that will remain free, Zenefits CEO David Sacks told BuzzFeed News in an interview Thursday.
Since unveiling a software overhaul called Z2 in the fall, Zenefits charges for certain services on an "a la carte" basis, including payroll and commuter benefits. The new structure, combining such services into packages, would make Zenefits more like a subscription-based "software as a service" company — which, if customers bite, could put it on surer financial footing.
The move is a revision of the original pitch Zenefits used to acquire thousands of small business customers, raise funding from top venture capital investors, and grow into a vaunted "unicorn" with a multibllion-dollar valuation. Zenefits, which launched in 2013, is technically an insurance broker: It offers free human resources software to small businesses while collecting fees after selling those businesses health insurance.
But the company stumbled in the wake of revelations that it allowed unlicensed brokers to sell health insurance and created a program to let staff cheat on California insurance broker licensing requirements. The scandal led to the ouster of its founding CEO, Parker Conrad, and later forced the company to slice its valuation in half. From February through July last year, Zenefits burned through $97.1 million of cash, while generating $35.3 million in revenue, BuzzFeed News reported.
Sacks, who has struck settlements with state regulators in an effort to move beyond the scandal, announced in December that he planned to step aside as CEO and would search for his successor.
In one state, Washington, Zenefits has been charging customers for its human resources software since the beginning of January. This is a result of an agreement with state regulators who were investigating whether the free software amounted to an illegal inducement for customers. (Zenefits said it disagreed with the regulators' interpretation of the law.) Sacks told BuzzFeed News that the upgrades to the Zenefits software, with a customizable "app store" platform and an array of services, would justify the price.
"What Washington proved is our customers are willing to pay for the product. The vast, vast majority of our Washington customers stayed and decided to pay," Sacks said. "Washington state was a huge success for us. I'm not sure if the regulator intended it to be, but what happened was we made more money."
Zenefits won't exactly be replicating the Washington model with HR One, since it will continue to offer a free tier. At the moment, most of its paid services cost $5 per customer employee per month, but Sacks declined to discuss pricing details of the HR One plan. He said some details have not been finalized. Zenefits plans to announce it at a conference in New York at the end of January, but Sacks agreed to speak publicly about it now after an inquiry from BuzzFeed News.
"We feel it's the best HR product, and there's going to be some pricing associated with that," Sacks said. "The result of this for customers will be simplification. They don't have to worry about paying a fee on every single app. They can just buy a bundle and they're good."
With President-elect Trump preparing to take office, Zenefits is keeping a close eye on the possibility of lawmakers' repealing the Affordable Care Act, which requires insurance carriers to publish standardized rates. This standardization underpins a core feature of Zenefits, allowing small business customers to easily shop for health insurance online.
"I would hope that feature of the ACA sticks around even in a repeal scenario. I don't think it's particularly controversial," Sacks said. If the provision did seem in jeopardy, Sacks added, "We'll advocate for keeping these standardized rates."
Sacks is close with the billionaire investor Peter Thiel, who is helping with Trump's transition, and he was said to be open to the possibility of joining the Trump administration, though he tweeted recently that he would not join government. Sacks said on Thursday that he had not spoken with Thiel or others on the transition team about the Affordable Care Act. He also said there was "no news" about the search for his successor as Zenefits CEO.