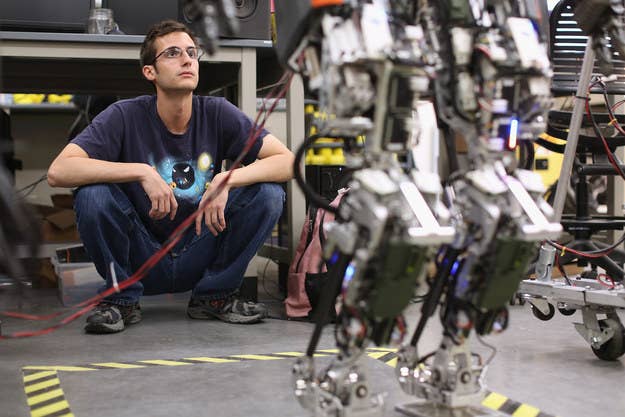 Drones. Robots. Wearable devices. Internet-connected household appliances.
These technologies are making the partners of venture capital firm Formation 8 — including Joe Lonsdale, a co-founder of data mining giant Palantir — see dollar signs.
Formation 8 disclosed last week that it is seeking to raise up to $100 million for a fund focused exclusively on hardware. It has expanded on this new strategy in a confidential slide presentation for investors that was obtained by BuzzFeed News and is published in full below.
The fund, which Formation 8 calls the "world's first" dedicated to backing hardware makers, plans to make early-stage investments in startups in the United States, Israel and Asia, according to the presentation. Its focus will be the "connected world and the Internet of Things," including 3D printing, semiconductors, autos and domestic gadgets.
The fund is seeking a minimum of $75 million in capital, according to the presentation, which is dated March 2015. It initially plans to invest between $1.5 million and $3 million in seed or Series A deals.
Formation 8 is banking on its connections in Silicon Valley and Asia. Its founders include Lonsdale, a Silicon Valley billionaire; Jim Kim, who formerly was a general partner at Khosla Ventures; and Brian Koo, a member of the powerful Korean family behind the LG conglomerate.
The firm's Asian connections are particularly important in helping manufacture and distribute hardware, the slide presentation argues, listing Asian companies like Huawei, Tencent, Baidu, and Alibaba among its "mission-critical partners."
Formation 8 wants investors to think its hardware strategy is a contrarian play. The presentation claims that there are more than 300 startup incubators focused on software, but only 5 focused on hardware.
While the venture capital firm was founded only in 2011, it is hoping investors will view it as a seasoned expert in hardware. It hit a prominent home run with early investments in Oculus, the virtual reality headset maker that was bought by Facebook for $2 billion last year.
"Hardware companies are traditionally very hard to build and startups, especially, face unique challenges," the presentation says. "We believe the time is ripe to focus in depth on the intersection of hardware, software and services."
The hardware fund will be led by Lior Susan, who joined Formation 8 this year. He was previously the general partner of LabIX, a hardware investment program at the Singapore-based manufacturing services company Flextronics, and is a reservist of an Israeli military special forces unit, according to his bio.
Flextronics itself is an investor in the Formation 8 hardware fund, according to a person briefed on the matter.
A Formation 8 spokesman declined to comment on the confidential presentation.
Check out the slides below.