Google's Eric Schmidt: Trump Administration Will Do "Evil Things"
The longtime CEO of the company that pledged not to "be evil" shared his unvarnished thoughts on the Trump administration with Google employees.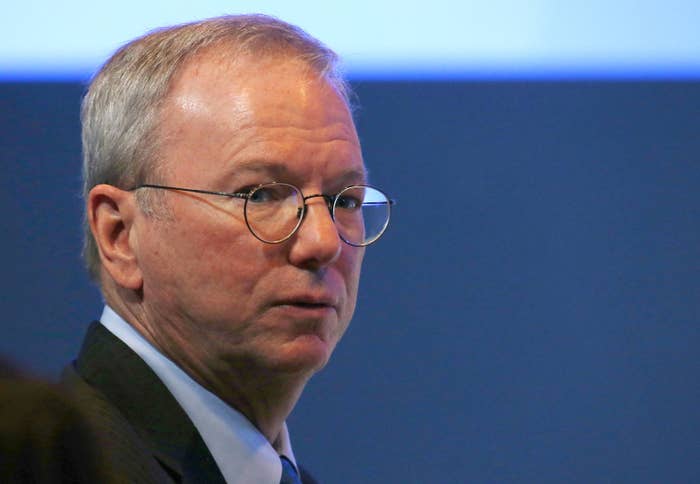 Eric Schmidt, the executive chairman of Google's parent company, told an audience of Google employees on Thursday that the Trump administration is "going to do these evil things as they've done in the immigration area and perhaps some others."
Schmidt's remarks were made during the company's weekly meeting at its headquarters in Mountain View, California, on January 26, when reports were surfacing about the sweeping immigration order that President Donald Trump would sign the next day.
Google's corporate mantra for many years was "Don't be evil." Schmidt, the former Google CEO, now chairs its parent company, called Alphabet.

Schmidt's opposition to Trump's immigration policy is noteworthy because Schmidt has at least twice traveled to Trump Tower to meet with the president and his advisers, but has struggled to gain a foothold in Trump's circle. He had close ties to the Obama administration and supported Hillary Clinton's campaign for president, facts not lost on Trump's advisers.
BuzzFeed News obtained a partial transcript of Schmidt's remarks during the meeting. Three others familiar with the matter confirmed the accuracy of the "evil" quote.

"I can tell you that the tone of this government is very much economic growth," Schmidt told employees, according to the transcript provided by a source. "And so I think at the end of the day, they are going to do these evil things as they've done in the immigration area and perhaps some others, but the core focus is going to be to get the growth rate in the country — which is roughly one and a half to two percent — up another point by simply pushing through increases in federal spending and overcoming the tea party."
A Google spokesperson declined to comment.
Sergey Brin, the Google co-founder, has made his opposition to Trump's policies more public. He joined protests against the immigration order at San Francisco International Airport over the weekend and at Google's Mountain View campus on Monday. "I'm here because I'm a refugee," he said on Saturday night, according to Forbes' Ryan Mac. (Here is a transcription of Brin's remarks on Monday.)
Sundar Pichai, Google's CEO, also spoke at the Monday protest, according to a tweet from an employee and a person familiar with the matter.