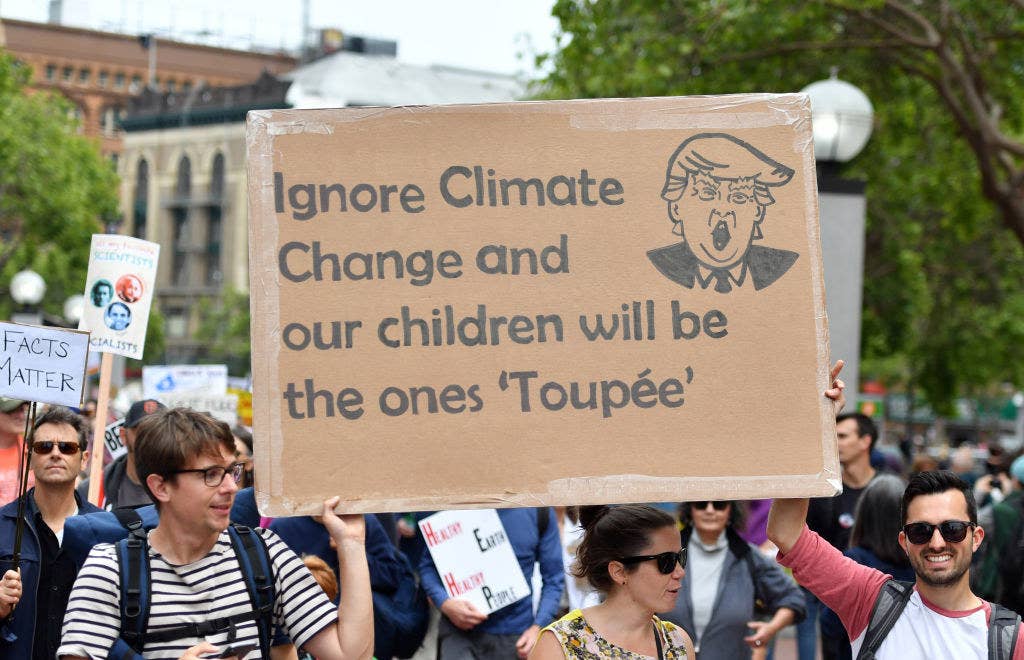 At New York City's science march on Saturday, I met a young scientist holding a sign with a highbrow joke about the Trump Administration. I said I was from BuzzFeed, and we got to talking. He told me his name, what kind of science he did, and why he had come to the march. He would not tell me, however, the name of the institution where he worked. "They just want to control their messaging around the march," he explained.

Which was weird, because if you were just listening to the hour of speeches from the main stage about the power of science and technology, you'd hear nothing controversial that might upset an employer. We heard a 10-year-old boy perform a science rap ("Science is awesome!"). We learned about Black Girls Code, an organization trying to get more diversity into STEM fields. Cancer survivors reminded us that medical research saves lives. One of the most energetic speakers railed against…styrofoam in school cafeterias.
The programming could be called a lot of things. Inspiring, maybe. Nerdy. Wholesome. Boring. But it was not in any way controversial. And in that way it felt like a missed opportunity, bizarrely disconnected from the crowd of thousands, many holding cutting signs about the president's hair, hands, skin color, intellect, tweets, and policies. Because for the people in the streets, it wasn't just a march in support of science, it was a march against the President's anti-science policies. Yet the march's leadership, in a bid for inclusion, shied away from that. That was a mistake.
It was billed as the march for science. But just about everyone actually marching, even the kids I talked to, was quick to say what the march was really about: Trump.

"I'm here because, because Trump's laws about the environment and how he treats it are foul," said 10-year-old Will from Connecticut. "I don't think it's right that our president should be turning a blind eye or telling outright lies about what it going to happen in our future," said John, 12, from Buffalo. One woman told me she had brought her daughter from Maine because she wanted her to "feel the energy" of a big political protest. I bet she was ultimately disappointed.
The vibe got even more bizarre after the speeches were over, when the actual marching began. Large speakers blared the theme of Star Wars, and the crowd pushed a half block south, to the Trump International Hotel and Tower. A few stopped to boo, and some tried to start a chant of "Shame! Shame!" But most just walked on by, as the soundtrack switched to "Mr. Roboto."
This juxtaposition of a fired-up, political crowd attending an overtly "nonpartisan" pep rally also happened at the main march in Washington, D.C. A handful of speakers made direct jabs at the new administration. (Denis Hayes, the co-founder of the first Earth Day, said: "America has had 45 presidents, but we have never before had a president who was completely indifferent to the truth." And Mustafa Ali, the ex-head of the environmental justice program at the EPA, said: "Today, we stand against an administration that places profits over people and tells us that science isn't real.")
But most speakers, like the march's website, never mentioned the president. Questlove called him "that guy over there," and Bill Nye took aim at "a great many lawmakers, not just here but around the world, deliberately ignoring and actively suppressing science." The overwhelming tone of the day was celebratory. "Science is universal. Science brings out the best in us," Nye bellowed. "With an informed, optimistic view of the future together we can — dare I say it — save the world!"
It's not that a global pep rally for science is a bad thing, necessarily. It's not in a scientist's nature to opine from soapboxes (it's why they write research papers in the passive voice). They're much more comfortable advocating for facts and truth. The thing is, as Yale scholar Dan Kahan pointed out on Twitter, most people, no matter their political or religious orientation, agree that science makes our lives better. What we don't all agree on is whether Trump is making good decisions.
As much as scientists may want their work to have bipartisan support, those days are long gone. For the past four years, the House Science Committee has become one of the loudest voices against climate science, repeatedly calling scientists "alarmist" and dishonest. Trump's budget chief says that NIH funding should be cut because of "mission creep" and that climate research is "a waste of your money." The president has suggested that vaccines — the greatest public health effort of the modern era — cause autism.
These are very real divides, but the march pretended they don't exist. That neutral stance, however admirable, likely came at an opportunity cost. The march's organizers had tens of thousands of motivated voices at their disposal. Would that energy have been better directed at electing Democrats in 2018? (The Democratic Party and Hillary Clinton tweeted support of the march.) Or fighting against Trump's hostile stance on immigrants, who make up nearly 20% of the scientific workforce? Or convincing scientists to run for office themselves?
If the march had at least gone after the president's policies more explicitly, then he may have been goaded into a nasty response, as he gave to the massive women's march and even the relatively small tax day rallies.
Instead, Trump issued a statement "on Earth Day" that mimicked the anodyne spirit of the march:
"My Administration is committed to advancing scientific research that leads to a better understanding of our environment and of environmental risks. As we do so, we should remember that rigorous science depends not on ideology, but on a spirit of honest inquiry and robust debate."
Throw in a promise to "save the world" and that sounds a lot like Bill Nye.
By Monday morning, the science march's website offered two ways that scientists could carry the movement forward: "Promote science outreach in your community," and "Plan a science game night." Trump, meanwhile, was doing some science outreach of his own. Live from the Oval Office, he and his daughter talked with NASA astronauts about the agency's plans to send people to Mars. "I have great respect for you folks," Trump said. "It's amazing what you do."
Outside Your Bubble is a BuzzFeed News effort to bring you a diversity of thought and opinion from around the internet. If you don't see your viewpoint represented, contact the curator at bubble@buzzfeed.com. Click here for more on Outside Your Bubble.