Powdered Caffeine Could Be Deadly, Government Warns
The FDA has issued a slew of new warnings to distributors of pure caffeine products for inappropriate labeling. One teaspoon of pure powdered caffeine is roughly equivalent to 28 cups of coffee, the agency said.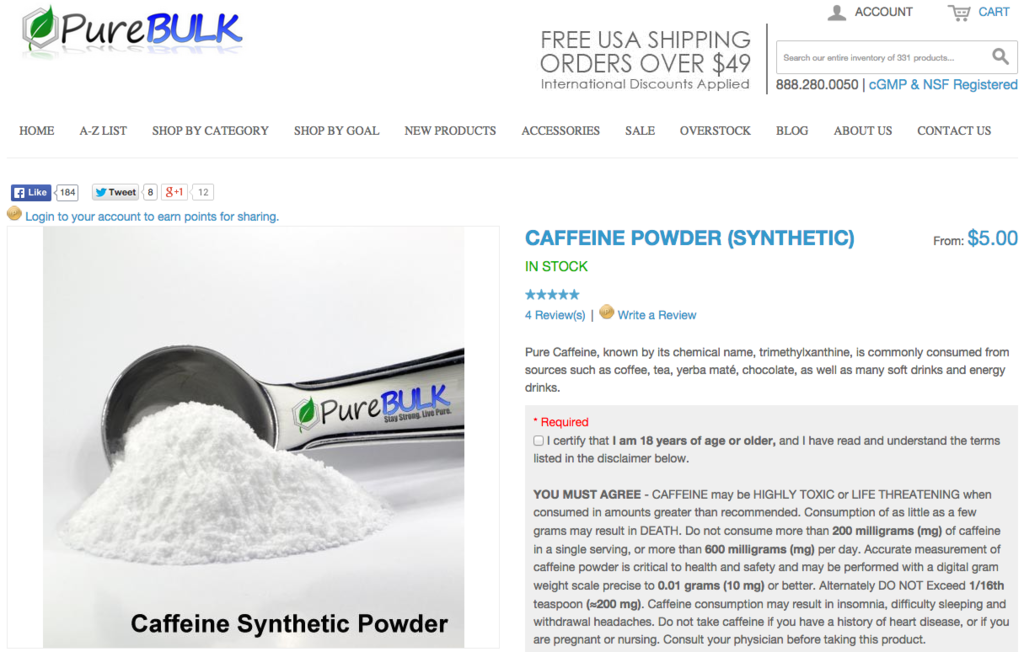 The FDA announced on Tuesday that it has issued warning letters to five companies that distribute pure caffeine powder, sold without regulations as a dietary supplement on many websites.
It's an incredibly potent drug. Just one teaspoon of caffeine can cause vomiting, anxiety, and heart problems. Last year, in fact, two otherwise healthy young men died from taking powdered caffeine. And many consumers don't realize how little it takes to fatally overdose: about one tablespoon.
"These products are dangerous and present a significant or unreasonable risk of illness or injury to consumers," the FDA said Tuesday in a statement. "The difference between a safe amount and a toxic dose of caffeine in these pure powdered products is very small."
What's more, it's difficult for consumers to give themselves a safe dose. In one of the warning letters, sent to PureBulk, Inc. about its "Caffeine Powder (Synthetic)" product, the agency pointed out that the label described one serving size as a "rounded 1/32 tsp" – an amount that can't be accurately measured with common kitchen tools. "Even if consumers were to have a 1/32 teaspoon measuring tool, it would still not be adequate to accurately measure a 200 milligram serving because this tool can deliver a different amount depending on how tightly the powder is packed," the letter wrote.
Caffeine powders are very cheap. On its website, PureBulk sells its caffeine product for $5. It also requires that buyers are 18 years old, and features several prominent warning labels about caffeine's toxicity at high doses.
The other four warning letters went to SPN (distributor of "Caffeine Anhydrous 400 Grams"); Kreativ Health Inc. (distributor of "Sunshine Valley Caffeine Powder"); Hard Eight Nutrition, LLC (distributor of "Caffeine Powder"), and Bridge City Bulk (distributor of "Caffeine Anhydrous Natural Coffee Bean" and "Caffeine Powder Synthetic Anhydrous" products).
"We are taking this matter very seriously," Jeff Stratton of Bridge City Bulk told BuzzFeed News by email. After getting the FDA's warning letter, the company immediately stopped selling the products, he said.
BuzzFeed News has reached out to the three other companies for comment.
The Council for Responsible Nutrition, a trade association representing the dietary supplement industry, agrees that pure powdered caffeine should not be sold directly to consumers.
"Earlier this year, CRN updated its voluntary guidelines for caffeine-containing products to include restraints against the sale and marketing of pure powdered caffeine," Rend Al-Mondhiry, regulatory counsel at CRN, said in a statement to BuzzFeed News. "We hope the companies receiving the warning letters will take these concerns seriously, and if not, we look to FDA to take the next steps under the law."
Powdered caffeine isn't the only dietary supplement that carries health risks, not by a long shot. Many products sold for energy boosts and weight loss have been found to be adulterated with synthetic compounds, including antidepressants and amphetamine-like drugs.
UPDATE
This story has been updated with comments from Rend Al-Mondhiry.
UPDATE
This story has been updated with comments from Jeff Stratton.