Romney, Not Obama, Is Winning The Social Media Race
Facebook is the space that matters. And a widely-cited Pew Research Center study looked at the wrong metric.

A Pew Research Center study released this week spurred a round of inaccurate news stories claiming that the Obama campaign is dominating the Romney campaign online. Pew has a stellar reputation both in the academic and media communities, one that it has built up with a fantastic assortment of research and information relevant to many fields. This specific study though has a flawed data set, one that could hardly have been better designed to tell a positive story for the Obama campaign.
The headline from Pew's website reads, "Obama Outpaces Romney in Social Media, Web Campaign," and the findings of the study are summed up in one of the opening sentences of the report: "The Obama campaign is posting almost four times as much content and is active on nearly twice as many platforms." According to Pew the Obama campaign is "outpacing" Romney online because he is posting more content on Twitter/Facebook and because his campaign has more accounts on different social media sites. The study's results have been featured over the last 48 hours in CBS News, Politico, The Hill, The Chicago Tribune, The Los Angeles Times, and more.
There's no doubt that Facebook is the 800-pound gorilla this election cycle. Every study shows that Facebook dominates where Internet users spend their time and my own campaign experience has proved it can be used as an effective fundraising tool. As of August 16th Barack Obama has a whopping 27 million fans of his Facebook page compared to only 4.3 million for Mitt Romney. Many in the press would use these raw numbers to crown Obama king of Facebook — but in reality this should just be where the analysis begins.
A closer look of the pages shows the exact opposite conclusion. Facebook's public "Talking About" figure showcases the number of people interacting with content on a Facebook page. This is the sum number of people who have liked, shared, or commented on page's content over a seven-day period. As of 12:30 a.m. Thursday, Mitt Romney had 1,579,476 people talking about his page compared with 1,354,550 for President Barack Obama. This means that more people are actually interacting with content on Mitt Romney's page than Barack Obama's page despite Obama's having an almost 7 to 1 advantage in total fans over Romney. This is a remarkable figure, one that I believe reflects the grassroots enthusiasm around the Paul Ryan announcement. If Obama were really "outpacing" Romney online he would need seven times as many people talking about his page than Romney has simply to remain proportional. In reality though, Obama has fewer people talking about his page.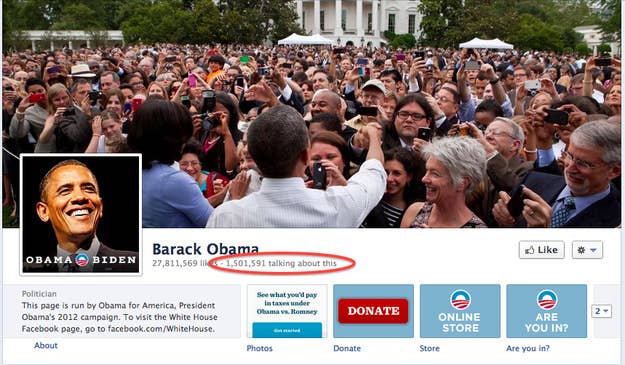 Researchers and reporters should take down this important note: it's impossible to know how many posts/updates that pages are actually posting unless you are a page administrator. Facebook allows administrators to target posts by city or state. If the Obama and Romney campaign's are using Facebook effectively, they'd be posting state specific status updates and graphics/videos, etc. into individual states. These posts would not be public to the average visitor to their pages but the interactions with these posts would count in the overall "talking about" number. As campaigns continue to geo-target posts, the ability of the press and academic outlets to properly analyze pages will greatly diminish.
The Romney campaign has been incredibly aggressive and innovative with their use of Facebook. Not only are they running many different fundraising ads but this week they even begun using "Facebook Offers" to sell yard signs and raise money for the campaign.
Twitter is mentioned frequently in Pew's summaries as well as in many of the related press stories. Let's be clear: Twitter is a tool for hyper-engaged politicos and grassroots activists. According to a study released by Pew only a few months ago only 15% of U.S. Internet users use Twitter and only 8% use it daily. Compare this to Facebook where over 75% of U.S. Internet users have accounts, with the average user spending more than 8 hours a month on the site and more than 40% of American users log in daily. Those at the Pew Research Center do themselves a disservice by comparing Twitter, Facebook, and YouTube to each other when their scales are an order of magnitude or more apart.
The Pew study's failings reflect a new challenge for those of us who try to understand digital content. Now, targeting is everywhere. Even content on websites can be personalized to a user based on such things as cookies or previous visits to the site. For example a first time user to Mitt Romney's website might see a different message and different content than someone who donated at the site or who signed up for a coalition. The Obama campaign also for example could highlight a certain "constituency group" (a term from the Pew study) based on geography. Someone in San Francisco could see "Californians for Obama" where someone in Iowa could see "Farmers for Obama." I've worked with candidates who have created subpages on websites not easily accessible to any site visitor but that exist to serve as landing pages from online advertising which is also targeted based on a variety of different data points. Because of all of this, it's unfair to visit two websites and make a blanket statement about the effectiveness of their functionality and content.
There is one area where the Obama campaign does seem to be outpacing Romney: Email. While Facebook, Twitter, and Google, seek, and draw, a large share of media attention, they represent a relatively small portion of campaign fundraising. Pew didn't mention the best evidence that Obama continues to set the pace: His campaign's sophisticated use of split-tests and micro email campaigns.
There's no doubt that the Obama campaign's use of digital remains incredible, and certainly Obama '08 showed that the right digital campaign tied with the right candidate at the right moment can have its place in history. Journalists, academics, and others pontificating on the use of digital media in the 2012 Presidential election should read up and understand what they're writing about before diving deep into subjects and writing misleading headlines read by millions of people. It's just simply not true that Obama is outpacing Mitt Romney online. And even if he was, researchers, journalists, and competitors like me might not even know it.
Vincent Harris ran digital operations for Speaker Newt Gingrich and Governor Rick Perry's 2012 Presidential campaigns. He is the founder and CEO of Harris Media, a digital firm based in Austin, Texas.