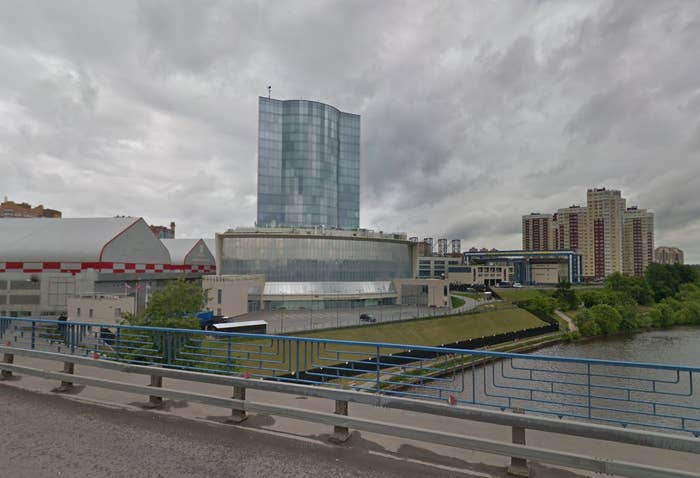 MOSCOW — A building identified in an indictment issued last week by special counsel Robert Mueller as the site of a hacking unit deployed by Russian military intelligence was sold to the Russian defense ministry two years ago by a Russian politician who made a name for himself by supporting "patriotic" causes.
The 20-story building, located at 22 Kirova Street in the Moscow suburb of Khimki, was named in the indictment as the headquarters for Unit 74455 of Russian military intelligence, known as the GRU. The indictment said the building was referred to as the "Tower" inside the GRU and that officers belonging to Unit 74455 helped release hacked documents via DCLeaks and Guccifer 2.0 as part of a Russian campaign to influence the 2016 US election.
According to an investigation by BuzzFeed News' reporting partner Meduza, the building at 22 Kirova Street was once known as the Novator business center and was sold to Oboronstroy, a company wholly owned by the defense ministry, in February 2016. According to registration records, today the building is operationally controlled by a property department inside the ministry.
Novator was built in 2015 by a company that is part of a holding company called Rota Development, owned by one Dmitry Sablin, who has served as a member in the State Duma, Russia's lower house of parliament, since 2003.
Sablin is also a former member of the Federation Council, Russia's upper house of parliament, and the first deputy chair of a veterans group called "Combat Brotherhood" headed by Boris Gromov, the former governor of the Moscow Region.
But Sablin is perhaps best known inside Russia as being a cofounder, in 2015, of the "anti-Maidan movement," an ultranationalist organization formed in the wake of the revolution in Ukraine that ousted pro-Russian president Viktor Yanukovych and was launched on Kiev's main square, known as the Maidan.
The group's main goal was "to prevent" color revolutions, "street riots, chaos and anarchy," according to their official statements. Other members included Alexander Zaldostanov, the head of the conservative nationalist biker club "Night Wolves," and the writer Nikolai Starikov, as well as a number of military and Cossack organizations.
He sold the building to Oboronstroy in February 2016, and job postings for the company show it is still actively using it. One shows that the "20-storey hotel and administrative complex" on Kirov Street in Khimki needs a cleaner, a plumber, and a driver who can transport cleaning equipment. On another database, for state purchases, Meduza found that the defense ministry had run several tenders related to the building, including for commissioning an industrial air-conditioning system, repairing sliding doors, and garbage removal.
According to an official land registry, the building and land around it are worth 324.2 million rubles ($5 million).
Sablin could not immediately be reached for comment.
An investigation published by Radio Liberty in Russian earlier this week revealed Sablin's connection to the property, but the outlet identified the wrong building. They had identified it as a business center called Rota, which is actually located at 19/4 Panfilov Street.
You can subscribe to Meduza's newsletter here.